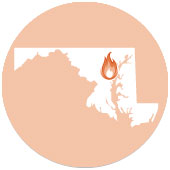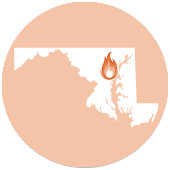 Baltimore has been described as an up-and-coming Judicial Hellhole for years, but don't just take our word for it. Plaintiffs' firms, such as Miller & Zois, advertise Baltimore as "a favorable jurisdiction for plaintiffs' injury lawyers." Here's why. . .
Asbestos
Asbestos filings in Baltimore grabbed all of the attention in the early 1990's and the litigation is again taking center stage. Since 2008, the asbestos docket in Baltimore City has increased at an alarming rate. As of August 31, 2012, over 650 asbestos cases were filed in the Baltimore City Circuit Court alone, compared with a little more than 400 in all of 2011.
There's nothing funny about the growth of Baltimore's asbestos docket. But it oddly brings to mind the undisputed king of one-liners, the late, great Henny Youngman, who did a joke for decades that went like this: "I told my doctor it hurts when I do this. Doctor said 'Don't do that.'"
Now, with a motion and memorandum filed June 19 with the Baltimore City Circuit Court, famed mass tort kingpin Peter Angelos could sound a bit like Youngman: "I told the judge the asbestos docket is jammed. Judge said 'Stop filing lawsuits.'"
Of course, Circuit Court Judge John Glenn isn't likely to tell Angelos to stop filing asbestos lawsuits, and Angelos seems determined to make Charm City the new Philadelphia when it comes to unfairly consolidating claims and pressuring defendants into settlements they might not agree to if the cases were handled separately.
With his motion and memorandum, Angelos requested consolidation of 13,000 non-mesothelioma asbestos personal injury lawsuits, essentially arguing that, because he has filed so many cases, the court should help expedite them by stacking the deck against the targeted defendants. A hearing on the motion is scheduled for December 17, just after this report is to be released.
The Angelos memorandum lays out a detailed calendar and plan as to how he believes the court should resolve the cases. He notes that many of the cases have been on the docket since the mid-1990s and, because the docket is so full, they won't likely be resolved for many more years without consolidation. With little else by way of legal argument, he also cites his success in twice convincing Baltimore's circuit court to consolidate asbestos cases for him back in the early-1990s.
As Philadelphia's chief judge understood when he recently ended consolidation of asbestos cases there, this practice plainly advantages plaintiffs over defendants. There is no basis upon which to justify consolidating thousands of cases, other than the fact that they involve asbestos, so attention will be focused on how Judge Glenn handles the hearing and eventually rules on Angelos's motion.
Judge Glenn handles Baltimore's asbestos docket and has previously established a "rocket docket" that pushes cases through as quickly as possible, a practice that places the efficiency of the court and interest of the plaintiffs in collecting damages over the due process rights of defendants. The judge is known to lean hard on defendants and push the parties toward settlement. Defendants who opt to go to trial take a significant risk, since many consider the Baltimore City Circuit Court to be notoriously biased against business defendants, with a history of large awards.
Moreover, defense counsel are granted very few opportunities to interact with potential jurors during the voir dire process in Baltimore. Judges handle most of the questioning of jurors, leaving little time for attorneys to address specific concerns and effectively strike jurors who might not be able to reach a fair decision. Ultimately, defendants are left with jurors they know very little about and to whom they are then largely unable to tailor their arguments.
Contributory Negligence
Beyond Peter Angelos-dominated asbestos litigation, an important case pending before Maryland's highest court has the potential to deepen personal injury lawyers' affinity for Baltimore and the rest of the state. On September 20, 2012, the Maryland Court of Appeals heard Coleman v. Soccer Association of Columbia, a case in which the plaintiff is seeking to overturn Maryland's long-held contributory negligence rule. This rule, which Maryland courts have followed for 165 years, provides that a plaintiff who is responsible for his or her own injury is not entitled to recover damages.
Joined by groups representing a variety of employers, physicians, and their insurers, ATRA submitted a "friend of the court" brief, urging the court to follow its own precedent, as well as the long-expressed will of the state legislature, which has repeatedly rejected such a change.
The case, which arose in Howard County, Maryland, involves a youth soccer coach who foolishly jumped up on an unused auxiliary soccer goal, grabbed the crossbar and swung on it until it fell backward on him. Medical records indicated he had smoked marijuana earlier in the day. The trial court found he was not entitled to any damages because he largely caused his own injury.
Abolition of the contributory negligence doctrine in Maryland would distort and disrupt many aspects of personal injury law in the state. If the high court eliminates contributory negligence as a defense, Maryland joint and several liability law would need to be altered to provide fair treatment for defendants. If such significant change in the law is to be made, it should be made by Marylanders' elected legislators in the General Assembly, with their capacity to hear from all interested parties and not simply the two parties before the court in this single and unique case.
The Maryland Court of Appeals is expected to render its decision in the Coleman case by early 2013. If the court chooses to usurp legislative power and abandon the state's longstanding doctrine of contributory negligence, the result will surely be a growing docket of personal injury cases in plaintiff-friendly Baltimore and a growing reputation as a Judicial Hellhole.