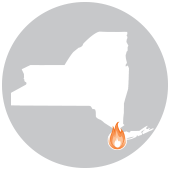 With the epidemiological peak of mesothelioma cases behind us in the U.S., and with still additional revelations of manipulated evidence and perhaps outright fraud within the asbestos lawsuit industry expected in recently unsealed documents from the federal bankruptcy case in North Carolina known as Garlock, the handful of civil court jurisdictions with still very active asbestos litigation dockets naturally draw the Judicial Hellholes spotlight. Several will be exposed in the balance of this report, but in none of them is the plaintiffs' bar more brazenly favored by the judges presiding over such litigation than it is in New York City.
The New York City asbestos litigation (NYCAL) docket has been transformed from a challenging jurisdiction for defendants to a patently unfair one. As a result, headline grabbing verdicts in 2014 have become commonplace: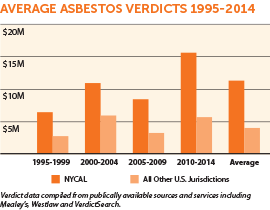 Recent decisions by the court may cause these verdict levels to climb even higher in 2015. Some of the more significant ways that NYCAL has become an outlier with a tarnished reputation are summarized below.
PUNITIVE DAMAGES BAN LIFTED
For nearly two decades, punitive damages were not an issue in NYCAL cases. Since 1996, the NYCAL court deferred (did not decide) punitive damage claims.
The former manager of the docket, Justice Helen Freedman, adopted this position and wrote it into the NYCAL Case Management Order (CMO) because, like "[m]any courts," she "long ago decided that punitive damages had little or no place in the asbestos litigation." She later explained that deferring "all punitive claims indefinitely…seemed like the fair thing to do for a number of reasons." Justice Freedman, now on the New York appellate bench, summarized those reasons:
"First, to charge companies with punitive damages for wrongs committed twenty or thirty years before, served no corrective purpose. In many cases, the wrong was committed by a predecessor company, not even the company now charged. Second, punitive damages, infrequently paid as they are, only deplete resources that are better used to compensate injured parties. Third, since some states do not permit punitive damages, and the federal MDL court precluded them, disparate treatment among plaintiffs would result. Finally, no company should be punished repeatedly for the same wrong."
The sound reasons that led Justice Freedman and other leading courts to defer punitive damages still apply today. In fact, Philadelphia Court of Common Pleas Judge John Herron issued a protocol in 2013 that continues that jurisdiction's longstanding practice of deferring punitive damage claims in asbestos cases.
But in April 2014, the current manager of the NYCAL docket, Judge Sherry Klein Heitler, granted a request by New York City-based Weitz & Luxenberg, P.C., a politically powerful plaintiffs' firm, to lift the court's longstanding ban on punitive damages in asbestos cases. In Judge Heitler's opinion, "the decision to deny plaintiffs the opportunity to seek punitive damages lies with the legislature" – even though the NYCAL court already decided the issue long ago. And as further explained below, punting the issue to the legislature in Albany is a nonstarter because, as Judge Heitler well knows, a well-paid member of the Weitz firm also serves conveniently as the Speaker of the New York State Assembly where virtually every reasonable civil justice reform proposal goes to die.
Unconvincingly, Judge Heitler has tried to downplay the impact of her punitive damages decision on defendants and future claimants, explaining that "even without punitive damages, resources available to persons injured by asbestos are naturally being depleted and that bankruptcy filings by asbestos defendants continue." She also said that "the Defendants' fear of large, repetitious punitive verdicts in NYCAL may be exaggerated."
Defendants raised a concern that the reintroduction of punitive damages would be highly prejudicial because the presentation of evidence as to one defendant's wrongful acts would improperly influence a jury to punish all defendants involved in the trial. The objection fell on deaf ears. Judge Heitler wrote: "While this court appreciates the Defendants' concerns, at the end of the day the decision and the circumstances under which to consolidate lies within the discretion of the NYCAL trial Judges in accordance with the facts of the cases before them." Translation: Forget about a fair trial, defendants. Settle your cases.
Predictably, plaintiffs' lawyers told the court it was not their intention to abuse the opportunity to seek punitive damages. Justice Heitler also "caution[e]d the plaintiffs' bar not to overstep this permission by attempting
to seek punitive damages indiscriminately." So far, the restraint promised by plaintiffs' lawyers is not in evidence. Without consequence – surprise, surprise – the Weitz firm is routinely asking for punitive damages in their NYCAL cases. Other plaintiffs' firms are jumping on the bandwagon.
Judge Heitler's decision to reintroduce punitive damages has significant consequences for defendants and insurers in NYCAL cases. Defendants that choose to exercise their right to a jury trial will face greater risks. Indeed, plaintiffs' attorney Perry Weitz argued during a motions hearing that he wanted to be able to use the threat of punitive damages to force settlements out of what he described as "recalcitrant defendants and insurers." So trials in consolidated cases will be especially risky for defendants because of the possibility for guilt by association.
Of course, the potential for punitive damages to artificially inflate settlements is not limited to those defendants that are more aggressive in taking cases to trial or that are part of a cluster of cases being tried together. All defendants and their insurers are likely to experience higher settlement demands in NYCAL cases as a result of Judge Heitler's decision to reverse the nearly two-decade ban on punitive damages.
Further, the availability of insurance for compensatory damages, but not for punitive damages, raises the specter of so-called "bad faith" claims against insurers who refuse to settle on plaintiffs' terms. As Weitz explained to the court:
"Th[e] [settlement] dynamic changes completely if punitive damages [are] allowed to go forward, and this is why: There's no insurance for punitive damages. And if that insured, if that company says to their insurer, I want you to settle this case for $500,000, and then there's a $20 million verdict… against that defendant because the insurer didn't settle for $500,000… , then whatever that insured would be responsible for – let's call it $5 million after all the settlements – the insured has a bad faith claim against that insurer to cover that five million dollars, because the insurance company did not negotiate in good faith on behalf of its insured."
PREJUDICIAL CONSOLIDATIONS
The problem of reintroducing punitive damages in trials is magnified by a recent First Department appellate court decision approving the consolidation of dissimilar NYCAL cases for trial. NYCAL trial courts are now permitted to consolidate cases in a manner that is so permissive and deferential to judges' whims that it arguably imposes no standard at all.
The First Department ruled that NYCAL Judge Joan Madden did not abuse her discretion in joining cases that involved different worksites, different occupations, different exposure periods, different diseases, different plaintiff health statuses and even different legal theories. In order to give deference to the trial court's decision to consolidate these two very different cases, the appellate court concluded that commonality existed because both plaintiffs were occupationally exposed to asbestos until the same year (though for different time periods) and both defendants allegedly failed to act reasonably in permitting the exposures. This is akin to saying apples are the same as oranges because both are fruits.
Consolidating trials is highly unfair to defendants. One commentator has said, "Of all the discretionary rulings that a judge can make concerning the course of a trial, few are as pervasively prejudicial to a product liability defendant as deciding to consolidate cases if they bear little similarity other than that the same product resulted in an alleged injury in each case." A "maelstrom of facts, figures, and witnesses" is created that juries cannot keep straight. "[T]here is a higher probability that at least one defendant will appear callous, and this benefits all plaintiffs."
Plaintiffs' lawyers also know that smaller consolidations such as those in NYCAL cases make settlements more likely. One study found that "plaintiffs' probability of winning at trial increases by 15 percentage points when they have small consolidated trials rather than individual trials…." Other commentators have observed that small scale consolidations, such as in New York City, "significantly improve outcomes for plaintiffs."
The highly permissive approach to consolidation in NYCAL cases is an extreme outlier. Elsewhere, courts "have ended or substantially curbed the use of trial consolidations in asbestos cases." For example, protocol recently adopted and followed by the Philadelphia Court of Common Pleas prohibits consolidated trials of asbestos cases unless all parties agree or the cases involve the same law, same disease and same plaintiffs' law firm. The possible good news in New York is that the First Department chose on December 9, 2014, to certify the case to the state's highest court, the New York Court of Appeals, for clarification as to whether New York law permits such unfair procedures to be applied against defendants.
LIABILITY FOR PRODUCTS SOLD BY THIRD-PARTIES
The clear majority rule nationwide is that manufacturers of products are not legally responsible for asbestos-containing materials made and sold by third-parties simply because it may have been foreseeable that such materials would be used near or in conjunction with the manufacturers' equipment post-sale. For example, the California Supreme Court has held that "a product manufacturer may not be held liable in strict liability or negligence for harm caused by another manufacturer's product unless the defendant's own product contributed substantially to the harm, or the defendant participated substantially in creating a harmful combined use of the products."
Federal courts have found that New York law is in harmony with this clear majority rule, and have refused to impose legal responsibility upon a manufacturer for an allegedly injurious product that the manufacturer did not make, sell or otherwise place in the stream or commerce. Further, New York's highest court has ruled in a non-asbestos case that, in a combined use scenario, a manufacturer can only be held liable for a harm caused by an injurious defective product made or sold by a third-party when the manufacturer: 1) controlled the production of the injury-producing product, 2) derived a benefit from the sale of the injury-producing product, or 3) placed the injury-producing product in the stream of commerce. New York's Fourth Department appellate court has applied this rule and followed the majority approach in an asbestos case.
Yet various New York state judges – primarily in NYCAL cases – rely on "a one-paragraph [memorandum] opinion with no clear holding," to provide a rule that an equipment manufacturer has a legal duty to warn for every asbestos-containing product that could have a foreseeable (in hindsight) use with that equipment, even though the opinion stands for no such proposition.
As with consolidation, the New York Court of Appeals also has an opportunity in two cases under review to confirm that New York law is in harmony with the clear majority rule nationwide. In both cases, plaintiffs received significant awards against a valve manufacturer – including $32 million to a single NYCAL plaintiff that was later reduced to approximately $4.4 million after remittitur and certain set-offs – even though the valve manufacturer did not make, supply or place into the stream of commerce any of the asbestos-containing products to which exposure was alleged.
OTHER NYCAL PROBLEMS
DEEP POCKET LIABILITY
Another manner in which the law is applied in an unfair manner in NYCAL cases involves joint and several liability. New York law generally provides for fair-share liability for noneconomic damages among defendants that are determined to be 50% or less at fault for the plaintiff's harm. This reform was enacted to eliminate the unfairness of holding a defendant liable for damages far out of proportion to its share of fault for an injury. An exception allows full "deep pocket" liability to be imposed on a minimally at-fault defendant that is found to have "acted with reckless disregard for the safety of others."
This narrow statutory exception, applicable only to truly "reckless" defendants, has been exploited by NYCAL judges and effectively allowed to subvert the general rule of limited liability altogether. Plaintiffs' lawyers now routinely seek jury instructions (and NYCAL judges routinely comply) to find recklessness in situations that fall far below the high bar set by the New York Court of Appeals. As a result, juries find the exception applicable in virtually every NYCAL case, even though that was clearly not the legislature's intent.
TRUST CLAIM GAMES
A case that gained nationwide attention early in 2014 makes clear the need for transparent, comprehensive monitoring of asbestos claims both administered by asbestos bankruptcy trusts and adjudicated by the tort system. As discussed among other Points of Light on p. 46, a North Carolina federal bankruptcy judge, in In re Garlock Sealing Technologies, LLC, found that a gasket and packing manufacturer's settlements of mesothelioma claims in the tort system were "infected by the manipulation of exposure evidence by plaintiffs and their lawyers." The judge explained:
"Beginning in early 2000s, the remaining large thermal insulation defendants filed bankruptcy cases and were no longer participants in the tort system. As the focus of plaintiffs' attention turned more to Garlock as a remaining solvent defendant, evidence of plaintiffs' exposure to other asbestos products often disappeared. Certain plaintiffs' law firms used this control over the evidence to drive up the settlements demanded of Garlock."
The NYCAL case management order noted above has language that should address this problem. A 2003 amendment to the CMO, when the NYCAL docket was managed by Justice Freeman, provides that "[a]ny plaintiff who intends to file a proof of claim form with any bankrupt entity or trust shall do so no later than ten (10) days after plaintiff 's case is designated in a FIFO Trial Cluster, except in the in extremis cases in which the proof of claim form shall be filed no later than ninety (90) days before trial."
As with its more recent success in ending NYCAL's deferral of punitive damages, Weitz & Luxenberg in 2012 filed a motion to vacate the proof-of-claim element of the CMO. In this instance, however, Judge Heitler appeared to reject the request, explaining that to strike "this particular clause… would diminish the effectiveness of the CMO as a whole."
But don't be fooled by Judge Heitler's head-fake. Plaintiffs' lawyers have recently emphasized a curious sentence in her opinion: "The CMO requires Plaintiffs to file their intended claims with the various bankruptcy trusts within certain time limitations, not claims they may not anticipate filing…." Plaintiffs' lawyers contend that the sentence was purposefully included in the decision to allow them to delay the filing of asbestos bankruptcy trust claims, contrary to the spirit of the CMO. One leading New York plaintiffs' attorney, Joseph Belluck, offered his perspective at a June 2014 hearing before an American Bar Association Asbestos Litigation Task Force:
"[Judge Heitler] put in what is in effect an intent standard into the disclosure – into the filing requirement…. So in New York, even though claims against bankruptcy trusts may be probable, [and] I can predict that they are going to be filed, I am not under any requirement to file them. I only have to file the claims that my client intends to file before the trial. It is incredibly nuanced, and she did it for a reason. I am not going to get into all of the reasons behind it, but she did it for a reason."
Yes, of course she did, Mr. Belluck. Judge Heitler's reason, as usual, was to curry favor with influential elements of the personal injury bar, and what is now allowed to go on in New York City merely buttresses the Garlock opinion with more evidence that such manipulative delays are likely the rule, not the exception.
BURDEN OF PROOF FLIPPED
The First Department very recently affirmed another incredible order by Judge Heitler that requires defendants
in NYCAL cases to unequivocally establish their non-liability in cases where plaintiffs do not know for certain whether they worked with a defendant's asbestos-containing product. This Kafkaesque ruling lifts the plaintiff 's traditional burden to prove the case, including whether an alleged injury was caused by exposure to the defendant's product, and seeks to crush the defendant by forcing it to prove otherwise.

NY SPEAKER SHELDON SILVER
Despite the considerably negative toll that well-documented bias in the NYCAL and other civil courts takes on economic growth and job creation in the crumbling Former Empire State, reform efforts in Albany will always face tough odds as long as Assembly Speaker Sheldon Silver wields the gavel in the state legislature's lower house. Why? It may have something to do with the fact that he also happens to be a personal injury lawyer on the payroll of the aforementioned Weitz & Luxenberg firm.
The New York Post reports that "[o]ver the years…Shelly has killed any attempt at tort reform, which could cut into his firm's earnings." And in giving up in April of 2014 on a push to finally reform the state's century-old "scaffold law," which impedes redevelopment projects by making construction insurance prohibitively expensive, Governor Andrew Cuomo admitted his political impotence to Crain's New York Business: "The trial lawyers are the single most powerful political force in Albany. That's the short answer. It's also the long answer" as to why excessive liability has yet to be curbed legislatively.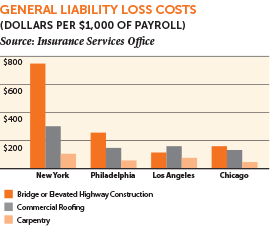 For years, Speaker Silver refused to disclose his Weitz firm earnings, but the information has begun to come to light as a result of recent disclosure requirements. Interestingly, the Speaker's "still-shrouded work" for the Weitz firm "became far more lucrative for the powerful Manhattan Democrat in 2013," just as he managed to thwart both scaffold law and medical liability reform in the Assembly that year. According to the Daily News, Silver reported earning between $650,000 and $750,000 from the law firm in 2013 – up significantly from 2012's mere $350,000 to $450,000.
As the New York Post has pointed out, "It's all perfectly legal… We don't begrudge a man getting rich. But it does make one wonder about loyalties."
A December 8, 2014 New York Times article reports that as part of an ongoing federal investigation, "prosecutors and F.B.I. agents have… been able to determine that for some time, Mr. Silver had failed to disclose income from another law firm besides Weitz & Luxenberg." The article reported that "[i]t is not known what Mr. Silver did to earn this income."
Speaker Silver's position in Albany also allows him to appoint individuals to the powerful Judicial Screening Committee, which, as previously reported by the New York Times, "reviews candidates for the State Supreme Court and its Appellate Division, and makes recommendations to the governor." In 2008, Silver appointed to the committee Arthur Luxenberg, a name partner at the firm that now pays him three-quarters of a million dollars a year. So might a NYCAL trial judge who aspires to a future appellate court appointment tip the scales of justice to favor the clients of a firm with so much political influence over which judges will receive such appointments? Defense attorneys certainly think so, and outlier results from NYCAL back them up.