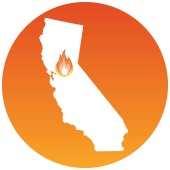 If most lawmakers in Sacramento and the reliably generous plaintiffs' lawyers who write campaign checks to keep them there can be likened to the Symbionese Liberation Army of the Berkeley-radical 1970s, then most California voters can be likened to the Stockholm syndrome-suffering heiress Patty Hearst, coming to love their captors even as hundreds of new laws – many of them designed specifically to expand civil liability on business and property owners – are enacted each year.
With another 859 new statutes added to the books in 2017, the annual average for new enactments since 2010 ticked up to more than 830, making it virtually impossible for even the most conscientiously law-abiding Californians to keep up and protect themselves from costly lawsuits. Which helps explain why data available from the Court Statistics Project of the National Center for State Courts show that more than 820,000 new lawsuits were filed in state courts in 2016. And with tens of thousands more filed in federal courts throughout the state, it's no mystery why housing and business costs continue to soar, driving a continuing outmigration of people and jobs-providing companies whose executives consistently rate California the nation's worst state in which to do business.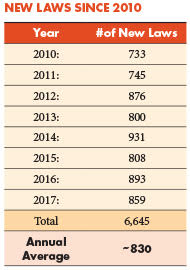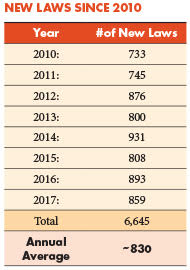 Which is why neither Los Angeles, Sacramento, Pomona or Chula Vista has so much as a snowball's chance in a hellhole of convincing online mega-retailer Amazon to locate its second headquarters anywhere within California's borders. Amazon CEO and America's richest man Jeff Bezos would have to be crazy to even think about giving the state's ravenous plaintiffs' bar an even greater opportunity to rifle his deep pockets.
In any case, as this report notes regularly, a lengthy, stand-alone book could be written every year about California's inexorable expansions of civil liability. But because these constructive criticisms seem to fall largely on deaf ears in Sacramento and in many courthouses around the state, and because leaders and citizens in more reform-minded states actually appreciate and o en act on the report's insights and critiques, this year's look at the West Coast's perennial Judicial Hellhole will pragmatically limit its focus to a limited armful of the state's civil injustices.
U.S. SUPREME COURT CHECKS CALIFORNIA'S HIGH COURT
Last year's report was very critical of the California Supreme Court's 2016 split decision in Bristol-Myers Squibb Co. v. Superior Court of California, San Francisco County. The decision showed the court's willingness to "throw open [further] the doors to the state's already overburdened courthouses to out-of-state plaintiffs with products liability (and other) claims against national defendants, discarding due process and e ectively ignoring several U.S. Supreme Court opinions."
The 4-3 majority had ruled that state courts could decide cases against businesses that are not headquartered or incorporated in California – even when the plaintiffs live and were allegedly injured out of state – if a defendant company merely has significant sales of a product in California (as any national business does, given the state's size).
In her prescient dissent, retiring Justice Kathryn Werdegar wrote: "By weakening the relatedness requirement, the majority's decision threatens to subject companies to the jurisdiction of California courts to an extent unpredictable from their business activities in California, extending jurisdiction over claims of liability well beyond our state's legitimate regulatory interest. … Such an aggressive assertion of personal jurisdiction is inconsistent with the limits set by due process."
Thank goodness the U.S. Supreme Court agreed with Justice Werdegar. Soundly rejecting the jurisdictional analysis of California's high court, an 8-1 U.S. Supreme Court majority in June 2017 reiterated that unless the alleged injury arose in a state, an out-of-state corporation is only subject to a lawsuit if it is incorporated or can be considered "at home" in the state by maintaining a principal place of business there. Applying this standard, the high court reversed the California decision as "difficult to square with our precedents." To establish what is known as "specific jurisdiction," there must be "a connection between the forum and the specific claims at issue." Bristol-Myers' contract with a California-based drug distributor, the court found, was insufficient to establish jurisdiction. (See more on this and two more 2017 U.S. Supreme Courts jurisdictional decisions in Closer Looks, p. 64.)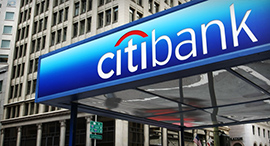 Incidentally, the California Supreme Court continued its well established propensity for expanding civil liability and disregarding U.S. Supreme Court precedent with its unanimous April 2017 decision in McGill v. Citibank, N.A. The court held that an arbitration agreement that "waives the right to public injunctive relief is contrary to California public policy and is therefore unenforceable under California law." Cue more class actions and shameless contingency fees.
The state high court reversed a lower appellate court ruling that had relied on the 2011 U.S. Supreme Court decision in AT&T Mobility LLC v. Concepcion. Thus California's high court again defied the highest court in the land by refusing to accept its interpretation of the Federal Arbitration Act as a statute that generally preempts state laws that inhibit mandatory arbitration clauses in pre-dispute contracts. Citibank has petitioned the U.S. Supreme Court to hear its appeal.
EXPORTING 'PAGA' TO HOBBLE COMPETING STATES
Rather than advocate reforms from within to help make their state more competitive and persuade residents and businesses not to flee to other states, some Californians have cynically taken to exporting their litigious ways so as to hobble other states' economies and make those states less attractive to would-be out-migrants. And if some advocates have their way, California's Private Attorneys General Act (PAGA) will become the kudzu of civil liability-expanding state laws, choking off business investment, job creation and wage growth in states far and wide.
Taking effect in 2004 as a means around arbitration clauses in employment contracts that limit costly, plaintiffs' lawyer-enriching class actions, PAGA authorizes "aggrieved" employees to le lawsuits seeking civil penalties on behalf of themselves, other employees and the State of California for labor code violations. But as Bloomberg reports, California-based activists aren't content to stiffle businesses in the once Golden State. They held a July 2017 conference to pitch PAGA to municipal lawmakers from around the country and plan to campaign for comparable new laws in at least four states in 2018.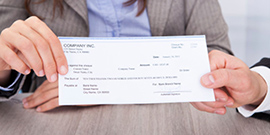 Meanwhile, based on the pretense that employees are bringing these claims on behalf of the state, 75% of the penalties wrung from non-compliant employers go to the state's Labor and Workforce Development Agency while only 25% goes to the "aggrieved employees" and their lawyers who take a third or so of that. So this very blue state's policymakers have found a way to expand government spending without per se raising taxes. Never mind that many PAGA lawsuits revolve around technical nitpicks, such as an employer's failure to print its address on employees' pay stubs, even though the address was printed on the paychecks themselves.
To say that California workers must be some of the most easily aggrieved in the world would be an understatement. But to be fair, it's the lawyers who gin up PAGA complaints who are most to blame. According to Jeffrey D. Polsky of Fox Rothschild, such lawyers and their employee clients are eager to settle cases with employers because "the parties can decide what part of the settlement to designate as PAGA penalties and what part goes directly to the employees. Invariably, plaintiffs want more to go to them directly because they and their attorneys get all of that." Employers will go along if they're to be let off the hook a little more easily.
But expansive PAGA amendments were signed into law by Gov. Jerry Brown in June 2016, empowering the state to guard jealously its interest in settlements and keep more cash for itself. Polsky says: "More money going to PAGA penalties, means less going to plaintiffs directly. Since employees see just a fraction of those penalties, it will be more expensive for employers to settle lawsuits that include PAGA claims."
Meanwhile, two state court decisions in 2017 will a ect the PAGA saga. In the first, Williams v. Marshalls of Ca., Jennifer Rubin of Mintz Levin writes, "the California Supreme Court rejected an employer's attempt to severely curb discovery in PAGA actions" despite "certain employee privacy interests." But the "Court did not rule out stricter limitations on discovery if information sought was more personal in nature … ."
In the second case, Esparza v. Ks Industries, LP, the California Court of Appeals actually confirmed a marginal win for employers by finding that employees-turned PAGA plaintiffs can't have it both ways. Citing the state high court's 2014 Iskanian decision, the appellate court found that an employee subject to an arbitration provision must make a choice: arbitrate for wage claims and keep all of the resulting award, or sue for PAGA penalties and take the measly 25% the law allows.
Legislators sensitive to employers' plight under PAGA keep trying to amend the onerous law, but trial lawyers, some of whom have carved out a nice little PAGA niche for themselves, keep killing such bills. Nonetheless, Assembly members Vince Fong and Rudy Salas deserve kudos for trying. Also worthy of encouragement are efforts by business groups and activists to take the issue of much needed PAGA reform directly to the people in the form of ballot measures. Defense counsel Carmen J. Cole updated those efforts in an October 2017 blogpost.
PROP 65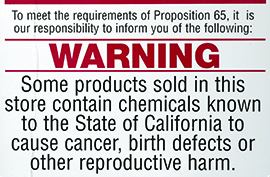 As the Judicial Hellholes report has documented for years, California's private-attorney-enforced and thus easily exploited Prop 65 became law as a well-intentioned voter referendum in 1986. It requires the placement of ominous warning signs in various businesses and other public accommodations where even the slightest, non-threatening trace amounts of now more than 1,000 listed chemicals that state environmental regulators deem carcinogenic or otherwise toxic may be present.
In large enough doses these chemicals are "known to the state of California to cause cancer, birth defects or reproductive harm," insist the regulators. But the now ubiquitous and generally ignored signs do nothing to protect public health, while the absence of signs serves principally as an invitation for personal injury lawyers and their favorite lead plaintiffs to bring more lawsuits. Prop 65 litigation produces hundreds of settlements and judgments each year.
Surely no one sides with businesses that truly endanger public health. But to give a sense of how absurdly divorced from public health concerns California courts have let Prop 65 litigation get, in September 2017 a lawsuit stayed in 2015 was resurrected as the so-called Council for Education and Research on Toxics (CERT) has sued Starbucks and other coffee sellers over their failure to warn consumers about barely measureable levels of acrylamide in their delicious brews. For better context, understand that CERT is merely a front for and shares an address with Long Beach-based plaintiffs' lawyer Raphael Metzger. Enough said.
When California Gov. Brown served as the state's attorney general, he took a very dim view of parasites like Mr. Metzger. In a 2007 letter warning a Connecticut-based law firm to give up its lucrative-at-the-expense-of-California-businesses Prop 65 racket, AG Brown and his deputy wrote, "your manner of pursuing [these claims] does not appear to be in the public interest… . Our primary concern at this point is the manner in which your clients have collected significant sums of money from businesses that have little or no liability for past violations, and an amount of attorney fees that appears to exceed a reasonable amount" (emphasis added).
So it's not surprising that in October 2017, Gov. Brown signed into law compromise legislation that amends Prop 65, with some observers optimistically hoping it may reduce annual Prop 65 claims by 25%. But considering that environmental regulators keep adding new chemicals to their list of supposedly "known" carcinogens and toxics, even when peer reviewed science says they're safe (e.g., the effective and widely used herbicide glyphosate), the proof will be in the allegedly toxic pudding.
FOOD & BEVERAGE LITIGATION
Speaking of pudding, California law also encourages specious, often no-injury consumer protection and false advertising lawsuits that target makers and sellers of foods and beverages. As Food Navigator-USA.com reported in late November 2016, "There have been hundreds of class action lawsuits directed at food and beverage companies in recent years" over everything from whether the phrase "evaporated cane juice" on a product's label fraudulently misleads consumers about sugar content to allegations that products marketed as "natural" may contain genetically modified ingredients.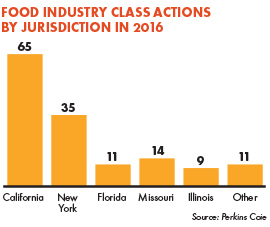 Many of these class actions are filed in California state courts or federal courts located there. e federal Northern District of California has been derisively referred to as the "Food Court" as these cases have piled up there.
"As to what happens to most [of these] false advertising cases once they are filed," Food Navigator observed, "it depends on a multitude of technical factors, many of which seem to the casual observer to have little to do with the actual merits (e.g., is this label actually deceptive?). Few are thrown out completely a er a motion to dismiss, and many drag on for years as plaintiffs are given the opportunity to amend their complaints and tweak their arguments."
A defense attorney explained to Food Navigator that since many of these food and beverage lawsuits eventually show up in court records as "voluntarily dismissed," it's likely that parties often come to a private settlement. So "we don't know how much money is changing hands, but the fact that so many of these cases are still being led suggests that the plaintiffs' attorneys think it's worth it."
It's too soon to know empirically, but anecdotal observation of 2017 headlines indicates that California judges' patience for these often preposterous lawsuits – like the patience of the general public long ago – may be running out. But for every dismissal of a food-labeling suit brought on behalf of someone purporting to be an imbecile incapable of understanding simple, federally mandated nutrition labels, at least another is allowed to proceed.
INNOVATOR LIABILITY
Crafted primarily by personal injury lawyers desperate to get around longstanding federal law that shields generic drugmakers from lawsuits over the substance of their medications' warning labels, the novel theory of "innovator liability" effectively seeks to turn products liability law on its head. Fortunately, the argument that original brand-name drugmakers should be held liable for injuries allegedly arising from generic drugs manufactured, marketed and sold by third-party drugmakers has been widely rejected by courts across the country.
In fact, San Diego County Superior Court Judge Joan M. Lewis had reasonably dismissed T.H. v. Novartis Pharmaceuticals Corporation, a case in which plaintiffs sought to hold the pharmaceutical company liable for injuries they suffered in utero after their mother was prescribed a generic asthma medication six years after Novartis had ceased manufacture of its brand-name version and sold its interest in the drug.
But Judge Lewis was unanimously reversed in March 2016 by a three judge panel of the Fourth Appellate District, which ordered the case remanded and invited plaintiffs to amend their complaint. In doing so, the panel relied on a since discredited California appellate decision in 2008, Conte v. Wyeth, the first to recognize innovator liability. The defendant appealed to the California Supreme Court, which heard oral argument in the case in October 2017.
Drug and device law expert Steven Boranian was present and later blogged:
"Perhaps the Court already knows what it wants to do with innovator liability, because nearly all the questioning was on perpetual liability," indicating the justices were plainly "troubled by the prospect of liability in perpetuity for a manufacturer that no longer sells a product. The plaintiff tried to minimize the issue, arguing more than once that the prospect of perpetual liability was overblown and that perpetual liability cases would be rare," but at least "a couple of justices not[ed] that the situation would not necessarily be rare."
Nonetheless, Mr. Boranian says it's "anyone's guess" what California's high court will do with innovator liability. Of course, the best and obvious solution is to adopt the bright-line rule urged by the defense, that manufacturers owe no duty at all to users of subsequent manufacturers' products. Manufacturers everywhere are keeping their fingers crossed.
CEQA'S UNINTENDED CONSEQUENCE: UNAFFORDABLE HOUSING
As this report has noted previously, the California Environmental Quality Act, known as CEQA, "is California's broadest environmental law," according to the California Department of Fish and Wildlife, which administers it.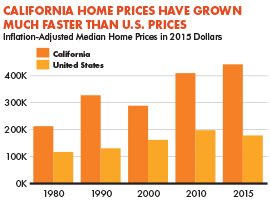 The law helps "guide [the department] during issuance of permits and approval of projects. Courts have interpreted CEQA to a ord the fullest protection of the environment within the reasonable scope of the statutes. CEQA applies to all discretionary projects proposed to be conducted or approved by a California public agency, including private projects requiring discretionary government approval."
But there's been a long-growing bipartisan consensus (see here, here, here, here and here for starters) 100K that an unintended but disastrous consequence of the well-intentioned statute has been a rise in "Not In My Back Yard" litigation that delays or prevents construction projects across the state. Protection of the environment is barely a consideration as wealthy plaintiffs, concerned more about the protection of their property values, level lawsuits which invariably add to the state's chronic shortage of a ordable housing.
A perusal of the Miller Starr Regalia blog at CEQADevelopments.com suggests that California courts have their hands full with this complicated and costly litigation, leaving interested observers sometimes confused and often disappointed. To his credit, Gov. Brown, who has often spoken of the need for meaningful, comprehensive CEQA reform, vetoed in October 2017 a CEQA amendment, saying, "the current CEQA process already is very detailed, and requires an incredible amount of notice. For that reason, I am reluctant to add the additional requirements mandated by this bill."
COURTS EXPAND 'PUBLIC NUISANCE' LAW
Regular readers know this report has consistently kept an eye on state attorneys general and, more recently, counties and cities that hire private-sector plaintiffs' lawyers to pursue deep-pocket corporate defendants with lawsuits that seek to substitute public nuisance law, with its lower standard of proof, for products liability law and its more exacting standard. And though public nuisance lawsuits against companies that stopped making lead paint decades ago had failed in seven other jurisdictions, the scheme to force those defendants to pay for the abatement of peeling and chipping paint won a key 2013 victory with help from Santa Clara Superior Court Judge James Kleinberg.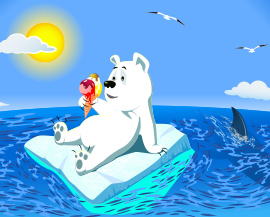 After hearing post-trial motions Judge Kleinberg in January 2014 ordered three defendant companies to pay $1.15 billion, to be shared among Alameda, Los Angeles, Monterey, San Mateo, Santa Clara, Solano and Ventura counties, and the cities of Oakland, San Diego and San Francisco. And though it took three years, that decision was largely upheld by California's Sixth District Appellate Court in November 2017, albeit with an order for the trial court to reduce the size of the verdict.
But even before the lead paint was dry on that unprecedented case, climate activists and their lawyers had already seized California law's now seemingly all-purpose public nuisance cudgel to go after oil companies, filing suits in July 2017 that seek compensation for cities anticipating calamitous sea-level rise as a result of fossil-fuel burning.
Quoted by the Los Angeles Times, a lawyer representing the city of Imperial Beach and San Mateo and Marin counties in sea-level cases said, "Like the lead paint case, we have an industry that knew its products could in ict serious damage and continued to promote those products anyway." Likely salivating, he estimated his cases, since moved to federal court, could ultimately be worth "billions and billions." And UCLA law professor Sean B. Hecht told the Times, "As of yesterday's [lead-paint] ruling, those sea-level rise cases are far more likely to advance past the first litigation hurdle."
For the record, the lead-paint defendants intend to appeal their case to the California Supreme Court. It ain't over till it's over.
ASBESTOS AND TALC
A December 2016 decision by the California Supreme Court resolved an appellate court split and found "the duty of employers and premises owners to exercise ordinary care in their use of asbestos includes preventing exposure to asbestos carried by the bodies and clothing of on-site workers" where it is "reasonably foreseeable" that workers "will act as vectors carrying asbestos from the premises to household members."
As if that weren't a big enough blow to asbestos defendants, the state Senate passed legislation in 2017 that would undercut those defendants' right to due process by limiting the time for depositions of key witnesses in asbestos cases. As Freddy Fonseca of Manion Gaynor & Manning LLP explained in an August 2017 blogpost:
A shortened period for cross-examinations is inherently prejudicial because all defendants maintain an interest in properly and fairly preparing their defense and no party should be required to jeopardize that right. Imposing a seven hour limit on a key witness' deposition will ensure that defendants' due process rights will be violated by not allowing adequate time to defend the case at a deposition. As a hotbed for asbestos litigation, plaintiffs in California typically name dozens of defendants for a wide variety of alleged exposures in a myriad of industries and locations that generally consist of work histories spanning thirty to forty years. In addition, such time constraints will pin codefendants against each other as each attempts to jockey for more time to properly cross-examine a plaintiff in an effort to build their defense. The number of parties in a typical asbestos case coupled with the varying alleged exposures stretched over decades will make it impossible for a defendant to conduct an effective cross-examination under the time constraints proposed by SB 632.
In 2016, for example, the typical asbestos lawsuit led in Los Angeles named 69 companies as defendants. Trial lawyers will try to get this bill through the Assembly and onto Gov. Brown's desk in 2018.
Meanwhile, on brighter notes for products liability defendants, a California jury deliberated for two days in November 2017 before clearing Johnson & Johnson and its talc supplier of any liability for a woman's terminal mesothelioma, an asbestos-related cancer, holding that there was no evidence that the companies' talcum powder was unsafe.
And a month earlier, Los Angeles County Superior Court Judge Maren Nelson reversed a wholly untethered $417 million jury verdict for a woman who alleged her ovarian cancer had been caused by talcum powder use. Judge Nelson said the plaintiff failed to prove that talc caused her cancer, finding that at most the case proved there's "an ongoing debate in the scientific and medical community about whether talc more probably than not causes ovarian cancer and thus (gives) rise to a duty to warn."
DISASTER-CHASING PERSONAL INJURY LAWYERS
Unable to sue God or Mother Nature, personal injury lawyers hurried in the wake of devastating October 2017 wild fires in Northern California to craft class actions against a major public utility whose power lines, the lawyers speculatively assert, must have somehow sparked the blazes.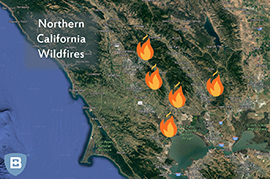 Even as embers still smoldered in the Golden State, plaintiffs' lawyers from California and across the country began soliciting potential clients for lawsuits targeting the deep-pockets of Pacific Gas & Electric, the company they're already blaming for the deadly fires that ravaged public and private property to the tune of billions of dollars in the Santa Rosa and Cloverdale areas north of San Francisco.
Never mind that police arrested an arson suspect and the state's investigation into the fires' origins is otherwise ongoing.
Noteworthy in this rush to the courthouse is a California rule known as "inverse condemnation," which effectively allows for a utility defendant – even one that has complied with safety rules and regulations and has otherwise done nothing wrong – to be held liable for property damage and attorneys' fees associated with an event like a wild fire. California is one of the only states in the country where courts have applied inverse condemnation liability to events involving utility equipment.
As sometimes sarcastic Press Democrat columnist Chris Smith put it in late-October, "It appears that news of the fires that ravaged the North Bay and beyond has touched the heart of the Lalezary Law Firm of Beverly Hills.
"As Reserve Deputy Sheriffs and Personal Injury Lawyers,' reads one of the firm's new, targeted promotions, 'we feel it is our duty to launch a full investigation and bring swift justice for the families who were affected all across of (sic) California.'
"That is so sweet," Smith's wry mocking of the lawyers continued. "After the limitless demonstrations of valor, selflessness and generosity, we now witness a flood of offers from lawyers from down the block and across the nation to advocate for victims of our greatest disaster – and for an ample share of any judgments or settlements," he observed, noting that piranha from Orlando-based Morgan and Morgan, Dallas-based Baron & Budd and others are already circling, hoping to tear open the presumably deep pockets of the principal provider of electric power to much of Northern California.
It's a safe bet rate payers are less eager to see a costly litigation feeding frenzy ensue, but the lawyers aren't really worried about them.
DISABILITY-ACCESS LITIGATION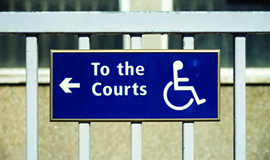 Despite its enactments of so-called reform statutes in recent years and significant growth of disability-access litigation in other states, California remains the nation's ground-zero for these often fraudulent lawsuits that typically target small business owners – particularly minorities and recent immigrants who are unable or unwilling to fight back – with alleged violations of the Americans with Disabilities Act. More recently this still wheelchair-centric racket has worked to expand its turf, targeting retailers' websites, for example, with allegations that they're not accessible to the visually impaired.
So, understanding the death grip the plaintiffs' bar exerts on Sacramento, California business owners and their advocates are now looking to Washington for real relief. There, the ADA Education and Reform Act, introduced by Rep. Ted Poe of Texas, would mandate that notifications be given to premises owners, giving them a grace period to make repairs or renovations, before a lawsuit can be filed. No one's crystal ball is perfect, but it's reasonable to think this bill may pass the U.S. House of Representatives sometime in early 2018. Of course, the row will be tougher to hoe in the Senate where 60 votes are needed to end debate. But small business owners are counting on Sen. Dianne Feinstein, the ranking Democrat on the Judiciary Committee. They hope she still believes in the need for meaningful ADA reform as strongly as she did in 2012 when she wrote a letter to California's Senate President pro Tempore Darrell Steinberg, warning him against further delay of a state reform bill pending at the time.
END NOTES
The Governor. As noted above, California enacts more than 800 new laws a year, many of them specifically designed to expand civil liability at the behest of politically influential personal injury lawyers. But some measure of reasonableness is occasionally imposed by Gov. Brown, and those impositions are appreciated by business leaders and entrepreneurs.
The latest example came with the governor's October 2017 veto of a bill that would have required larger businesses – those with deeper pockets – to begin keeping gender-sensitive salary and wage data and submitting it to the Secretary of State. His veto statement read, in part:
"While transparency is often the rst step to addressing an identi ed problem, it is unclear that the bill as written, given its ambiguous wording, will provide data that will meaningfully contribute to efforts to close the gender wage gap. Indeed, I am worried that this ambiguity could be exploited to encourage more litigation than pay equity."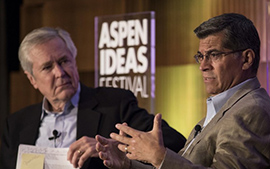 The Attorney General. Unlike his predecessor who was elected to the U.S. Senate in November 2016, California's rookie Attorney General Xavier Becerra has thus far shown limited interest in hectoring businesses and driving them to Arizona, Nevada or Texas.
In fact, say relieved business leaders in hushed tones, they're thrilled that the AG seems currently preoccupied with burnishing his reputation as a genuine leader of the Trump Resistance, joining or launching his own lawsuits against the federal government every chance he gets. Presumably he believes his rebel-with-a-cause routine will play well with California's deep blue electorate when he runs in 2018 to keep the AG post to which he was appointed. Meanwhile, regardless of their politics, the state's business folks are just happy Mr. Becerra's not picking on them.
Arbitration. In a state known for its courts' relentless resistance to the 92-year-old Federal Arbitration Act and decades of U.S. Supreme Court precedent upholding that statute's general protection of arbitration agreements against state efforts to curtail them, a California appellate panel in late-July 2017 refreshingly reversed a trial court's decision denying arbitration in a suit accusing a nursing home of causing a patient's death, ruling that the arbitration agreement was enforceable despite the patient's death prior to expiration of the so-called "cooling-off period" required by state law.
Bar scores. And finally, a grudging three cheers to California's Supreme Court for refusing in October 2018 to buckle under multifaceted pressure to lower the so-called "cut" score for passing the state's bar exam. As reported by The Recorder, the state's leading legal journal, "Law school deans, students and Democratic state lawmakers ha[d] been pressing the court to lower the cut score. A California State Bar committee stocked with law school deans recommended in August that the Supreme Court reduce the … score by up to 6.25 percent. The Law School Council endorsed setting the … score at a lower range than a prior state bar committee pitched as appropriate. A survey of 4,188 July 2017 exam-takers found that more than 90 percent said the score should be reduced."
In case some folks haven't noticed, California's civil courts are already teeming with bottom-third-of-their-class opportunists ready to sue anyone with the audacity to earn a profit. The hard fact is the state needs more middling, integrity-challenged lawyers like it needs a major earthquake.