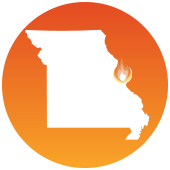 As Bloomberg has reported, City of St. Louis courts are known for "fast trials, favorable rulings, and big awards." But by virtue of a change in gubernatorial leadership, a good start by state lawmakers on an agenda of much needed statutory reforms and a powerful U.S. Supreme Court decision curbing forum shopping in 2017, the City of St. Louis can no longer fairly be ranked as the nation's worst Judicial Hellhole, as it was a year ago.
In November 2016 Missouri voters elected a new reform-minded governor, Eric Greitens. When he delivered his first State of the State Address to a joint session of the legislature in Jefferson City the following January, he was just minutes into his speech when he cited this report's sharp criticism of St. Louis, particularly its hosting of "junk science" mass torts. The governor committed to enacting critical civil justice reforms as a means to improving both the state's civil justice system and its economic prospects. Lawmakers have followed his lead, and a timely decision from the highest court in the land, limiting state courts' jurisdiction over out-of-state defendants, should boost their efforts to curb litigation tourism and otherwise reduce lawsuit abuse in the "Show Me Your Lawsuits State."
DAUBERT REFORM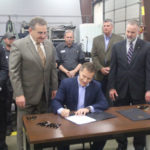 Among several reform measures on the first-year governor's legislative to-do list was the urgent need for Missouri to adopt the more exacting Daubert standard for the admission of expert evidence — the standard used by all federal courts and an overwhelming majority of other state court systems — in order to stem the flood of "junk science" lawsuits that are scaring job-creating businesses away from the state. And as reported by KMOV-TV, the new Speaker of the Missouri House, Todd Richardson, also listed Daubert reform among his "top legislative" priorities.
Promptly then, led by Rep. Kevin Corlew and Sen. Doug Libla, Missouri lawmakers went to work and in fairly short order produced a bill Gov. Greitens signed into law in late-March 2017 at a small business site. "When crooked trial lawyers bring in shady witnesses who act as experts while peddling junk science, it makes it harder for justice to be done. That scares away businesses," the governor said at the ceremony.
So the next time a mouthpiece for multimillionaire plaintiffs' lawyers, such as American Association for Justice CEO Linda Lipsen, badmouths the Judicial Hellholes report as a meaningless "publicity stunt," you'll know she really means that it's a well-respected driver of reforms aimed at some of her profession's particularly parasitic shenanigans, including the scientifically groundless mass tort that has invaded St. Louis, blaming talcum powder use for ovarian cancer.
TALC TRIALS
Speaking of which, as St. Louis television viewers know, personal injury lawyers from across the country have spent many millions of dollars during the past few years, saturating the market with misleading ads about talcum powder use. Those lawyers knew Missouri was among a dwindling minority of holdout states with an outdated standard for expert testimony that allowed juries to hear speculative testimony that is disallowed elsewhere. So they brought more than a thousand junk-science claims by out-of-state plaintiffs against out-of-state talc makers in St. Louis courts. And they enjoyed early success, presumably beyond their wildest dreams.
Four of the first five talc trials conducted in the City of St. Louis Circuit Court resulted in multimillion-dollar plaintiffs' verdicts to the cumulative tune of more than $300 million. The largest single verdict was $110.5 million. The respective plaintiffs had lived, purchased and used talc products not in Missouri but in Alabama, California, South Dakota, Tennessee and Virginia. And thanks to a January 2017 decision by the Missouri Supreme Court, doubling down on a similarly bad 2016 decision, the out-of-state talc defendants could not have some 1,350 claims by out-of-state plaintiffs sent back to courts in the plaintiffs' home states or a federal MDL in New Jersey.
U.S. SUPREME COURT TO THE RESCUE
In addition to Missouri's new expert testimony statute noted above, civil justice reformers hope a June 2017 decision by the U.S. Supreme Court in Bristol-Myers Squibb Co. v. Superior Court of California for San Francisco County will be far-reaching and finally make clear to state courts, including those in Missouri, that they generally cannot exercise jurisdiction over out-of-state defendants being sued by out-of-state plaintiffs over alleged out-of-state injuries without violating defendants' Fourteenth Amendment right to due process. (See more about the U.S. Supreme Court's jurisdictional decision in Closer Looks, p. 64.)
Responding to a defense motion that cited the Supreme Court's 8-1 decision announced earlier that day, St. Louis Circuit Court Judge Rex Burlison declared a mistrial in Swann v. Johnson & Johnson, the sixth talcum powder trial to begin there. He signaled the end of most of the talc claims pending in St. Louis, saying, "the mere fact that nonresident plaintiffs have joined their claims with those of a handful of Missouri residents does not suffice to give" Missouri courts jurisdiction over the defendants.
Missouri's Eastern District appeals court gave further hope that the end of St. Louis's talc lawsuit surge had arrived in October 2017 when it reversed and vacated the $72 million talc verdict that was the first of four such controversial, multimillion-dollar verdicts rendered in the City of St. Louis Circuit Court, also on the basis of the Bristol-Myers decision.
But optimism resulting from those rulings was dashed as this report went to press. Only six months after his earlier ruling, plaintiffs' lawyers convinced Judge Burlison to preserve the largest of St. Louis's talc verdicts—the $110 million award to a Virginia resident who bought and used talc products there. Rather than throw out the out-of-state claim, Judge Burlison gave the plaintiffs' lawyers an opportunity to "make a record" connecting the case to Missouri. So months after the trial, the plaintiffs' lawyers came back claiming Johnson & Johnson had done business with an instate company that made its talc products. That was enough for Judge Burlison, who found Bristol-Myers "stringent standard" for personal jurisdiction had been met. Plaintiffs' lawyer Ted Meadows is thrilled, declaring that this "limited evidence" connecting the cases to Missouri will help keep the St. Louis talc cases going, including those with verdicts now on appeal.
STATE HIGH COURT GETS ONE RIGHT
To be fair to Missouri's high court, it did render a sound jurisdictional decision in February 2017, two months before the U.S. Supreme Court ruled in a similar case on appeal from Montana's Supreme Court (see more on the Montana appeal in Closer Looks, p.64). In the Missouri case, brought under the Federal Employers Liability Act (FELA), which governs compensation for injured railroad workers, the state high court unanimously hewed closer to longstanding tradition and appropriately ruled that out-of-state plaintiffs alleging out-of-state injuries against out-of-state defendants doing little business there should bring their cases elsewhere.

Virginia-based Norfolk Southern Railway Company had been sued in Missouri by an Indiana plaintiff over injuries that allegedly occurred in Indiana, even though the railroad only does about 2% of its business in Missouri. Based on these facts, the Missouri Supreme Court concluded that the trial court lacked personal jurisdiction over the railroad, leaving the plaintiff to bring his claim in Indiana or Virginia.
While this decision is encouraging and certainly brings clarity to FELA case filings in Missouri, lawmakers are not off the hook. Venue and joinder reform legislation is still very much needed to keep plaintiffs' lawyers from forum-shopping within the state and otherwise arguing that defendants' "nationwide marketing" campaigns make them "at home" in Missouri.
ST. LOUIS ASBESTOS DOCKET STILL GROWING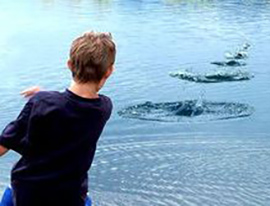 Just a Huck Finn stone skip across the river from Madison County, Illinois – a perennial Judicial Hellhole and the nation's epicenter for asbestos litigation – St. Louis has been building its own reputation as a jurisdiction hospitable to asbestos claims. Plaintiffs' lawyers filed just 67 asbestos-related lawsuits there in 2010. That annual number has since nearly quintupled.
In 2016 St. Louis nudged past Philadelphia (yet another Judicial Hellhole) into fourth place among jurisdictions drawing the most new asbestos lawsuit filings, according to consulting firm KCIC's yearly asbestos litigation trends report. And St. Louis was second only to Madison County in both new mesothelioma claims and non-meso lung cancer claims.
KCIC attributes St. Louis's rising number of asbestos filings to two plaintiffs' law firms that also have been big players in Madison County: Napoli Shkolnik and Gori Julian & Associates.
In particular, the "significant increase in [non-meso] lung cancer filings in St. Louis is due to the filings by Gori," KCIC explains. "In 2014, Gori only led 29 of the 168 cases [there]." Such filings by Gori increased to 77 filings in 2015 and, in 2016, "accounted for 60% of all St. Louis lung cancer filings — 111 of the jurisdiction's 185 lung cancer cases."
Though it no longer offers a lax expert testimony standard, St. Louis is increasingly attractive to asbestos claimants for many of the same reasons it attracts other products liability litigation – plaintiff-friendly venue and joinder rules, relatively inexpensive television advertising, and the potential for excessive awards, thanks in part to a 2014 state high court decision striking down a reform statute that reasonably limited punitive damages. So not surprisingly, St. Louis has hosted several multimillion-dollar asbestos verdicts and thus will likely attract still more cases.
PREPOSTEROUS CONSUMER CLASS ACTIONS
As Joanna Shepherd of Emory University Law School has reported, the Missouri Merchandising Practices Act (MMPA), the state's consumer protection law, actively "invites potential abuses through socially valueless lawsuits and unnecessary consumer litigation."
Prof. Shepherd finds that local lawyers repeatedly use the MMPA to file meritless class actions in state court, typically in St. Louis, hoping to avoid potentially less sympathetic federal courts by seeking less than $5 million in damages – the amount triggering federal jurisdiction under the Class Action Fairness Act. These are not serious cases, she says. They are a money-making enterprise for plaintiffs' lawyers like those at the Armstrong Law Firm LLC. It has filed class action lawsuits in St. Louis alleging various products, including peppermint candies, donuts, "Toastees," and bread, biscuit, cupcake and coffee cake mixes are misleadingly labeled. As though reasonable consumers buy candy, donuts or cupcake mix thinking such sweet treats are wholesome additions to their diets.
And even though, as Prof. Shepherd and others note, state courts are generally much less likely than federal courts to dismiss these often preposterous consumer claims, two recent rulings in the federal Western District of Missouri may signal more trouble, particularly when it comes to a rising tide of so-called slack-fill law suits, wherein plaintiffs allege that over-sized packaging misled them to believe they were getting more for their money than they actually got.
Writing in late-August 2017 Martha Charepoo of Baker Sterchi Cowden & Rice in St. Louis detailed the two consecutive, nearly identical opinions by the Western District in slack-fill claims brought under the MMPA. In both Bratton v. The Hershey Company and White v. Just Born, Inc., the federal court "refused to dismiss claims against candy manufacturers for selling [purportedly] under filled boxes of Reese's Pieces and Whoppers (Hershey) and Hot Tamales and Mike and Ike's (Just Born), thereby allowing both class actions to proceed to the discovery stage."
In both cases defendants argued that the plaintiffs failed to show an "ascertainable loss," as required by the MMPA. Among other things, the candy-makers also argued that consumers are not misled because information about the net weight of the contents, the number of pieces of candy per serving, and the number of servings in the box are all clearly listed on the box.
But these arguments did not persuade District Judge Nanette K. Laughrey. Citing a Missouri appellate court's late-2016 decision in Murphy v. Stonewall Kitchen, LLC, an "all-natural" labeling case, the judge said that whether a reasonable consumer would be misled by a large box is a question of fact that cannot be resolved before there has been fact discovery. In other words, both state and federal courts now seem to believe the MMPA limits their decisions about what constitutes reasonableness rather than allow commonsense objectivity at the start. is means plaintiffs' lawyers seeking quick, easy-money settlements will have more leverage over defendants wishing to avoid the expense of lengthy litigation.
LAWMAKERS MUST KEEP UP REFORM MOMENTUM IN 2018
In addition to expert-testimony reform aimed at limiting junk science, Missouri lawmakers in 2017 enacted another solid statute allowing defendants at trial to introduce evidence of both the actual costs of plaintiffs' medical care and payments already made by defendants or their insurers as a means to keep plaintiffs' lawyers from unduly inflating demands for damages. So this was a good start.
But as analysis of the slack-fill cases above suggests, one of the top priorities for Missouri legislators and Gov. Greitens in 2018 ought to be overdue amendments to the MMPA which, as currently written and interpreted by the courts, does far more to enrich class-action lawyers than it does to protect consumers. In fact, as litigation costs are invariably passed on to consumers in the form of higher prices, Missourians should be demanding action on this from their elected representatives in Jefferson City.
And while lawmakers are at it, they should heed the governor's call for legislation reforming the state's lenient and easily gamed venue and joinder rules so as to limit personal injury lawyers' brazen efforts to shop their cases to the state's more plaintiff-friendly courts in St. Louis.
Furthermore, legislators should follow through in passing a law that would allow jurors in auto accident cases to hear evidence about whether plaintiffs were wearing seat belts so liability for damages can be more fairly apportioned.
Some lawmakers also are reportedly fine-tuning language in a proposal that would bring transparency and accountability to the hiring of private-sector personal injury lawyers by the state's attorney general or other officials to run lawsuits on behalf of the government. If such contracts are to be entered into, both lawmakers and taxpayers should have ready access to contract details. And strict accountings of and limits on lawyers' fees, including a ban on contingency-fees, would better serve the public's interest in evenhanded civil justice.
Sooner than later Missouri's litigation climate would also benefit from judgment interest reform and restoring reasonable limits on punitive damages. But urging these future reforms is by no means to suggest that 2017 wasn't quite positive. Because it was. That's why St. Louis has dropped from the #1 Judicial Hellhole to the #3 spot. And with a governor and legislative majorities further determined to improve their state's economy by making their state decidedly less hospitable to out-of-state plaintiffs and meritless lawsuits, reform momentum can be maintained and more progress can be made.