State continues to hire contingency-fee lawyers
Legislature fails to address lawsuit abuse
Fraud and lawsuit abuse continue to drive up cost of auto insurance
Judicial misconduct and lack of transparency plague courts
The Bayou State continues to climb up the Judicial Hellholes list, due to the costly combination of former plaintiffs' attorney and current Governor John Bel Edwards' (D) aggressive litigation agenda, the plaintiff-friendly legislature, and inescapable advertising practices by the plaintiffs' bar.
Lawsuit abuse continues to drain the Bayou State's economy. Families and businesses in the Bayou State paid nearly $7 billion in expenses related to tort litigation in 2016 – that's more than $4,000 paid by every Louisiana household. The impact of this hidden "tort tax" on the Louisiana economy ranks among the top 5 states in the nation, with litigation costs equaling almost 3 percent of the state's Gross Domestic Product (GDP).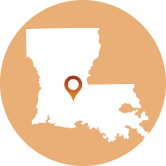 The total current impact of excessive tort costs on the Louisiana economy amounts to estimated losses of $1.1 billion in annual direct costs and $1.5 billion in output (gross product) annually. More than 15,500 jobs are lost when dynamic effects are considered. All major industry groups are negatively impacted, with retail trade, business services, health services and other service industries showing the greatest losses. As of 2018, the yearly fiscal losses are estimated at $76.4 million in state revenues and $64.3 million to local governments.
STATE CONTINUES TO USE CONTINGENCY FEE LAWYERS TO 'REGULATE THROUGH LITIGATION'
COASTAL LAWSUITS DRIVE JOBS OUT-OF-STATE
Current coastal lawsuits targeting Louisiana's critical energy industry stretch the law far beyond its intent, ignore critical facts and involve private lawyers in a space meant for democratically elected decision makers who are accountable to the public. As pointed out by Lana Venable of the Louisiana Lawsuit Abuse Watch, "Strategies for protecting and enhancing the coast through innovative, science-based partnerships increase economic development opportunities. Lawsuits only reinforce Louisiana's reputation as one of the most litigious states in the country while driving up the cost of doing business."
Lawsuits only reinforce Louisiana's reputation as one of the most litigious states in the country while driving up the cost of doing business."
– Lana Venable
Even though these companies provide thousands of quality jobs for hard-working Louisianans and millions in tax dollars for state coffers, these baseless lawsuits continue to move forward under Governor John Bel Edwards (D) and his high-paid trial attorney friends. These coastal lawsuits only continue to move the state in the wrong direction and further weaken Louisiana's struggling economy, which has lost thousands of jobs and major manufacturing projects in recent years. For example, the parishes of Houma and Thibodaux lost 2,500 oil and gas jobs from March 2018 to March 2019, marking the sixth consecutive over-the-year losses. According to an article in the Wall Street Journal, the oil and gas industry employs about 5 percent of the state's workforce, contributes about 10 percent of aggregated payroll, and accounts for 10-15 percent of tax revenue. The industry has generated billions of dollars in royalty payments to landowners and has provided thousands of high-wage jobs to generations of Louisiana citizens. The continued litigation onslaught will only hurt these hard-working taxpayers and drive oil and gas companies to do business elsewhere.
In 2019, Orleans Parish took the governor's bait and joined the lawsuit fray along with the six parishes to originally file more than 43 suits against these companies. Edwards began to pressure the oil and gas industry shortly after he took office in 2016. He issued an ultimatum to the state's oil and gas industry: either spend billions of dollars restoring the eroding coast line or face a drawn-out, costly legal battle. This attempted shake-down failed and the two sides have been tied up in litigation ever since.
Yet another development involved Terrebonne Parish joining in the parade of lawsuits, at the urging of Governor Edwards and the Louisiana Department of Natural Resources. In January 2019, DNR Secretary Tom Harris appointed the parish district attorney, Joe Waitz Jr., as a "special designee" of the state to investigate any potential environmental damage allegedly caused by oil and gas activities in the parish. In turn, the DA deputized private plaintiffs' lawyers to pursue the investigation under an apparent fee-shifting agreement. Parish President Gordon Dove fired back by challenging the legality of such a move, suggesting that the state and district attorney are navigating around local leaders who do not want their parish involved in the litigation.
GOVERNOR EDWARDS' DONORS LEAD STATE'S OPIOID LITIGATION
More than 100 lawsuits have been filed in Louisiana seeking damages from pharmaceutical makers and distributors for their alleged roles in the opioid crisis. Most of these suits were filed by Louisiana cities, towns, parishes and sheriffs through private contingency-fee lawyers. These suits are included in a vast docket of more than 2,000 similar cases from across the U.S. pending in federal court in Ohio.
In addition to this multi-district litigation, Governor Edwards' administration filed its own lawsuit in state court and agreed last year that Attorney General Jeff Landry would represent the state in its case against 17 pharmaceutical companies. Both Edwards and Landry agreed to choose private attorneys to handle the case. A 2014 law precludes the state from hiring attorneys on a contingency-fee basis. This law responded to how Louisiana's prior attorney general repeatedly hired and paid lucrative fees to politically-connected attorneys (the law does not extend to local governments).
Of the 19 private attorneys representing the state in these cases, ten donated directly to Edwards or to Gumbo PAC, a political action committee that supports the Democratic governor. Leading the state's roster of private lawyers is Mike Moore, a former state attorney general. From 2011 to 2018, Governor Edwards received almost $470,000 in campaign contributions from the Louisiana trial bar's top campaign contributors. Gumbo PAC received more than $1 million.
The opioid epidemic is a serious public health crisis both nationally and in Louisiana, specifically. This growing problem needs to be addressed by elected policymakers, the expert regulators they appoint, the medical and scientific communities, and law enforcement. These groups must work cooperatively to advance public health and safety and ensure that these interests are not compromised by profit-driven lawyers.
Billions of dollars are at stake, and as Pete Adams, executive director of the Louisiana District Attorneys Association stated, "In addition to the seriousness of the issue, everybody is looking to get any dollars they can get." The plaintiffs' attorneys hired by Louisiana's state and local governments stand to gain millions of dollars of any state recovery. As a result, their incentive is to maximize their fees irrespective of the public interest.
LAWSUIT ABUSE AND LEGISLATIVE INACTION
Several bills aimed at improving Louisiana's plaintiff-friendly litigation climate were introduced during the 2019 legislative session. Not surprisingly, none passed. The fatal combination of an election year, a Senate committee stacked with trial lawyers, and a powerful trial lawyer-turned-governor all but sealed the fate of any meaningful reforms.
AUTO INSURANCE RATES – SECOND HIGHEST IN THE COUNTRY
The most comprehensive of these measures sought to lower auto insurance rates in Louisiana, which are the second highest in the country. It was dubbed the "Omnibus Premium Reduction Act," and considered the most important legislation of the session by the Louisiana Association of Business and Industry. Several of the bill's broad and diverse base of supporters addressed these issues with legislators at the Capitol, pleading for relief from the job-killing costs of auto insurance. Though the bill received overwhelming bipartisan support in the House, picking up nearly two dozen coauthors, it met its expected demise with the Senate Committee on Judiciary A.
Fueled by a climate of lawsuit abuse, the high cost of auto insurance continues to plague Louisiana families and businesses. Litigation plays a significant role in increasing insurance company costs, subsequently leading to premium increases of 52 percent since 2011 for Louisiana drivers. Some insurance companies are no longer writing policies in the state, leaving fewer companies to compete. Louisianans are feeling the effects on their pocketbooks, and some businesses are considering whether to relocate to less litigious states or close their doors.
Louisiana drivers pay a whopping $2,298 per year annually for auto insurance, which is $841 more than the national average and second only to Michigan – a no-fault insurance state. Further, roughly 53 percent of Louisiana drivers are either uninsured or underinsured, encouraging those who are in a car accident to turn to the legal system to get a bigger payout.
Also, the state has more than twice the national average in bodily injury claims. According to the Independent Insurance Agents & Brokers of Louisiana, the state is about average when it comes to the number of accidents and property damage claims by individuals, but bodily injury claims are out of line with the rest of the country.
TRIAL LAWYERS TAKE ADVANTAGE OF HIGH JURY TRIAL THRESHOLD
Louisiana's jury trial threshold remains the nation's highest at $50,000, which allows trial lawyers to go "judge shopping" for favorable venues, denying many citizens their fundamental right to a trial before a jury. This practice manipulates the system and increases insurance costs.
By comparison, this is 233 percent higher than Maryland, which has the next highest jury trial threshold at $15,000. Most states have significantly lower thresholds for jury trials, and 36 states have no threshold at all. It is no coincidence that 53 percent of claims in Louisiana are less than $50,000.
The 14th Judicial District Court of Lake Charles, Calcasieu Parish, is one of the preferred venues for plaintiffs' lawyers. They have filed a multitude of lawsuits targeting the oil and gas industry in the court over the years, never asking for more than $50,000 in damages in order to stay below the jury trial threshold. Despite having low medical expenses, total damage amounts typically received by the plaintiff are close to the $50,000 threshold.
SCAM TARGETING COMMERCIAL DRIVERS
A rash of recent lawsuits targeting semi-trucks in the metro New Orleans area appear to be staged. The lawsuits typically involve multiple people in the claimant's vehicle, minimal (usually unnoticeable) damage to claimant's vehicle, little to no damage to the insured truck, and a commercial driver that is unaware of an accident or disputes that a collision occurred. Many of these cases involve the same attorneys and doctors and allege serious bodily injury and negligence against the trucking company, seeking a big payout. Damages sought include medical expenses, mental anguish, loss of enjoyment of life, physical pain and suffering and inconvenience.
One area transport company found evidence of more than 30 other accidents in New Orleans fitting this description. Many insurance companies settle these cases, rather than expend the time and resources involved in going to trial – and facing Louisiana's "hometown justice." Now that the scheme has been exposed, the tide may be turning. A federal judge dismissed a claim seeking $1 million from a trucking company in April 2019, after the plaintiffs' attorney indicated that his clients would assert their Fifth Amendment right against self-incrimination due to a criminal investigation into the potential fraud. What the court did not dismiss, however, was a counterclaim, filed by the insurer, alleging "that the plaintiffs conspired together to cause and/or stage [the] accident," and that the lawsuit follows multiple similar claims wherein "18-wheelers on the I-10 or 610 in New Orleans are flagged down regarding accidents of which their drivers are unaware." The criminal investigation into the staged accidents is ongoing.
According to the Louisiana Motor Association, industry insurance costs are estimated at three to five times higher than the national average, with the state's litigious culture largely to blame. According to Louisiana Insurance Commissioner Jim Donelon, accident fraud adds $600 in insurance costs for each family in Louisiana.
SEAT BELT GAG ORDER
For the second year in a row, two separate measures that would have made evidence of use of a seat belt admissible in civil proceedings failed to advance out of the Louisiana Senate Committee on Judiciary A. Under current state law, a jury is not allowed to consider the highly relevant evidence of whether vehicle occupants were wearing seat belts when determining damage awards.
TRIAL LAWYER ADVERTISING
The proliferation of trial lawyer advertising has become a real problem in Louisiana, cementing the trial bar as its own cottage industry. These advertisements promise "jackpot justice" versus sustainable jobs for Louisiana's citizens. While Louisiana only has about 2 percent of the nation's roadways, it is home to about 10 percent of the nation's billboards. Of the state's roughly 7,000 billboards, about 1,000 of them are paid for by attorneys.
A recent study by the American Tort Reform Association found television viewers in Louisiana's three largest media markets were bombarded by more than 250,000 ads for lawyers, lawsuits and legal services on local television broadcasts in the second half of 2018. That translates into one legal services ad aired every minute on average in New Orleans, Baton Rouge and Shreveport, purchased at an estimated cost of $16 million.
While there was no significant legislation to address this problem, one point of light during the legislative session was the passage of a concurrent resolution requesting the Louisiana State Bar Association and Louisiana Supreme Court review rules governing solicitation advertising by attorneys.
JUDICIAL MISCONDUCT AND LACK OF TRANSPARENCY
Louisiana's judges are governed by the Code of Judicial Conduct and the Louisiana Constitution. In 2018, the Judiciary Commission of Louisiana received and docketed a total of 543 complaints against judges and justices of the peace. Of this number, 216 complaints were further reviewed to consider the need for investigation. The Commission filed six notices of hearing against four judges and two justices of the peace, with two judges retiring after formal proceedings were initiated.
One of these was Judge Henry Brown, the chief judge of the state appeals court in Shreveport for 27 years. Brown abruptly retired after being suspended amid complaints that he had created a hostile environment toward colleagues who were hearing an appeal of a civil lawsuit against a friend.
In another case of alleged misconduct, the Louisiana State Police investigated and subsequently charged St. John the Baptist Parish Judge Jeff Perilloux of the Fortieth Judicial District Court with three felony counts of indecent behavior with a juvenile and one count of misdemeanor sexual battery. Perilloux has taken a leave of absence from the bench.
Meanwhile, Louisiana Supreme Court Justice Jeff Hughes has been the target of a secret FBI investigation for more than two decades. The investigation came to light after an exposé by a local media outlet. Allegations against Hughes include blatant conflicts of interest in cases before him and refusal to recuse himself. In one instance, Hughes declined to bring in another judge and ruled on his own alleged conflict. Not surprisingly, he found none. Pointing to an ongoing lack of transparency, the Judiciary Commission's findings are not routinely made public and there is no record of what – if anything – was done to address complaints about Hughes' behavior. After Hughes advanced to the state's high court, he filed a federal lawsuit against four of his fellow justices challenging their decision to force his recusal in two lawsuits against oil and gas companies because the plaintiffs' attorneys contributed hundreds of thousands of dollars to his election in 2012. (A federal judge dismissed Hughes' claim).
Prior to joining the Supreme Court, Justice Hughes claimed to have spent more than $140,000 in legal expenses related to the federal probe. When it was all over, state taxpayers picked up most of the tab for his legal expenses, despite there being no public record of the allegations against him or public recriminations. Hughes recouped nearly $100,000 of his legal costs by taking advantage of an obscure state law designed to protect state officials against unfair criminal allegations.