Mass tort cases inundate court system
Trial lawyers spend millions on advertisements
A magnet for asbestos litigation
Courts misapply venue rules, allow forum-shopping
The Philadelphia Court of Common Pleas remains the center of the universe for pharmaceutical litigation and for good reason. Johnson & Johnson was hit with an astounding $8 billion verdict in 2019. The court's reputation for excessive verdicts and its "open door" policy to out-of-state plaintiffs attracts plaintiffs' lawyers from across the country. Eighty-six percent of the new pharmaceutical suits in Philadelphia are brought by out-of-state plaintiffs. In addition to the voluminous pharmaceutical litigation, medical liability payouts have reached new highs – or rather lows – and the city continues to be a hotbed for asbestos litigation. Trial lawyers pour millions of dollars into advertisements to drive up the number of lawsuits and increase the pressure on defendants to settle. Little is expected to change in "The City of Unbrotherly Torts." State leadership has established a pro-plaintiff agenda, signaling to state courts that decisions to expand liability are fully supported.
MASS TORT CASES INUNDATE PHILADELPHIA COURT
Trial lawyers spend millions of dollars on advertising in the Philadelphia media market to drive up the number of claimants. The volume increases the pressure on defendants to settle. Trial lawyers spent $10.9 million on 73,000 lawsuit advertisements on local broadcast stations in the first half of 2019. Philadelphia residents saw an additional 28,000 ads soliciting claims related to alleged injuries caused by medications and medical devices airing on national broadcast and cable networks during nationally syndicated programming. It is estimated that over $45 million was spent on this advertising.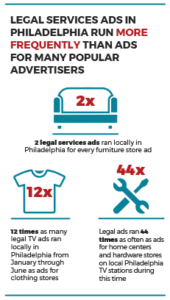 RISPERDAL LITIGATION
If there was any doubt that Philadelphia is a Judicial Hellhole, that was put to rest by the $8 billion verdict out of the Court of Common Pleas' Complex Litigation Center (CLC) in a single-plaintiff Risperdal case in October 2019. According to The Legal Intelligencer, the award is the largest verdict since the publication began tracking them in 1994. The award includes over $7 billion in punitive damages, despite the plaintiff receiving only $680,000 in compensatory damages. The award ratio blows past the outer limit of the U.S. Supreme Court's guidelines for what is constitutionally permitted. The Court has stated that punitive damage awards should not typically exceed single-digit multipliers of the compensatory damages.
Litigation concerning Risperdal, an antipsychotic drug, dominates the CLC docket. In addition to using the drug to treat schizophrenia, doctors prescribe it to help children with conditions such as autism. The lawsuits allege that the manufacturer did not sufficiently warn that a side effect some may experience is gynecomastia, which causes male breast growth. Risperdal litigation has grown to about 6,700 cases – or about two-thirds of the court's inventory.
It was the first of these cases to go to trial that resulted in the $8 billion punitive damage verdict against Johnson & Johnson subsidiary Janssen Pharmaceuticals Inc. The case, brought by a Maryland resident, resulted in a $1.75 million compensatory damage award in 2015, which was reduced on appeal to $680,000. Last year, a Pennsylvania Superior Court ruling opened the door to punitive damages by finding that the law of each plaintiff 's home state applies, rather than the law of J&J's home state, New Jersey, which precludes punitive damages in cases challenging FDA-approved warnings. A second phase of trial followed, resulting in the jaw-dropping award.
What may be more astonishing than the size of the award is what followed. After the verdict, Judge Kenneth Powell reportedly high-fived some of the jurors and posed with them for photos taken by the plaintiff's lawyer. As Janssen stated in its motion for a new trial, "To a defendant who had sat through unbalanced ruling after unbalanced ruling … the message was clear: the jury had received and acted on the pro-plaintiff message that the judge had sent." Janssen asked that the judge recuse himself from the requested retrial, a request that was later denied. Janssen's motion alleges classic Judicial Hellhole-type conduct: Lopsided rulings that did not allow the company to present key evidence about the benefits and risks of the drug, the label, or the company's compliance with regulations, while allowing the plaintiffs' lawyers to present a case designed to punish the company on behalf of "the children of the world."
There's more to come. According to the court docket, there are over 7,000 Risperdal lawsuits pending in the CLC. Many of those cases seemed likely to be dismissed because CLC Judge Arnold New had found that by June 2009 plaintiffs would have had notice of the risk as a result of medical literature, newspaper articles, and, of course, attorney advertising. A state appellate court ruled that plaintiffs should have been aware of the cause of their injuries even earlier, as the manufacturer added information about the risk of gynecomastia to the medication's label in 2006. Pennsylvania law requires personal injury claims to be filed within two years of accrual. Thanks to a November 20, 2019 Pennsylvania Supreme Court ruling, however, the Risperdal cases will move toward trial, regardless of when they were filed, and increase the pressure for a large settlement.
XARELTO SETTLEMENT
2019's Xarelto settlement demonstrates that in mass torts litigation, the merits of lawsuits seem not to matter much, if at all. The reality is that it is the sheer volume of cases that a defendant faces that now drives corporate litigation strategy.
In March, Bayer and Johnson & Johnson agreed to settle more than 25,000 cases involving their jointly developed blood-thinning medication, Xarelto, for $775 million. They made this decision despite an unblemished record in court. Rather, the company understandably settled "to avoid the distraction and significant cost of continued litigation."
Plaintiffs claimed the companies failed to warn of the danger of excessive bleeding when taking the FDA-approved medication. Xarelto is prescribed for patients who have atrial fibrillation, deep vein thrombosis, and other serious ailments. The medication is intended to thin the patient's blood in order to avoid clotting because the patients for whom it is prescribed are at risk for stroke, pulmonary embolism, and other life-threatening conditions.
Prior to the March 2019 settlement, plaintiffs' lawyers aggressively searched for a viable case against the defendants. There were close to 2,000 active cases in the Philadelphia Court of Common Pleas, but the defendants had been victorious in the only three cases tried to completion. The plaintiffs' bar was strategic in targeting Philadelphia, as it is known for its plaintiff-friendly judges and low barriers of entry. There were 1,854 cases targeting Xarelto in June 2018, and out-of-state plaintiffs accounted for 84 percent of these cases.
Plaintiffs' lawyers and so-called "aggregators" spent millions of dollars on advertisements to increase the number of potential claimants. In 2016, Xarelto was the most targeted product of mass-torts lawyer advertisements on television. A total of $37 million was spent on 128,800 national television ads to identify potential plaintiffs. This does not include the money spent on local cable ads.
"Patients are dying because they are afraid to take the medications prescribed for them due to the fear brought on by these negative and one-sided campaigns."
– Dr. Ilana Kutinsky
These ads have developed into an essential piece of mass tort lawyers' marketing strategies. While they are annoying, the most significant problem is that they can frighten viewers to the point they decide to stop taking their physician-prescribed medications. A recent 2019 study authored by nine FDA researchers showed the real-life dangerous consequences of these ads. Through November 15, 2017, the FDA received 66 reports of adverse events following patients discontinuing their blood thinner medication (Pradaxa, Xarelto, Eliquis, and Savaysa) after viewing a plaintiffs' lawyer ad. Most of these patients were elderly (median age 70) and 98 percent of these patients stopped their use of the medication without consulting with their doctor. Thirty-three patients experienced a stroke, 24 experienced another serious injury, and seven people died.
Dr. Ilana Kutinsky, the physician for one of the deceased, directly associated these ads with patients' deaths: "Patients are dying because they are afraid to take the medications prescribed for them due to the fear brought on by these negative and one-sided campaigns."
PELVIC MESH LITIGATION UPDATE
The CLC also hosts litigation alleging that pelvic mesh implants, which are widely used to address stress urinary incontinence in women, are improperly designed despite FDA approval. Philadelphia juries have hammered Johnson & Johnson subsidiary Ethicon with more than $345 million in verdicts.
In May 2019, Ethicon filed a motion seeking to have the pelvic mesh litigation moved outside the Philadelphia area or have a "pretrial cooling-off period" before the next trial due to inaccurate media coverage that has tainted the Philadelphia jury pool. This came after two massive verdicts in the spring totaling $200 million. "Defendants are entitled to a trial by impartial jurors based on the evidence adduced at trial, not by a jury inflamed by plaintiff 's counsel outside the bounds of the courtroom," Ethicon said in its motion. The Philadelphia media inaccurately reported on an FDA decision to remove transvaginal pelvic organ prolapse kits from the market, which did not apply to any of Ethicon's products. Less than a month later, Philadelphia Court of Common Pleas Judge Arnold New denied the motion. Ethicon faces 90 additional cases in Philadelphia.
PHILADELPHIA: A MAGNET FOR ASBESTOS LITIGATION
The city remains in the Top 5 most popular jurisdictions to file lawsuits claiming injuries from exposure to asbestos. Plaintiffs' lawyers filed 215 new asbestos lawsuits in Philadelphia in 2018 (a drop from the 263 lawsuits filed the previous year). There are currently 516 pending asbestos cases in the Complex Litigation Center.
In keeping with the Court of Common Pleas' "open door" policy, the number of out-of-state plaintiffs who brought asbestos cases in 2018 increased from 47 percent to 60 percent. This is the highest percentage of out-of-state plaintiffs since at least 2010.
LOOSE APPLICATION OF VENUE LAWS AND FORUM SHOPPING CONTINUES OUTSIDE OF MASS TORT DOCKET
In May 2019, the Pennsylvania Superior Court declined Philadelphia Court of Common Pleas Judge Arnold New's request to reconsider venue rules as applied to defamation cases. The Court of Common Pleas previously permitted a Chester Heights mayoral candidate to sue for defamation in Philadelphia even though she was a resident of Delaware County and the information was aimed at Delaware County residents. The lawsuit alleged the candidate was the victim of a smear campaign and that the defamatory statements were available to Philadelphia residents online.
Judge New based his ruling on a 1967 case, Gaetano v. Sharon Herald, and held that in a defamation action, "publication" occurs in any county where the statement is read and understood to be defamatory. Applying the law to allow a lawsuit to be filed anywhere in the state is inconsistent with the purpose of a defamation action, which is to restore a person's name in his or her community. In his opinion, Judge New stressed that his job as a trial court judge is to apply the law, rather than "make new law." He urged the state's appellate court to reevaluate the state's venue rules related to defamation to change the law to reflect modern communication technology and prevent clear forum shopping by plaintiffs' lawyers. Unfortunately, his request largely fell on deaf ears.
BRITISH PLAINTIFFS SUE IN PHILADELPHIA COURT OF COMMON PLEAS
The Philadelphia Court of Common Pleas' reputation as a pro-plaintiff courthouse extends far beyond the commonwealth of Pennsylvania and even the United States. In 2019, a group of British plaintiffs filed a lawsuit over a London apartment fire in the Philadelphia Court of Common Pleas.
On June 14, 2017, a fire raged through the Grenfell Tower apartment complex in London, England resulting in 72 deaths. The successors to these British victims filed a lawsuit in Philadelphia alleging that two Pittsburgh-based defendants, who produce building materials, created highly flammable insulation and cladding materials that were used to build the apartment complex. Despite the unquestionable convenience of filing a lawsuit in a court in the United Kingdom, they chose to file their lawsuit in Philadelphia, a city to which they have no obvious connection. Their most likely reasons according to Philadelphia Magazine – unlike courts in the U.K., the Philadelphia Court of Common Pleas is "known to award huge damages" and is "a place where the scales of justice are weighted in favor of the plaintiffs."