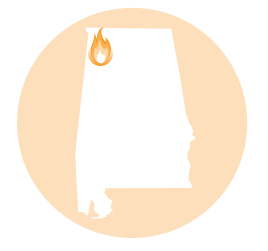 Judge Dempsey's Home-Cookin' Serves Local Employer Well
With his ham-fisted, home-job handling this past spring of a specious lawsuit brought by a local manufacturer against an out-of-state software company, Franklin County Circuit Court Judge Terry Dempsey appeared singlehandedly determined to qualify his rural Alabama jurisdiction as the next notorious Judicial Hellhole.
The plain language of an enterprise software licensing agreement signed in 2005 by plaintiff Sunshine Mills (a pet food maker and one of Franklin County's larger employers) and defendant Ross Systems of Atlanta, Georgia, specified that any subsequent disputes arising from the agreement would be adjudicated by Georgia law. But Judge Dempsey ignored that agreement and allowed the case to go all the way to trial before requiring the plaintiff to spell out its vague allegation of fraud.
Judge Dempsey also repeatedly allowed plaintiffs' counsel to make thinly veiled xenophobic references to the defendant's parent company based in China in an apparent effort to appeal to the lesser angels of the jurors' nature. And after Judge Dempsey allowed a never-before-recognized-in-Alabama-courts rationale for calculating Sunshine Mills supposed damages (based on projected profits not realized), those jurors ultimately came back with a whopping $61 million verdict – including $45 million in punitive damages – for the hometown favorite. It should be noted that Ross Systems' was valued at just $58 million at the time of the verdict.
It should also be noted that, as reported by the Birmingham News, the software system in question only cost Sunshine Mills $235,000, and was used for years without complaint before the suit was filed just days before the statute-of-limitations was to run out. In fact, according to Ross Systems in a motion to reverse the jury's verdict in Alabama, an appeal to the Alabama Supreme Court, and a countersuit in Georgia, Sunshine Mills continued to use the software without a license, purchased additional products from Ross, paid for ongoing customer support during the trial, and consistently gave Ross high marks for its service in feedback surveys.
It would take a mind reader to know if Judge Dempsey deliberately strung out the post-trial process in Franklin County so as to assist Sunshine Mills attorneys in putting the squeeze on Ross Systems. Though the Alabama legislature, to its credit (see Points of Light, p. 35), has since significantly lowered the state's rate of post-judgment interest, it was an absurdly high 12 percent at the time, and that put about $20,000 per day's worth of pressure on Ross as it pursued its appeals and otherwise negotiated with Sunshine Mills toward a settlement figure less than $61 million.
Such a bankruptcy-preventing settlement was eventually reached by the parties in September, obligating the defendant to pay the plaintiff about $9.5 million. In any case, despite the moderating efforts of the state legislature and supreme court, this textbook example of backwoods justice establishes Franklin County as a worrisome Watch List jurisdiction, the likes of which should concern all Alabama policymakers and citizens hoping to build a stronger state economy.