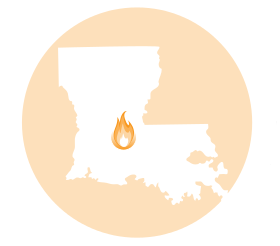 Another 'Legacy' of 'Small-Town' Justice
The landscape in Louisiana, like that of Texas, Mississippi and other "oil patch" states is dotted with drilling rigs, long a symbol of revenue for landowners, jobs for local citizens, and economic potential for local business communities. The difference between the oil rigs in the Pelican State compared to those in other states, however, is that many of them are idle or otherwise in decline. Why? Because a booming cottage industry has developed to pursue what are known as "legacy" lawsuits, which have brought onshore energy exploration and production to its knees in Louisiana. Though such litigation purports to be about funding for environmental clean-up, local observers say the only ones cleaning up are the plaintiffs' lawyers.
Here's how it works: A lawsuit is filed in a rural parish courthouse, claiming millions or even billions in damages for alleged environmental harm as a result of drilling activity. A case can remain unresolved for years, sometimes a decade, without any hard evidence of contamination being proffered or cleanup undertaken. Rather than eventually risk a runaway jury verdict, the defendant or defendants often choose to be extorted, that is, to settle out of court. And though a 2006 reform law sought to obligate a significant portion of monies paid from these lawsuits to environmental remediation, cagey Bayou plaintiffs' lawyers often manage, with blessings from both parish and appellate judges, to use the law unfairly for their own gain.
More than one out of every two barrels of crude pumped from Louisiana's oilfields are produced by a lawsuit defendant company. Energy producers large and small have been affected – more than 1,500 companies in all – with some 250 suits filed over the past five years. And amazingly enough, more than half of the lawsuits involve the plaintiffs' firm of Talbot Carmouche & Marcello, according to case listings by Louisiana's Department of Natural Resources.
Blow Yourself Up, Win $15 Million
As if the spiraling costs of legacy lawsuits weren't enough to crush the energy industry and kill jobs, Louisiana's courts also appear inclined to go after utility companies.
In May 2011, the Third Circuit Court of Appeals upheld a St. Landry jury's $15 million verdict in a case of an explosion that occurred when a man turned the natural gas on at his house after it was cut off due to non-payment. Carl Jones Sr., of Opelousas, broke the lock installed by the gas company with a wrench and restored fugitive services. The home exploded the next day. Despite the fact that the gas provider, Centerpoint Energy, had turned off and locked the gas service, and its actions were not the legal cause of the accident, a jury found the utility to be 50 percent responsible and awarded the Jones family $15 million.