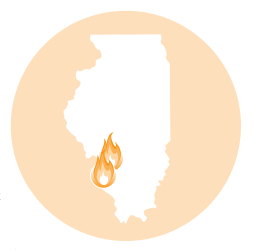 Madison County
After Madison County judges undertook reforms to stem forum shopping in 2006, Madison County managed to work its way off the Judicial Hellholes list. Overall, the fairness of the Madison County courts has significantly improved. But progress has seemingly stalled, and the jurisdiction's truly troubled past may be poised to repeat itself.
Certainly, Madison County's days as the "class action capital" of the United States appear to be over, as such lawsuits there fell from 106 class action filings in 2004 to just 8 in 2010. Congress's enactment of the Class Action Fairness Act (CAFA) in 2005, which expanded the jurisdiction of the federal courts to hear multistate class actions, has much to do with that progress. Local attorneys, such as the Lakin Law Firm know this, which is why they filed a rush of class action complaints in Madison County as the new law took effect. Those hurriedly-filed cases are still trickling through the county's courts. Earlier this year, an appellate court reversed rulings by Madison County Circuit Court Judges Daniel Stack and Barbara Crowder to certify two class actions in 2008 and 2009, respectively.
Medical malpractice suits have also leveled off, given the population of the county, dropping from 59 in 2004 to 13 in 2010. Such progress may sometimes come despite rulings such as that of Judge Andy Matoesian, who found that a Madison County resident who had traveled to Missouri for treatment could sue the doctor in Madison County because the doctor had followed up by leaving a phone message with test results on the plaintiff's voicemail and taken the returned call. In September, an appellate court reversed this ruling, recognizing that "[a] rule of law that allowed personal jurisdiction over a physician on the basis of a single phone call would effectively ensure that no physician ever delivered instructions over the telephone, or via email, for that physician could never know with certainty where they might eventually be hauled into court as a result of those instructions."
Even the $10.1 billion (with a "b") Madison County verdict imposed on Philip Morris for marketing Marlboro cigarettes as "light," known as the "Price" case for the name of the lead plaintiff, is back. The class action award was reversed by the Illinois Supreme Court in 2005, but then kept alive on the grounds of a U.S. Supreme Court decision that found, in another case three years later, that the Federal Trade Commission had not explicitly authorized use of such terms, undermining the basis of the decision to dismiss the Price case. The case is on its way back to Madison County, which could reopen the case.
In more positive news, this year, the Illinois Supreme Court threw out a $43 million Madison County verdict against Ford. As explained in the Points of Light section (see p. 40), Judge Matoesian allowed highly prejudicial and misleading evidence against Ford, while preventing the jury from considering evidence supporting the auto maker. Had the high court not intervened, the outcome would have imposed unprecedented new liability on product manufacturers.
The Largest Asbestos Docket in America
In other areas, particularly with respect to asbestos litigation, the county seems to have suffered a full relapse.
Madison County was and again has become the epicenter for national asbestos litigation. In 2003, asbestos filings in the county peaked at 953. After Judicial Hellholes reporting spurred public scrutiny of the magnet jurisdiction, judges became more serious about transferring cases that belonged in other areas. By 2006, asbestos filings in Madison County reached a low point of 325. Since then, however, the number of such filings has increased each year to 455 in 2007, 639 in 2008, 814 in 2009, and 840 in 2010, as documented by Illinois Lawsuit Abuse Watch (I-LAW). Only about 1 in 10 of Madison County's asbestos cases are filed by people who actually live or work there, or have any other connection to the area, according to an Illinois Civil Justice League study. According to one local defense lawyer, asbestos claims account for nearly 60 percent of Madison County suits seeking more than $50,000, eclipsing the claims of local residents.
Defendant companies and other legal observers note that plaintiffs' lawyers flock to Madison County because the court sets aside about 500 trial dates for asbestos cases. The trial dates provide a steady stream of business for favored local law firms, with whom out-of-state lawyers must work to pursue their cases. Defendants are placed at a disadvantage given the expedited treatment of cases and the power given to plaintiffs' lawyers to set the trial schedule. Because defendants may not know which cases will go to trial until the last minute, they often prepare for multiple cases simultaneously, pay for expert reports they do not need, and must travel across the United States to take depositions.
Last year, Judge Crowder inherited the largest asbestos docket of any state court in the nation. Thus far, nothing seems to have changed, even if she appears willing to listen. Defendants recently asked the judge to replace this unfair system and proposed changes to the county's procedures governing the pre-trial process for asbestos cases. As of press time, that system has not changed, nor has the rising tide of out-of-state asbestos claims in Madison County begun to ebb. In the first quarter of 2011, only 19 of 154 asbestos claims thus far filed in Madison County were made by Illinois residents. At the mid-point of the year, Madison County was again on pace for about 800 asbestos filings.
Taking the Contingency Out of Contingency Fee
Asbestos cases are not the only reason for concern in Madison County. Circuit Court Judge Dennis Ruth appears to have taken the "contingency" out of contingency fee in approving a $175,548 fee award on a $58,878.53 judgment against a nursing home. The local plaintiffs' lawyers had demanded $850,000 to settle and asked jurors to award $1 million, but jurors awarded only medical expenses. Judge Ruth found, and an appellate court affirmed, that the lawyers should get more than the $23,200 fee to which they were entitled under their 40 percent contingency-fee contract, and instead receive the equivalent of a full-time lawyer's annual salary. Inflationary rulings such as this invariably encourage lawyers to make unreasonable settlement demands and take weak cases to trial.
St. Clair County
As with Madison County, "litigation tourists" eagerly flock to neighboring St. Clair County from all over the country. In fact, it was Madison County's stemming of abuses in the mid-2000s that prompted local personal injury lawyers to look for an alternative forum where they could hold sway, making St. Clair a Judicial Hellholes contender.
The county's asbestos docket is growing, so much so that the appellate courts are considering whether St. Clair has inappropriately become a "national magnet for mesothelioma suits," as Madison County had been for some time. Before Circuit Judge Patrick Young retired in December 2010, he accepted cases on behalf of plaintiffs who lived and worked in Indiana, Missouri, Pennsylvania and Wisconsin, none of whom had a connection to St. Clair County. The lawsuits continue to flow in from places such as Ohio and South Carolina. These lawsuits often take a shotgun approach, in which it is not out of the ordinary for a single lawsuit to name 41 defendant companies, or even 68 companies, as responsible for causing the plaintiff's injury. The number of asbestos cases filed in St. Clair County jumped from just four in 2009 to over 50 in 2010. To put this jump in context, plaintiff's lawyers filed no asbestos cases in St. Clair in 2008, and just 61 asbestos cases in the combined four years between 2004 and 2007. While 50 cases may be small potatoes compared to Madison County's docket, the increase in St. Clair lawsuits is significant. Associate Judge Andrew Gleeson, who took over the asbestos docket following Judge Young's retirement, to his credit, has dismissed at least a few cases with no relation to the county upon the defendants' request.
St. Clair County also hosts significant pharmaceutical litigation from across the country. This year, more than 600 plaintiffs – the vast majority from outside of Illinois – have filed lawsuits in St. Clair against New Jersey-based Johnson & Johnson, and its subsidiary, Ortho-McNeil, alleging that the antibiotic Levaquin caused them tendon problems. The plaintiffs hail from New York, California, Pennsylvania, Kentucky, Maryland, Ohio, Oklahoma, Michigan, South Carolina, Rhode Island, Texas, Wisconsin, and even Alaska.
Also making headlines this year was the retirement of long-time St. Clair County Judge Lloyd Cueto, who handled many of the county's medical malpractice, major civil, and class action lawsuits. Before he left, Judge Cueto gave plaintiffs' lawyers the type of gift that helps promote St. Clair County's reputation as a Judicial Hellhole. In a class action brought on behalf of all Illinois residents who'd bought CVS's version of the popular immune system supplement Airborne, the court approved a settlement that would provide class members who kept their original receipt or the product packaging with a store credit for $5.99 each while class lawyers would share just under $1 million in fees and costs, which is nothing to sneeze at.