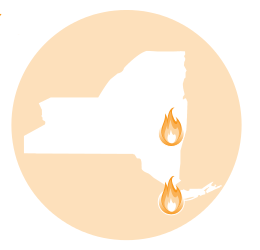 In a cry for help that will almost certainly be ignored by state lawmakers in Albany, a significant number of whom moonlight for personal injury law firms or are otherwise indebted to the political patronage of the plaintiffs' bar, New York City Corporation Counsel Michael Cardozo last September called for tort reform, characterizing the "huge" dollar amount his city paid out in tort lawsuits this fiscal year as "an unacceptable tradeoff in favor of individual plaintiffs at the expense of providing services to New Yorkers."
In a speech to a nonprofit group focused on city and state finances, Cardozo said that the city paid out $561 million in tort and related cases in the 2011 fiscal year, compared to $21.4 million in 1978, according to Thomson Reuters.
By capping pain-and-suffering damages at $250,000, changing the state's antiquated and anti-competitive joint-and-several liability rule, and undertaking additional reforms, Cardozo said the city would save $100 million a year. "The tort laws must be changed to even the playing field," he said.
Michael Bloomberg, the mayor of "Sue" York City, had earlier made a similar plea, as he worried aloud about doctors and businesses, fearing meritless lawsuits, leaving the hellholish environs of the shrinking Empire State. In a January 2011 speech to the New York State Bar Association, Bloomberg urged its members to support reasonable tort reform measures, likening civil litigation against his city in particular to a "lottery" that costs taxpayers roughly a half-billion dollars annually. He then pleaded: "Help us to make the law fairer to litigants and taxpayers."
But as regular readers of this report know, enactment of reasonable tort reforms in Albany is about as likely as a Bronx slushball's survival in a hellhole – especially considering that past bar association president Stephen Younger suggested after the mayor's remarks that his members would only back "tort reform when it is supported by data."
How much more data do you need Mr. Younger?! New York is to lose seats in the U.S. House of Representatives as 2010 U.S. Census data show the populations of many counties in the central and western parts of the state shriveling like grapes on a forgotten vine. Many New York doctors are moving to low-tort Texas, and the latest annual survey of CEOs deems New York second only to fellow Judicial Hellhole California as the very worst state in the Union for businesses. Educated young people are heading to competing states in the south and west, searching for brighter career futures. And when your state lawmakers aren't filing outrageous slip-and-fall lawsuits against their own constituents, they're following the lead of personal injury lawyer and Assembly Speaker Sheldon Silver, arguably the most costly state lawmaker in America, in scurrying to block every reasonable tort reform bill that comes down the pike, as they did with Gov. Andrew Cuomo's modest medical liability reform proposal earlier this year, which sought, among other things, a $250,000 limit on noneconomic damages.
Though Mr. Younger and other New Yorkers may be reluctant to inhale, the corrosive stench of lawsuit abuse is all around them.
Wedding Pix Do-Over
Speaking of lawsuit abuse, the New York Times reported in November ("Years Later, Lawsuit Seeks to Recreate a Wedding") that former bridegroom Todd J. Remis of Manhattan is suing his wedding photographer because he is dissatisfied with, among other things, the fact that the photographers missed the last dance and bouquet toss.
"Not only has Mr. Remis demanded to be repaid the $4,100 cost of the photography, he also wants $48,000 to recreate the entire wedding and fly the principals to New York so the celebration can be re-shot by another photographer," according to the Times.
But here's the rub: The wedding was in 2003, Remis and his wife separated in 2008, they divorced in 2010, and she's believed to be living somewhere in Latvia with no interest in recreating a wedding photo shoot.
The decision by Justice Doris Ling-Cohan of the State Supreme Court in Manhattan to sanction even partially this absurdly shameless lawsuit speaks to why the civil justice system costs New York taxpayers millions of dollars more than it should each year. It also speaks to why businesses big and small continue to flee the hyper-litigious jurisdiction, taking their jobs with them to competing states. Judges such as Ling-Cohan should be held to account.
Super-Size Me
Another shameless lawsuit, illustrative of too many New Yorkers' litigious mind-set, is the lawsuit that, pardon the bun, er, pun, "grew" out of one man's love for White Castle hamburgers. Sixty-something stockbroker Martin Kessman enjoyed the little sliders so much that he grew to 290 lbs. and could no longer fit into the booths at his favorite White Castle location in Nanuet, New York. And rather than exercise a little self-discipline with a renewed commitment to dieting and the treadmill, Kessman instead chose to sue the hamburger chain. He says he'd been made to feel like something other than a "normal person." Well, Marty, if the XXXL sweatpants fit, wear 'em.
No Risk, No Fun Allowed
Of course, adults aren't the only ones who eat too much and fail to get enough exercise. But even when it's children who are overweight, lawsuit-loving adults are often the ones to blame.
A July science story in the New York Times rightly blames today's "boring" playgrounds on personal injury lawyers and their parasitic, opportunistic lawsuits that have, during the past few decades, managed to take most of the challenge and practically all of the fun out of jungle gyms and slides.
"Even if children do suffer fewer physical injuries – and the evidence for that is debatable," the Times article reports, "the critics say that [newer, supposedly safer] playgrounds may stunt emotional development, leaving children with anxieties and fears that are ultimately worse than a broken bone."
Add stunted emotional development to a well-documented epidemic of childhood obesity, and the real danger of trial lawyers becomes that much more apparent. Our world cannot possibly be risk-proofed entirely, no matter how many lawsuits taxpayers and consumers are obliged to finance.
On a Brighter Note
Still pending when this report went to press last year was an appeal before New York's highest court regarding alleged liability for a bad golf shot. Just before Christmas in 2010, the court affirmed an appellate decision that was a gift to bad golfers everywhere. It affirmed dismissal of a case brought by one golf buddy against another. The case stemmed from an accident at a Long Island course wherein a "shanked" shot by Dr. Anoop Kapoor hit his frequent golf partner, Dr. Azad Anand, partially blinding Anand in one eye. Although Kapoor claimed that he yelled "fore" to warn his friend, Anand, who was searching for his ball nearby did not hear the warning call.
"A person who chooses to participate in a sport or recreational activity consents to certain risks that are inherent in and arise out of the nature of the sport generally and flow from such participation," the Court of Appeals recognized.  It found that the nature of the accident reflected a commonly appreciated risk of golf. Had the Court of Appeals reached a different result, New York would have opened the door to more lawsuits stemming from the inherent risks of sporting and other recreational activities.
And finally, with so little good news coming out of New York these days, it was nice to read a September Buffalo News editorial that reported favorably on an experiment with a specialized medical malpractice court in Erie County. The court moves meritorious claims expeditiously toward fair and more predictable settlements, the editorial says, saving years' worth of litigation costs. Such "costs are among the factors that not only drive up the costs of health care in New York but also drive out doctors," and "[a]nything that lowers those costs could also . . . slow the outflow of medical talent."