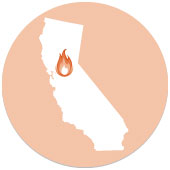 This year's selection of the least fair civil court jurisdiction is California. And no one should be surprised since posts critical of California courts and policymakers have dominated the Judicial Hellholes website in 2012. The sheer number of atrociously abusive lawsuits filed all over the state would collectively make for the basis of a blockbuster Hollywood comedy were it not for their negative impact on the state's economy and the mendacity that too often drives them. For example, the National Insurance Crime Bureau cites California among the top-five states and Los Angeles among the top five cities for likely fraudulent slip-and-fall claims. And more broadly, this nearly insolvent state, with businesses fleeing in droves and without a tax-dollar for court resources to waste on meritless litigation, will almost surely see well more than million new lawsuits filed there again this year.
Preposterous Consumer Class Actions
As reported by the New York Times and CBS's 60 minutes, California, increasingly the home many of the nation's most preposterous consumer class actions, also has become ground-zero for a new attack on Big Food. It's no coincidence that the consumer lawsuits highlighted in this year's special feature targeting Nutella, Kellogg Frosted Mini-Wheats, Nature Valley granola bars and McDonald's Happy Meals were all filed in California (see Food for Thought: Consumer Protection Lawsuit Abuse on the Rise, p. 40). These claims are brought in the once Golden State because some judges have broadly interpreted the state's Unfair Competition Law (UCL) to require no proof of deception, reliance, or injury, while applying lax class certification standards.
Such class action lawsuits continue to be filed frequently in California despite the overwhelming support by voters in 2004 for a reform aimed at eliminating them. These class actions either primarily benefit lawyers with large fees at the expense of consumers or seek to regulate entire industries based on a special interest group's agenda that could not be achieved through the appropriate political process. A federal court in California even certified a nationwide class challenging health claims made by a seller of chopped walnuts, despite the fact that the individual who sued on behalf of the class continued to purchase the same walnuts after filing suit. Due to the high stakes of class action litigation, the company settled this year for $3.45 million including $850,000 to cover the class action attorneys' fees.
Disability Access Lawsuit Exploitation
Abusive lawsuits brought to enforce technical standards of the Americans with Disabilities Act (ADA) in California may have reached an all-time high, making small business owners feel as though they have targets on their backs.  The Judicial Hellholes website highlighted stories throughout the past year of instances of blatant abuse of the system.
Most recently, Tina Freeman, the owner of Tina's Tavern and T's Lounge in West Covina, California, spoke out about the frivolous lawsuits she has experienced as a small business owner. In the past two years, she was sued four times for alleged ADA violations. One lawsuit claimed that the restaurant did not have a table low enough to accommodate customers in wheelchairs, even though it did. She threatened to go to the media, and within 30 minutes, the attorneys showed up with dismissal papers in their hands. Freeman is disgusted by the legal extortion occurring in her home state. Freeman's own mother has been in a wheelchair since Freeman was 8-years old, and Freeman says she "would die before she'd go around filing these lawsuits. These people are making a living doing this."
Freeman is not the only California small business owner feeling the pressure. Del Graessley, the owner of a bar in Baldwin Park, is fighting his second ADA-related lawsuit. A "frequent filer" who has initiated over 100 disability-access lawsuits targeted his business, specifically looking for old construction built before ADA regulations went into effect. Lawyers defending small business owners have recognized the growing trend and say that plaintiffs usually ask for anywhere between $4,000 and $10,000 because they know it would cost more for a business to fight the suit than to settle.
The problem gained national attention when U.S. Sen. Dianne Feinstein (CA) sent a letter to California Senate President Pro Tempore Darrell Steinberg expressing her concerns that ADA lawsuits were threatening the viability of small businesses. In her letter she said state legislators should address the problem or she would take matters into her own hands by introducing federal legislation. Finally, after several years of inaction, the Sacramento lawmakers enacted S.B. 1186 in September. Unfortunately, prior to final passage, the bill was stripped of a key provision requiring an attorney to notify a business owner of a violation at least 30 days prior to filing a claim. California Citizens Against Lawsuit Abuse called the compromise measure the "most serious attempt at ADA litigation reform to ever come out of the Legislature," but added that it "does not go as far as we would have preferred."
The most virulently active of California's parasitic ADA plaintiffs are not likely to be deterred by this half-hearted reform law, and no one should believe for a moment that small business owners won't soon be pleading again with Sacramento for real relief. But they'd be better off pleading their case again to Sen. Feinstein who has said enactment of a state reform wouldn't necessarily preclude her from seeking preemptive federal reform. And since bogus disability lawsuits are now on the rise in other states, the senator and her colleagues in Washington would do well to amend the well-intentioned but now too-easily-exploited ADA.
Home of Questionable Unintended Acceleration Cases
Lawyers involved in all types of litigation have taken notice of California's plaintiff-friendly courts and are flocking to the state to file their cases.  This summer, Los Angeles Superior Court Judge Anthony Mohr, who is overseeing about 100 state court cases alleging sudden, unintended acceleration of Toyota vehicles, ruled that, instead of the wrongful death case he originally intended to bring to trial first, the jury will instead hear a consumer protection claim filed against the automaker.  That move helps plaintiffs' attorneys by allowing them to focus on inflammatory allegations that Toyota failed to disclose information related to consumers about the safety of the vehicles rather than the need to prove there was a defect in the cars that led to drivers' or passengers' injuries.
Additionally, more than 300 sudden acceleration lawsuits are consolidated before U.S. District Judge James Selna in Santa Ana, California.  In what was seen as a victory for the plaintiffs in March, Judge Selna ruled that Toyota could not compel arbitration for the class of car owners who claim that their vehicles' resale values had dropped as a result of alleged problems in other Toyotas.
Asbestos Lawsuits Overburden Court System
Certain California courts have served as a magnet for asbestos lawsuits. According to the California court system's research arm, "the Superior Courts of Alameda, Los Angeles, and San Francisco Counties attract nearly all of the asbestos filings in California."
While the San Francisco Superior Court has traditionally handled the largest asbestos caseload, the Superior Court of Los Angeles County experienced an increase in asbestos filings over the past five years as plaintiffs' law firms from Texas (fleeing tort reform enactments) and Illinois scramble to open offices in Southern California. From 2006 to 2010, the number of new asbestos filings in the LA Superior Court increased by 80% (from 105 to 188 new filings). And this growth continued with 212 new filings in 2011 and 163 through July of 2012, setting a pace for more than 275 by year's end.
This dramatic increase in filings has not gone unnoticed. In April 2011, Supervising Judge Carolyn Kuhl expressed concern that the number of pending cases at that time, 293, were bogging down the court's calendars. Judge Kuhl explained that the problem was compounded by other developments: budget cuts, a 33% increase in the number of civil cases assigned to each judge per month, reductions in the number of long-cause courtrooms (courts dedicated to trials of over 20 days) and complex courtrooms, and the elimination of the eminent domain department, resulting in the reassignment of these cases to existing courtrooms. Procedures and rulings on asbestos cases varied from judge-to-judge, leaving similarly situated litigants with different and unpredictable results.
The court's solution to the problem was to coordinate all asbestos cases pending in Los Angeles, Orange and San Diego counties under one judge. Since August 2011, Judge Emilie Elias, the Supervising Judge of the Los Angeles Superior Complex Civil Litigation panel, has served in this role. Judge Elias has considerable power to reshape the landscape of asbestos litigation in Southern California. Thus far defendants are not optimistic because it's perceived, for example, that Judge Elias largely refuses to grant motions for summary judgment and forum non conveniens. Add Los Angeles's storied plaintiff-friendly jury pool to the mix, and defendants can be left with little choice but to settle asbestos lawsuits out of fear of potentially gigantic verdicts – even in cases where they believe their products did not substantially contribute to alleged injuries.
MICRA under Attack
Trial attorneys are launching legal challenges to the Medical Injury Compensation Reform Act (MICRA), the California law in place since 1975 that limits subjective damages for pain and suffering in medical malpractice cases to $250,000 in order to preserve access to affordable healthcare.  Damages for medical treatment and other losses, as well as punitive damages, remain unlimited in California. One pending challenge involves a case in which the jury awarded the plaintiff $8.375 million, including noneconomic damages totaling $3.75 million.  The most recent attack on MICRA was filed in June 2012 in a case involving a $1 million noneconomic damages award in addition to $2.9 million in economic damages.  These lawsuits generally argue that the noneconomic damages limit denies plaintiffs the right to a jury trial, violates equal protection under the state constitution since those who allege injuries stemming from medical malpractice are treated differently than other personal injury claimants, or that the circumstances underlying the law have changed.
'Phantom Damages' Legislation
Senate President Pro Tempore Darrell Steinberg and many of his trial lawyer-supported colleagues in Sacramento pushed in 2012 legislation to overturn a 2011 California Supreme Court ruling that required courts to base damage awards for medical expenses on the amounts plaintiffs or their insurers actually paid for treatment, not the initially billed amounts that were never paid by anyone.  Insurers say the decision will save them, and their policy holders, billions of dollars a year in inflated lawsuit payouts, much of which had previously served to enrich trial lawyers.
As reported by Dan Walters of the Sacramento Bee, Sen. Steinberg introduced Senate Bill 1528 and moved it "through the Senate as virtually an empty shell to be filled in later with language that would completely or partially overturn" the high court's decision.  Walters reported that the personal injury lawyer lobby had "declared legislation to overturn this decision its highest legislative priority." But thankfully, the ever vigilant Civil Justice Association of California and other commonsense allies managed to eventually kill the phantom damages bill, much to the benefit of every honest, hardworking health insurance premium payer in the state.
Cuts in the Courts
In April 2012 the Los Angeles Superior Court, home of some of the nation's most preposterous litigation, announced the "most significant reduction of services in its history," including 350 workers laid off, the closing of 56 courtrooms (24 of which hear civil cases), and an end to court reporter services for civil trials, which may negatively impact the appeals process.
More recently reported in November by the Wall Street Journal's Law Blog, Los Angeles court officials now say they'll additionally "shutter 10 regional courthouses to address a [newly] projected $50 to $80 million budget shortfall." In all, reports Tom Scott, executive director of California Citizens Against Lawsuit Abuse, state "courts have seen their budgets slashed by $1.2 billion – more than 24 percent – over the past five years."
"Average citizens are the ones impacted," Scott explains. "Civil cases will be backed up farther than the 405 Freeway on a Friday, and the cost of delayed justice for these citizens will be incalculable. Legitimate cases may take years to be heard. More frightening still, we don't know how many more cuts will be implemented."
Just before this report went to press, the Sacramento Bee reported that "Gov. Jerry Brown plans to slash another $200 million from California courts to help balance his January budget, possibly resulting in a 'disastrous impact' for the legal system." And so long as California judges continue to welcome with open arms the same predatory lawsuits-without-real-injuries that are driving tax revenue-producing businesses to Arizona, Texas, Utah and overseas, it's reasonable to believe the death spiral of more lawsuits and more budget cuts will continue – at least until the state officially declares bankruptcy and/or there are no more businesses left to sue. Perhaps when mass layoffs of judges are finally considered, California courts will then begin to summarily dismiss nonsense lawsuits and hold in contempt the lawyers who file them.
Talk about California dreamin'.
Some Good News
In a bit of good news coming out the California state courts, the California Supreme Court held that plaintiffs' lawyers cannot sue companies, which sold pumps and valves to the Navy, for workers' exposure to asbestos-containing materials added to those products decades after their sale (see Points of Light, p. 35).
California voters also showed good sense in soundly defeating Proposition 37, a trial-lawyer written ballot measure that most significant California newspapers condemned as a "scam" to promote "shakedown" lawsuits against food companies that fly in the face of science. The ballot measure would have provided "a right" to know whether any food product contains genetically-modified ingredients, requiring special labeling, even though many common ingredients, such as varieties of corn, soybeans and other crops, are modified to resist diseases and insects and require fewer pesticides. Even if California's lawmakers and judges don't, voters there know better than to invite a new wave of "gotcha" lawsuits that would do little beyond raising food prices and making more lawyers rich.