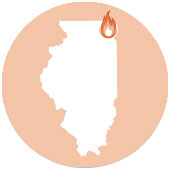 Cook County fell from its more typical perch high among the Judicial Hellholes to the Watch List last year, where it remains because the winds of litigation have stayed relatively calm in Chicago. That does not mean Cook County has improved in any significant way. In fact, when the U.S. Chamber Institute for Legal Reform recently asked lawyers representing major employers which cities or counties had the least fair and reasonable litigation environments, Chicago/Cook County was the most frequently cited.
Lawyers who represent defendants in civil litigation are furious with a "pilot project" by the Cook County Circuit Court that requires them to disclose reports by expert witnesses at the same time those who have sued them disclose their expert reports. The program went into effect in early 2012 over their objections. Typically in courts across the country, plaintiffs file their expert reports first, allowing defendants to consider the claims against them and have their own expert respond. Defense lawyers point out that under the "simultaneous disclosure" program, they may need to hire experts they do not even need, since what is in dispute may not be clear. And they fear they could hurt their clients by addressing issues plaintiffs never thought to raise. The court says the new rule is "designed to speed up the cases and save time," but for whom and at what cost to a fair proceeding? Local defense lawyers have vowed to fight on.
Judging the Judges
The Cook County Circuit Court needs to get its house in order. In November, Judge Cynthia Brim, who was arrested and suspended from the bench after shoving a court deputy, was "happy to be re-elected" to another six-year term. The next day, she was back in court, not to get back to work but to plead insanity in her criminal case. Even before she tried to convince folks she's insane, Judge Brim's performance on the bench had been harshly criticized by local attorneys, the Judicial Performance Commission of Cook County, and the Chicago Tribune. Like Judge Brim, other judges who'd received similarly poor reviews from bar associations for their knowledge of the law, judicial temperament or work ethic were all reelected, too, including one who was caught sunbathing by her pool and running errands on workday afternoons. Cook County voters are apparently a forgiving bunch insofar as only one sitting Circuit Court judge has failed to win reelection in the past 22 years.
As for the conduct of non-judicial Circuit Court employees? A 17-year court staffer was arrested in 2012 for taking home court files and shredding them at her kitchen table. The employee was responsible for handling case files for a judge in the law division, which deals with civil lawsuits from medical malpractice to personal injury. So is it any wonder that litigants have concerns about getting a fair shake in Cook County?
Good News
As more fully detailed in this report's Points of Light section (see p. 35), the Illinois Supreme Court made a big stand for personal responsibility in 2012 when it threw out a $3.9 million Cook County award to a teenager, who, knowing the obvious risk, attempted to jump on board a moving freight train, with tragic results. An appellate court also overturned a $32 million Cook County verdict for a popcorn factory worker who claimed the butter flavoring ingredient caused him breathing problems. The appeals court said the trial court had improperly denied one of the popcorn company's defenses and made other errors with respect to admissible evidence and jury instructions. It had been the largest "popcorn lung" verdict ever. The next Cook County case likely to face scrutiny on appeal is a $64 million verdict rendered in November 2012 for a steelworker who was rendered a paraplegic from a fall after he chose not to use the safety harness required by his employer.
Finally, credit is due to Cook County Circuit Court Judges Mary Mikva and Neil Cohen for putting an end to lawsuits by underemployed law school graduates who alleged their law schools' marketing had misled them about their job prospects in the long-saturated legal labor market. Come on, kids, stop your whining and grow up. If you were smart enough to do well on the LSAT, you should have been smart enough to glance at a newspaper or legal journal occasionally. If you had, you'd know law firms have been downsizing for years.