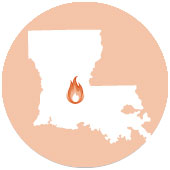 Despite determined reform efforts by certain lawmakers in Baton Rouge, Louisiana's civil litigation environment, especially in Orleans and St. Landry parishes, remains a concern thanks to laws that still permit excessive liability, plaintiff-friendly judges, and close relationships between the plaintiffs' bar and some state government officials.
Reform Efforts
In citing Louisiana on the Watch List last year, the Judicial Hellholes report focused on the hundreds of "legacy" lawsuits that served primarily as a profit-making venture for a select group of landowners and plaintiffs' lawyers. Roughly 1,500 energy production companies were accused of contaminating the environment with their past drilling activities. Together, these affected companies represented more than half of the state's crude production – and by extension, a significant portion of Louisiana's economy. A study by LSU estimated that the lawsuits had cost Louisiana 30,000 jobs and $10.5 billion in economic output.
Led by Chairman Neil Abramson of the House Civil Law and Procedure Committee, the legislature in 2012 finally passed, and Gov. Bobby Jindal signed, legacy lawsuit reform legislation that limits this litigation by requiring the state's Department of Natural Resources to determine the extent of any environmental damage prior to litigation.
Lawmakers also managed to take a modest step to address venue shopping in connection with class action litigation. But bills that would have reduced the threshold for receiving a jury trial and provided more transparency in asbestos litigation were not enacted. And for some small businesses owners and their employees, such as those of Mike Carter at Monroe Rubber and Gasket, additional tort reforms can't be enacted soon enough. Carter's business never manufactured asbestos materials but has nonetheless been swamped by a flood of asbestos lawsuits and may be forced to close and lay off workers.
Excessive Liability
Meanwhile, auto insurance rates have climbed steadily in Louisiana in recent years and are among the highest in the nation, with the average driver paying an annual premium of over $2,500 or about 5.5% of their annual income for auto insurance alone. Observers note that among the reasons for Louisiana's high insurance rates are the state's litigious environment, an aggressive personal injury bar, and judges who tend to favor plaintiffs.
There have been several breathtaking verdicts in recent years. For example, in August Louisiana's Third Circuit Court of Appeals upheld a $258 million St. Landry Parish verdict against Janssen Pharmaceutical and Johnson & Johnson, which found the companies had not fully disclosed the risk of weight gain and related side effects for those who took the anti-psychotic drug Risperdal. The lawsuit was brought on behalf of the state by private lawyers, hired on a contingent-fee basis, who will take home $70 million in fees and $3 million in court costs. On appeal, the defendant companies argued that the trial judge had stopped them from introducing evidence that weakened the state's case, while allowing the state's lawyers to make inflammatory and improper arguments. The appellate court rejected these arguments and also found that the private lawyers could recover civil penalties on behalf of the state without having to show that anyone had been actually harmed.
Coincidentally, the same appellate court was featured in this report last year after it upheld a similarly astonishing $15 million St. Landry Parish verdict. In that case, after the gas company had lawfully shut off the gas to a residence for unpaid bills, the homeowner forcibly accessed the gas line with a wrench and, in doing so, managed to blow up his own house. But in St. Landry Parish, where facts and law are no obstacles to legal extortion, the homeowner won his crazy case against the innocent gas company.
Another recent astronomical verdict is the $17.5 million award in February 2012, in Calcasieu Parish in a case where a worker alleged that he developed leukemia from exposure to benzene while working on the ships of three oil companies. Also in 2012 an Orleans Parish jury awarded $12 million to a Louisiana man who was exposed to asbestos when he worked in several jobs as a shipbuilder and alleged he was not warned of the risks.
While some of these cases may eventually make their way to the Louisiana Supreme Court, defendants' chances of fair rulings there also seem slim. For instance, just after publication of last year's Judicial Hellholes report, a majority of the state's high court reinstated $93 million in civil penalties ($110 million with interest) against Louisiana Citizens Property Insurance Corp., the state's property insurer of last resort, for failing to pay out on an influx of claims following hurricanes Katrina and Rita within 30 days. The decision is troubling because, unlike two dissenting justices and an intermediate appellate court, the high court majority found that the insurer could be hit with millions in fines even if it acted fairly and in good faith and regardless of the difficulty in tracking down policy holders or assessing property damage for many weeks following the storms. The U.S. Supreme Court declined to hear the insurer's appeal.
In recent years, the Louisiana Supreme Court also has allowed recovery of both "hedonic damages" and "phantom damages." While some states permit juries to consider lost enjoyment of life when determining compensation for pain and suffering or a physical disability, Louisiana allows plaintiffs to get an additional, separate award for hedonic damages. In some cases Louisiana law also permits recovery of the billed rate for medical treatment even if the plaintiff's healthcare provider eventually accepted far less than originally billed. Such excessive liability leads to higher insurance rates and hurts the economy by imposing unnecessary costs on employers.
The Louisiana Supreme Court does deserve some credit, however, for reaffirming this March the constitutionality of the state's $500,000 cap on general damages in medical malpractice lawsuits and finding that the limit applies to all qualified healthcare providers, including nurse practitioners.
Bench Trials before Plaintiff-Friendly Judges
Some have expressed concern that the lack of jury trials in smaller civil cases may allow some Louisiana trial court judges to favor plaintiffs' lawyers who happen to be their political patrons. In Louisiana a party can request a jury trial only in cases where there is more than $50,000 at stake. In lesser cases the judge alone determines the outcome. A study by Louisiana Lawsuit Abuse Watch found that Louisiana's threshold is, by far, the highest in the nation.
Influence of Personal Injury Lawyers Over State Officials
In addition to their influence with judges, Louisiana's personal injury bar also has clout with other state officials. As the $258 million Risperdal verdict shows, state Attorney General Buddy Caldwell hires politically-supportive personal injury lawyers to enforce state law in exchange for lucrative fees based on the fines they impose. He has done so despite a 1997 Louisiana Supreme Court decision that found such arrangements are illegal without legislative approval. Now, some companies are fighting back.
GlaxoSmithKline has challenged this practice in a lawsuit in which the state claims the drug maker's marketing of diabetes drug Avandia was unlawful. Glaxo argues that, under Louisiana law, only government lawyers can litigate the case. "If you're charged with a serious matter by the state, you don't want the prosecutor to have a financial stake in the outcome," said P.D. Villarreal, Glaxo's senior vice president for global litigation. "We're entitled to be sued by someone whose job it is to do the right thing, not by people who are just out to make money." Melissa Landry of Louisiana Lawsuit Abuse Watch points out that "[s]everal of the lawyers in these private law firms have contributed more than $60,000 to Caldwell, and at least two of them have held leadership roles in his campaign. These relationships give the appearance of impropriety and potentially a 'pay-to-play' scandal in the making."
Some observers have also questioned Gov. Jindal's relationship with the plaintiffs' bar. Jindal has received hundreds of thousands of dollars from plaintiffs' lawyers, according to campaign finance reports. For instance, Jindal last year enjoyed a $5,000 per couple fundraiser with Burton LeBlanc, the vice president of the American Association of Justice. Forbes also found it curious that Jindal tapped LeBlanc's law firm, Baron & Budd, which grew rich from asbestos lawsuits, to represent the state in litigation against British Petroleum (BP) in the wake of the Gulf oil spill. And though the state has now addressed legacy lawsuits, as noted above, some, including U.S. Sen. David Vitter, had accused Jindal of creating a "trial lawyer bonanza" by not taking a more active role in brokering reform sooner. More recently ATRA and others expressed disappointment after Jindal endorsed the "trial lawyers' candidate" in a runoff election for a seat on the Louisiana Supreme Court. That Jindal's candidate won the December 8 runoff is no doubt a cause for celebration among the governor's trial lawyer allies.