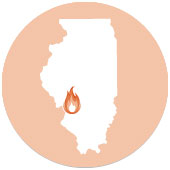 The combination of a change in judicial philosophy that curbed forum shopping, enactment of federal class action legislation, and adoption of state medical liability reform that has since been struck down, Madison County had managed to work its way off the Judicial Hellholes list in 2007. But progress has seemingly stalled, and the jurisdiction's truly troubled past appears poised to repeat itself. In a recent survey, lawyers who represent major employers named Madison County among the most "unfair" city or county litigation environments in the nation.
America's Asbestos Court
Madison County is to asbestos litigation what the Dallas Cowboys once were and would like to be again to professional football. In 2012 small, largely rural Madison County maintained its dominance over the rest of the nation when it comes to new asbestos claims. But there simply is no justification for a jurisdiction with .0008 percent of the nation's population to handle 25% or more of its asbestos cases. Even worse is the fact that only about 1 in 10 of the county's asbestos cases are filed by people who actually live or work there, and asbestos claims comprise roughly 60% of all lawsuits seeking more than $50,000.
The number of asbestos cases filed in Madison County in 2011 matched a previous record high of 953 reached in 2003. As of September 30, 2012, about 800 asbestos cases had been filed in the county, putting it on track to break the mythic 1,000-new-cases barrier. Data on mesothelioma rates suggest there should be around 140 new cases a year in the entire state of Illinois. But in Madison County, home to 2% of the state's population, plaintiffs filed seven times that many cases in 2011. Over $1 billion in asbestos claims are settled annually in the county as most cases never go to trial, according to the St. Louis Post-Dispatch. So do the math – a handful of local personal injury law firms divvy up a bounty of between $300 million to $400 million in contingent fees each year.
With that kind of loot available, it's no wonder that local asbestos lawyers last year made $30,000 in campaign contributions to Judge Barbara Crowder, the judge who formerly oversaw Madison County's asbestos docket, just days before she coincidentally granted their firms the lion's share (82%) of 2013 trial slots. When the news broke, Judge Crowder was quickly reassigned from the asbestos docket by Chief Judge Ann Callis, but the sordid story was enough to create a major stink, even though the campaign contributions were reportedly returned. In any case, Madison County voters seemed to have forgotten the whole thing by Election Day when they voted to retain Judge Crowder for another term.
Soon after being appointed to replace Judge Crowder as the presiding asbestos judge, Judge Clarence Harrison encouragingly eliminated, effective in 2013, the county's longstanding asbestos "trial slotting" system. In the future, asbestos cases will be set for trial on a case-by-case basis by the court, rather than rewarded to favored firms with blocks of trial dates on a speculative basis. The order came just three days after Harrison heard arguments for and against overturning Judge Crowder's tainted order that assigned most trial dates to her political patrons.
Judge Harrison deserves credit for eliminating the patently unfair trial date allocation system that had enabled favored local law firms to market their inventory of empty trial slots to allied law firms across the country. But the new system he's implemented requires plaintiffs' lawyers to file motions to set cases for trial, and it is now being eyed as one reason 2012's new asbestos filings are expected to set a record. On its face, the new system would seemingly have no impact on the total number of filings. But in practice, Judge Harrison has increased the number of individual trial slots available on a given trial calendar, thereby increasing the overall capacity for cases and thus creating even greater pressure on defendants to settle since they can't reasonably be expected to defend themselves appropriately in multiple cases in a short timeframe.
Madison County Remains the Plaintiffs' Lawyers County of Choice
Judge Harrison also has sent mixed signals as to whether he will permit lawyers to file in Madison County cases that arise elsewhere around the country. Soon after he became presiding asbestos judge, he denied a defendant's motion to dismiss the case of a Texas resident who alleged that his exposure had occurred in West Virginia and Korea, and whose lawsuit had no connection to Illinois. In deciding the motion for dismissal in Woody v. Air & Liquid Systems Corp. (Mar. 2012), under the doctrine of forum non conveniens, which provides judges with discretion to dismiss cases that are more appropriately decided elsewhere, Judge Harrison gave considerable weight to the fact that a few of the many defandant businesses sued were located in Illinois, while giving less credence to the fact that all of the witnesses, including experts and medical personnel for both sides, lived in West Virginia.
In more recent decisions, Judge Harrison has characterized forum non conveniens as an "arcane doctrine," but nevertheless dismissed some claims as lacking a sufficient relationship to Madison County. In Syrrakos v. A.W. Chesterton, Inc. (Aug. 28, 2012), the plaintiff sued in Madison County when his exposure to asbestos and treatment occurred entirely in Wisconsin and Michigan, where he lived. In Howard v. Kaiser Gypsum Co. (Sept. 6, 2012), a near lifelong resident of Tennessee sued in Madison County even though he had never lived or worked in Illinois and no material evidence or witnesses were located in Illinois. Likewise, in Belle v. Advance Auto Parts, Inc. (Sept. 27, 2012), the plaintiff had lived in Virginia and Arkansas, where his exposure to asbestos occurred, and evidence related to the trial was primarily in Virginia. These decisions, however, come in what is only a miniscule portion of all the county's nonresident asbestos filings.
Outrageous Verdicts
Lest anyone think that its largest-in-the-nation asbestos docket and a more-than-occasional willingness to entertain cases from near and far are the only things again qualifying Madison County as a Judicial Hellhole, here's additional evidence: As reported by the Madison Record, a recent $1.25 million verdict for the plaintiffs – the daughter and brother of a man killed by a train at a railroad crossing on private property in Missouri – was thrown out by an appellate court that remanded the case for retrial.
According to the appellate court order, Madison County Circuit Judge Andy Matoesian "abused [his] discretion when [he] permitted the plaintiffs' expert to refer to and to rely upon certain industry safety standards, regulations, and statutes to support their opinions on the Railroad's standard of care, but prohibited the defendant railroad from presenting evidence and argument to show that the standards, regulations, and statutes were intended to address safety issues at public railroad crossings and were not binding at private crossings." When defendant Union Pacific's lawyers tried during trial to introduce evidence that delineated between private and public railroad crossings, Judge Matoesian dismissively quipped, "A crossing is a crossing."
The appellate court did not take issue with a litany of other evidentiary and procedural rulings that favored the plaintiffs, including Judge Matoesian's decision to bar the defense from introducing medical or police evidence that would have shown that the driver had the street drug "ecstasy" in his system and his brother, the passenger, had a .135 blood-alcohol level. But why confuse jurors with inconvenient facts that might help a defendant get a fair shake? At least the defendant will get another chance to make its case with a fresh jury. Meanwhile, the decision in Webb v. Union Pacific Railroad Company is all too typical of the raw deals defendants get in Madison County. Such blatant scale-tipping is what convinces out-of-state plaintiffs from all across the country to get their tickets punched for the "Madison County Express."
But wait, there's more! A trial court is considering reviving a nearly 10-year-old $10.1 billion judgment against Philip Morris that stems from the marketing of light cigarettes. The judgment, which had been one of the largest in U.S history, was thrown out many years ago by the Illinois Supreme Court. A plaintiffs' firm has asked the trial court to reinstate the verdict on the basis that the U.S. Supreme Court ruled in a different case, five years later, that the Federal Trade Commission had not explicitly approved use of the terms "light" and "low tar," which factored into the decision making of some of the Illinois Supreme Court justices. Still hoping to cash in on a massive payday, the plaintiffs' lawyers have cried out that "new evidence" warrants pulling the old case out of storage. Madison County Circuit Judge Dennis Ruth held a hearing in August 2012, but he has yet to rule.
A Poor Outlook for Appellate Review
Given Madison County's history of extraordinary rulings and questionable practices, a reliable appellate check is critical. So naturally many defendants are now concerned about the November election of St. Clair Circuit Court Judge Judy Cates to serve on Illinois' Fifth District Appellate Court, which covers Madison County and 35 other southern counties in the state.
According to the Madison Record, Judge Cates, who once headed the organization that lobbies for Illinois' trial lawyers, had gained a reputation as "a class action commando targeting successful businesses with crafty complaints."
During the campaign, Judge Cates received tens of thousands of dollars from personal injury lawyers. Many of these contributions came from local and out-of-state asbestos attorneys and law firms. In one quarter alone, her campaign reported $150,000 in plaintiffs' lawyer contributions, including a $10,000 donation from a California law firm. "Why would a California law firm care about who serves on the 5th District Appellate Court in Illinois?" asked Travis Akin of Illinois Lawsuit Abuse Watch. "The answer is simple. Personal injury firms in California and across the country have a vested interest in what happens in our Metro-East courts because they flock to these courts to file their junk lawsuits."
Judicial Hellholes reporters hope that upon her elevation to the appellate court, Justice Cates will prove these concerns unfounded and decide cases in a fair and unbiased manner.