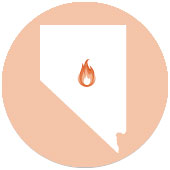 The Nevada litigation environment continues to alarm ATRA members. Of rising concern is Attorney General Catherine Cortez Masto's repeated use of private law firms to enforce Nevada law and her office's compensation of these outside lawyers based on the amount of fines they impose on those who do business in the state.
Jackpot Verdicts
The last two Judicial Hellholes reports highlighted a half-billion dollar verdict in 2010 and another $162 million verdict in 2011 against generic drug maker TEVA Pharmaceuticals and distributor Baxter Healthcare stemming from the misconduct of a clinic that inappropriately, and against the directions of the manufacturer, used vials of the anesthetic Propofol for multiple colonoscopy or endoscopy patients. The clinic's misconduct resulted in a hepatitis C outbreak, and clinic owners and staff face criminal charges. But TEVA and Baxter, as "deep pockets," were civilly blamed for selling vials that were large enough to be used for multiple injections. The astounding verdicts and the unfairness of the trials that led to them pushed Clark County from the Watch List back up to the Judicial Hellholes list in 2010, where it remained last year. This year, the drug maker settled most of the lawsuits, opting not to take the risk of the Nevada Supreme Court affirming the awards.
Aggressive Plaintiffs' Bar
Other issues of ongoing concern in Nevada include the aggressive and politically-influential personal injury bar in Las Vegas and frustration with some local judges who appear to favor plaintiffs in their rulings, as documented in prior reports.
Now attention is focused on whether the judiciary will rein in AG Masto's use of contingent-fee lawyers to enforce state law. Masto has hired Washington, D.C.-based plaintiffs' class-action law firm, Cohen Milstein, to challenge the business practices of homebuilders and mortgage lenders. Given that Nevada has among the highest foreclosure rates in the country, such lawsuits are politically popular. But by pursing such actions through contingent-fee arrangements, these lawsuits become influenced by outside lawyers who are motivated primarily by profits and self-interest, and not necessarily by justice in the public interest.
Nevada's attorney general has provided no good explanation as to why her own substantial taxpayer-funded staff cannot handle the litigation, and why she is letting an out-of-state private law firm drive massive litigation in the Silver State. If the D.C. lawyers are successful, they could take home a significant portion of the state's recovery.
Homebuilders Pulte Homes and Lennar fought back with lawsuits of their own in federal court to stop AG Masto's use of contingent-fee agreements. Their suits were voluntarily dismissed when the cases settled.
Now another company, Lender Processing Services, has taken its concerns to the Nevada Supreme Court. In July LPS filed a petition asking the state's high court to invalidate the attorney general's agreements with the private lawyers. The company also filed a lawsuit against the AG in federal court. The challenges note that a longstanding Nevada statute unambiguously prohibits the state from hiring outside counsel absent a conflict of interest precluding the state from using its own lawyers, or without specific authorization from the legislature. This law is purposefully clear to avoid circumstances that may give rise to the serious due process concerns that are implicated when state power is delegated to private individuals with profit motivations. ATRA filed an amicus brief in the case now pending before the state high court and will continue monitoring the attorney general's use of such arrangements.