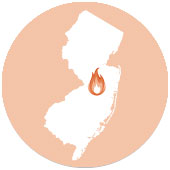 New Jersey's Atlantic County has often found itself in the glare of the Judicial Hellholes spotlight, primarily for its uneven handling of mass tort cases against the state's pharmaceutical industry. But 2012 actually brought good news on this front as ATRA closely watched some important cases before Superior Court Judge Carol Higbee.
In June, Judge Higbee issued her particularly strong and well-reasoned ruling that refused to hold brand-name drug manufacturers liable for injuries allegedly resulting from use of generic versions of their drugs made and sold by competitors (see more details in Points of Light, p. 36). In April, also before Judge Higbee, Merck & Co. successfully defended itself against a claim involving its osteoporosis drug, Fosamax – the second such recent win in Atlantic County and the company's fifth win in six cases that have gone to trial in New Jersey.
The Merck wins are an encouraging sign that Atlantic County courts may be moving toward greater fairness for all parties in a lawsuit. Such fairness is essential to providing a more business-friendly environment, which can lead to stronger economic growth and increased job opportunities for the citizens of New Jersey.
Of course, a few sound court decisions in a former Judicial Hellhole are hardly grounds for unbridled rejoicing. In fact, some defendants remain convinced they cannot get a fair trial in Judge Higbee's court. Nevertheless, Atlantic County and much of the rest of the Garden State remain highly litigious, warranting sustained, vigilant observation.
Who Is New Jersey's Most UNPOPULAR Plaintiff?
A June 2012 blog post by ATRA ally AnnMarie McDonald of the New Jersey Lawsuit Reform Alliance told the tale of an ungrateful woman who is suing local police even though a brave and fast-acting officer saved her life when she was taken hostage by a knife-wielding parolee at a shopping mall.
Carteret resident Ellen Shane was shopping at a mall with her husband when she was grabbed by the parolee and taken hostage. The parolee held a knife to her throat and dragged her by her hair to a nearby department store, in full view of her distraught husband who was unable to free her. Fortunately a Woodbridge police officer was able to do so, shooting and killing the man who ignored the officer's command to let Shane go.
But rather than showing her gratitude for saving her from an armed and dangerous madman, Shane instead opted to sue the Woodbridge Township police department for $5 million. She incongruously claims the department "failed to protect public safety" and that she was "injured as a result of the officer's actions." Though she may have suffered a bump or a bruise when her suddenly lifeless attacker dropped her to the ground, bumps and bruises beat a slit throat any day.
Let's just hope the fear of multimillion-dollar lawsuits don't prompt our fine men and women in blue to hesitate the next time someone is threatened by a violent criminal.
In any case, if Ellen Shane's lawsuit isn't sufficiently nauseating, how about that of Elizabeth Lloyd? She this year sued a former Little Leaguer (and his family), claiming an errant bullpen toss struck her in the face as she sat nearby.
As reported by the Huffington Post, "Lloyd is seeking more than $150,000 in damages to cover medical costs stemming from the incident at a Manchester Little League game two years ago. She's also seeking an undefined amount for pain and suffering."
Lloyd claims she was sitting at a picnic table near the bullpen when she was hit with a ball thrown by then-11-year-old warm-up catcher Matthew Migliaccio. Had she been hit with a ball thrown by a professional ballplayer, one might conclude said ballplayer did so purposefully. But 11-year-old Little Leaguers don't have the same accurate command of their throws, and any spectator who attends baseball games, courts have consistently ruled, assume certain risks.
So the only question left for the court of public opinion is this: Who is New Jersey's most unpopular plaintiff? Ellen Shane or Elizabeth Lloyd?
Costly Medical Lawsuits Limiting Access to Healthcare
As cited elsewhere in this report, a data analysis by Diederich Healthcare earlier in 2012 ranked the states from highest to lowest for their total medical lawsuit payouts in 2011, as recorded by the National Practitioner Data Bank. Not surprisingly, New Jersey, with more than $220 million in such payouts ranked #4, behind only super-duper litigious New York, Pennsylvania and Illinois.
Less surprising still is the costly impact that such medical liability litigation has on physicians' insurance premiums in New Jersey and thus the availability of healthcare as younger doctors choose to practice in less-litigious states, and experienced veterans opt for early retirement. In any case, New Jersey remains treacherous ground for physicians and hospitals, and if legislators fail to fix the problem, say some observers, the state may soon face a crisis.
J. Richard Goldstein, president and CEO of the New Jersey Council of Teaching Hospitals, sums up: "A physician shortage crisis is right around the corner in New Jersey if we do not take immediate steps to change course. National health reform, while laudable and needed, will only work to accelerate the time when there simply will not be enough doctors to serve New Jersey's adults and children."
Meanwhile, medical liability lawsuits are practically as common as weeds in the Garden State. For example, in 2011, New Jersey's 630 new medical liability claims more than doubled those in Ohio, a state with roughly 2.5 million more residents. Even Texas, a state with nearly three times New Jersey's population, had fewer new claims with 550. Go figure.
But All Is Not Lost
If only New Jersey Gov. Chris Christie and lawmakers in Trenton could do for doctors what they did earlier this year for good Samaritans who use portable defibrillators to try to save the lives of sudden heart attack victims.
As reported by NJToday.net, the new reform law "eliminates language in state statute that requires a person using an automated external defibrillator (AED) to have received training in both CPR and the usage of the AED." More importantly, it "provides immunity from civil liability to any lay person who uses an AED and fails, in good faith, to request emergency medical assistance as soon as practical."
The measure also provides immunity to the organization that acquired the AED. Roughly 300,000 people in the U.S. suffer sudden cardiac arrest each year, and health experts say there is a 90 percent chance of survival if defibrillation is performed within the first minute of the crisis.
Texting Lawsuit Deleted, Make that Dismissed
In one more bit of good news out of New Jersey, a May 2012 ruling that almost made the final cut for a judicial Points of Light citation in this year's report, a judge in Morristown dismissed a lawsuit that sought to hold the sender of a text message liable for an accident caused by the reader of that message.
As reported by the Star-Ledger, Superior Court Judge David Rand agreed with the defendant's lawyer and dismissed claims against a young woman who had sent a text message to her boyfriend just before the boyfriend, while driving his car, crossed into oncoming traffic and gravely injured a middle-aged couple on a motorcycle.
Plaintiffs' attorney Stephen Weinstein had argued that the texter should have known her boyfriend was driving when she texted him and was therefore partly responsible for his client's injuries.
But the texter denied in an earlier deposition that she knew her boyfriend was driving at the time. The boyfriend "pleaded guilty to distracted driving, admitting he was using his cellphone and acknowledging a series of text messages . . . around the time of the accident."
Judge Rand said texters can reasonably assume recipients will behave responsibly, adding that drivers face many electronic distractions these days.
Presumably bringing sighs of relief from shock jocks, billboard owners, commercial and noncommercial enterprises with signs out front, and many others vying for our attention as we drive, Judge Rand said, "Were I to extend this duty to this case, in my judgment, any form of distraction could potentially serve as the basis of a liability case," noting that his decision is not intended to minimize drivers' responsibility to pay attention to the road and what's in front of them.
Though the judge expected his decision to be appealed, he nonetheless deserves credit for holding the line of rationality against evermore creative theories of liability ginned up by personal injury lawyers.