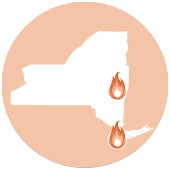 As documented by the Judicial Hellholes report in previous years, New York City and Albany, the Empire State's capital, remain under the heavy influence of the plaintiffs' bar as businesses and educated job seekers continue to leave the state in search of greener, less-litigious economic pastures.
Slip-and-fall racketeers, auto-accident fraudsters and others continue to make "Sue" York City the center of their lawsuit-loving universe, but that's not to say that elements of New York's tedious litigious class can't be found elsewhere in the state. And though the primary obstacle to state-wide tort reforms resides in the legislature, where personal injury lawyer-turned-Assembly Speaker Sheldon Silver and his allies manage to strangle nearly every liability-limiting bill in its cradle, proponents of evermore liability also can be found on the appellate bench where the trial bar's campaign donations presumably hold less sway.
New York City's Tort Liability Soars
Led by a record 2,004 lawsuits against the police department, New York City's tort liability for the past fiscal year again exceeded a whopping half-billion dollars. Precise annual liability figures can be difficult to pin down, but the city's Office of Management and Budget has projected 2013's tort liability at considerably more than $700 million (see nearby chart).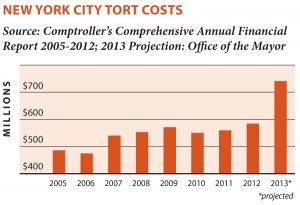 In "A Tort Time Bomb," the New York World cited the Mayor's Management Report, which documented that a "flood of cases brought against the New York City police . . . has not subsided" – up 63 percent over the last decade. Since 2010, the NYPD has surpassed both the city's Department of Transportation and Health and Hospitals Corporation as the fattest target for lawsuits, accounting for $135.8 million of the city's total expenditures for judgments and settlements, according to the comptroller.
Supported by the plaintiffs' bar, the Big Apple's vigilant civil rights establishment points to "overly zealous" police tactics, including stop-and-frisks and arrests for marijuana smoking and trespassing, and hold out Los Angeles and Chicago as models for quickly settling lawsuits and "learning from" them. But New York City Councilman Peter Vallone argues instead that the city should aggressively defend itself against, rather than reflexively settle, such lawsuits.
What someone needs to explain to stuck-in-the-60s activists, however, is that both Los Angeles and Chicago – and California and Illinois more broadly – are all but bankrupt, in no small part because they roll over for any bogus slip-and-fall or accusation against a police officer. Councilman Vallone is the one reading the situation correctly. And though the city's outstanding Law Department (and taxpayers) can't afford to fight every nonsense lawsuit, challenging high-profile claims can send a valuable signal to plaintiffs' lawyers: No more easy paydays.
Speaking of nonsense lawsuits, during his November 2012 remarks to a gathering of state-based tort reformers in New Orleans, the New York City Law Department's chief litigator, Lawrence Kahn, spoke of the storied case of Darryl Barnes, a street menace who, when ordered by a police officer to drop the Tec-9 he was brandishing, turned and opened fire on the officer. Struck by the officer's return fire, Barnes was paralyzed and confined to a wheelchair. But that didn't stop him and his lawyer from launching a decades' long legal battle against the city that actually resulted in two Bronx jury verdicts of $76.4 million and $51 million, both of which were eventually thrown out on appeal.
Of equal concern to Kahn and other city officials is the oppressive annual toll that more mundane lawsuits collectively take on the wallets of New York businesses and citizens. While appellate courts have limited some governmental liability and occasionally come to the rescue in extraordinary cases like Barnes', Kahn explained, they often enough do not and have lately been sustaining ever higher eight-figure awards in some medical liability cases. And with roughly 13,000 miles of sidewalks in the city, even smaller slip-and-fall verdicts add up, too. Since 2008, Kahn reports, about 4,500 new sidewalk related claims have been filed against the city each year, and annual payouts on those claims have averaged just under $40 million.
(Incidentally, the NYPD recently announced that Monday, November 26, 2012 was the first day in memory when not a single violent crime was reported across the big city while the year's murder rate is expected to be the lowest since 1960. Does anyone believe there has ever been a day when New York City courts were open and not a single meritless lawsuit was filed?)
Taxpayers Bear Huge Costs Imposed by NY's Antiquated 'Scaffold law'
If New York City is where the bulk of the state's economically destructive lawsuits are filed, Albany, the state's capital, is where these lawsuits are enabled by a legislative majority that generally fights reasonable limits on liability at every turn. A prime example of Albany's refusal to modernize state liability law was analyzed last July by New York Daily News columnist Bill Hammond, who cited insurance data that suggest taxpayers will pay $100 million more to renovate the aging Tappan Zee Bridge across the Hudson River than they otherwise would were it not for the so-called "scaffold law," which automatically holds contractors and property owners liable for any on-the-job fall, regardless of their responsibility.
Not surprisingly, the labor unions and trial lawyers who reap great benefits from the scaffold law and dominate Albany politically, let Hammond have it. But the veteran columnist is no one to be bullied and, to his credit, struck back with a follow-up column:
"[Y]ou don't have to take my word – or the construction industry's word – on how this law really works. Listen instead to the Court of Appeals, New York's highest court and the last word on interpreting state laws:
"The scaffold law 'imposes liability even on contractors and [property] owners who had nothing to do with the plaintiff's accident,' Judge Robert Smith wrote for a unanimous court this past February. 'And where a violation of the statute has caused injury, any fault by the plaintiff contributing to that injury is irrelevant.'
"Or listen to Rochester Assemblyman Joseph Morelle, a Democrat who has been fighting valiantly to reform the law for years. . . . What is true, Morelle explained, is that employers and owners can be held 100% liable for an injury, even if that injury was 99% the worker's fault."
In his earlier column, Hammond called the scaffold law a "19th century throwback" that is "unique to New York" in that it predates workmen's compensation and unemployment insurance. He explained that it allows workers to "sue and collect damages even if they ignored their employers' safety rules or were drunk or stoned on the job. . . . This is the big reason why, according to industry data, construction liability insurance costs an average of $750 per $1,000 of payroll in the New York City area – compared with just $150 in Chicago."
Though Gov. Andrew Cuomo has sought to advance marginal medical liability reforms, don't expect him to support efforts to reform the antiquated scaffold law. He's unlikely to cross Speaker Silver and the rest of New York's politically generous personal injury bar by doing anything that would kill their golden goose. Meanwhile, New York taxpayers keep footing ever higher bills for public works projects, even while continuing to elect the same defenders of the status quo to Albany, election after election.
Destructive Litigiousness Spreading Beyond the 'Big Apple'
For sheer volume and chutzpah, New York City overwhelmingly remains the state's epicenter for lawsuit abuse, but aftershocks are increasingly felt further north and to the west. A July 2012 report in the Albany Times-Union summarized a Rockefeller College survey of state municipalities that estimates annual tort liabilities for cities and towns beyond the Big Apple exceed another $1 billion annually.
Take the illustrative case of Custodi v. Town of Amherst, in which an experienced roller-blader injured herself after she caught her skate on the lip between a residential driveway and the street and fell. She promptly sued the homeowners, the Town of Amherst, the Highway Department, Erie County, the Village of Williamsville and the Department of Public Works. And though the trial court judge sensibly dismissed skater Robin Custodi's lawsuit, agreeing with the defendants' argument that she assumed the risk of injury when she went whizzing about on streets and sidewalks, the state's highest court disagreed.
Writing for the Court of Appeals, Associate Judge Victoria A. Graffeo explained that, as a general rule, assumption of risk defense should be limited to claims arising from sporting events, sponsored athletic and recreational activities, or athletic and recreational pursuits that take place at designated venues. The judge said that the doctrine did not apply here because Custodi was not rollerblading at a rink, a skating park or in a competition:
"[A]ssumption of the risk does not exculpate a landowner from liability for ordinary negligence in maintaining a premises. The exception would swallow the general rule of comparative fault if sidewalk defects or dangerous premises conditions were deemed 'inherent' risks assumed by non-pedestrians who sustain injuries, whether they be joggers, runners, bicyclists or roller-bladers."
Good grief, your honor. Common sense dictates that runners, cyclists or roller-bladers should be obligated to watch where they're going so as to hold property owners harmless, within reason.
In a similar if more tragic case from Western New York, Cybex, an American manufacturer of advanced exercise equipment faced possible bankruptcy and delisting from the NASDAQ Stock Market after Natalie Barnhard,
a physical therapy assistant in Buffalo, awkwardly misused a leg-extension machine to stretch her shoulder muscles. The heavy machine toppled over on her and ultimately left her paralyzed and confined to a wheelchair.
A 2010 trial resulted in a $66 million verdict against the manufacturer, which was reduced by an appellate court
to $44 million. Either amount would likely have put the company out of business. Earlier this year, Cybex agreed to pay Barnhard $19.5 million and now struggles to retain its competitive position in a challenging global economy.
Three New York Lawyers Charged in Major Insurance Scheme
On February 29, 2012, three New York attorneys were among 36 people charged in a massive scheme to defraud insurance companies of more than $279 million through abuse of the state's no-fault auto insurance law. The alleged scam, as detailed in an article by the Wall Street Journal, was perpetuated for over 5 years and was rather robust and lucrative. The 36 individuals allegedly owned and operated fraudulent medical clinics where patients received unnecessary therapies, tests and other medical procedures and equipment. Prosecutors say patients were recruited into the clinic by "runners" or "ambulance chasers" who worked on behalf of the organization. Once recruited into the practice, the patients were coached to exaggerate injuries for treatment at the bogus medical clinics. The doctors at the clinic would then refer the patients to personal-injury lawyers who filed fraudulent lawsuits on their behalf and encouraged the patients to receive additional treatments to bolster their claims.
Among the 36 arrested were eight members and associates of a criminal group called the "No-Fault Organization." Ten doctors were charged as a part of the operation as well. The three New York lawyers involved were Matthew J. Conroy, a partner at the four-lawyer Matthew J. Conroy & Associates in Garden City, NY; Maria Diglio, an associate at the Conroy firm; and Sol Naimark, a partner at Naimark & Tannenbaum in Bayside, NY.
The suspects were arrested as part of a joint undercover operation with the FBI and the NYPD. In addition to the healthcare fraud charges, Southern District U.S. Attorney Preet Bharara announced racketeering indictments as well. Conroy is charged in the indictment with racketeering conspiracy, conspiracy to commit healthcare fraud, conspiracy to commit mail fraud and conspiracy to commit money laundering. Conroy also is accused of being a part of the organization, serving as a consultant and advisor on the criminal activity of the alleged ringleaders. The indictment also states that Conroy participated in laundering the organization's proceeds. Diglio and Naimark were charged in the health fraud and mail fraud conspiracies.
New York Ranks High in Fraud and Medical Liability Payouts
Speaking of litigation fraud, no one was shocked by a May 2012 National Insurance Crime Bureau report that ranked New York second only to California, this year's #1 Judicial Hellhole, when it comes to manufactured or questionable slip-and-fall claims. Such claims rose by 12% nationally from 2010 through 2011, according to the NICB, and continue to cost honest insurance premium payers many millions of dollars annually.
Also costly to insurance premium payers are meritless lawsuits that target physicians, hospitals and other healthcare providers. As reported earlier this year by Becker's ASC Review, analysis of 2011 data by Diederich Healthcare ranked the states from highest to lowest for their total medical lawsuit payouts, as recorded by the National Practitioner Data Bank. In this very costly category, New York's nearly $678 million more than doubled the just under $320 million of second-place Pennsylvania, which includes Philadelphia, a recent #1 Judicial Hellhole that, unlike New York, is now showing promising signs of reform (see Watch List, p. 21).
Three Cheers for Dismissal of 'Breakfast Club' Suit
No matter how bad things get in Judicial Hellholes, and despite some critics' claims to the contrary, this report always looks for a silver lining. Among other laudable, no-nonsense New York judges deserving kudos this year is Manhattan Supreme Court Justice Ellen Coin, who brought her gavel down hard on a New York lawyer with nothing better to do than sue his posh health club for supplying what he alleged was an insufficiently luxurious breakfast.
As reported by ABC News, Justice Coin dismissed the spoiled brat of a plaintiff's $500,000 lawsuit, ordered him to pay for the health club's legal fees, and told him he "should be ashamed of himself." Hear, hear! Citizens of New York City owe this judge a debt of gratitude.