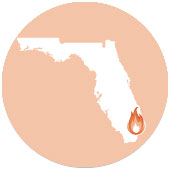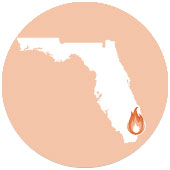 For the past nine years, South Florida has claimed a spot among the Judicial Hellholes due to its aggressive personal injury bar and plaintiff-friendly rules. It reached its low point in 2007, claiming the #1 ranking, and placed second in 2006, 2008 and 2009. Over the past three years, however, Florida lawmakers, with the support of Gov. Rick Scott, have improved the fairness of the state's litigation environment. In 2010, they addressed the excessive liability exposure imposed on Florida businesses for slip-and-fall claims and enacted safeguards when the government contracts out its law enforcement authority to lawyers who are paid based on the amount of damages or fines they impose.
Last year Florida enacted automobile "crashworthiness" reform, which allows a jury to consider a driver's fault when he or she claims a car should have provided more protection in an accident. Prior law had kept jurors from knowing that a driver was drunk, texting or otherwise distracted when the accident occurred.
As a result of these reforms and the most recent enactment of legislation aimed at reducing automobile insurance fraud, the Sunshine State's reputation for civil justice is improving. But there is still much more work to be done. And if the appeal of a reasonable limit on medical liability now pending before the state's highest court breaks bad, and if lawmakers otherwise fail to make additional progress, South Florida could quickly find itself ranked again among the worst of Judicial Hellholes.
The Latest Success: Auto Insurance Reform
This year Florida addressed rampant fraud in automobile insurance claims by reforming its Personal Injury Protection (PIP) law, which provides "no fault" coverage of medical bills up to $10,000. PIP abuse was cited as one of the primary reasons for South Florida's ranking as a Judicial Hellhole last year. The PIP system encouraged litigation and permitted excessive fees for lawyers that sometimes dwarfed their clients' medical expenses. As a result, Florida drivers pay relatively high insurance rates, though they may soon feel some relief.
Here is how the system is abused. Many healthcare clinics involved have close alliances with personal injury attorneys. These clinics or "PIP mills," provide a means to perpetrate fraudulent records of medical procedures that never occurred or for injures that are greatly exaggerated. Regulators had acknowledged that "the filing of [PIP] lawsuits is out of control." Robin Westcott, the Office of Insurance Regulation's director of Property and Casualty Financial Oversight, warned that "you will see carriers leave the state," if the abuse continues unchecked.
When a medical clinic that treats a person with a PIP claim does not receive full compensation for its bill from an insurer within 30 days, lawyers send a demand letter to the insurer demanding that they pay within an additional 30 days. Then they sue. Especially in South Florida, lawyers fight over amounts as small as $1, and then are entitled to collect thousands of dollars in legal fees. If an insurer is suspicious about the validity of charges and fails to pay, it risks such a lawsuit. Some Florida personal injury lawyers reportedly submitted inflated bills for 26-hour days, meetings with the dead, or meetings that otherwise never took place.
Thankfully, the reform legislation enacted in May 2012 will address many forms of PIP abuse. The new law caps non-emergency benefits at $2,500, bars massage and acupuncture from PIP coverage, and places reasonable limits on attorney fees. Florida Chief Financial Officer Jeff Atwater of North Palm Beach said the new law will "release the chokehold that fraud has on Florida's insurance consumers." Not surprisingly, personal injury attorneys immediately vowed to challenge the PIP reform in court.
More Work to Be Done
As noted in prior reports, Florida courts continue to follow a relaxed standard for the admission of expert testimony, still allowing junk science into the courtroom despite efforts to raise the standard to that of federal courts and the vast majority of state courts. The courts have also allowed plaintiffs' attorneys to recover excessive damages for unpaid and future medical expenses.
Gamesmanship with Florida's bad faith insurance
law is of particular concern, both to insurers and Florida residents who pay high premiums as a result. Florida courts' perceived unwillingness to dismiss meritless bad faith cases encourages claimants to manufacture litigation rather than settle within policy limits, and it pushes insurers toward large settlements as opposed to even more expensive trials.
For example, in a ruling this summer, the judges of a Florida appellate court couldn't even agree that an insurer had not acted in bad faith after the insurer repeatedly attempted to offer a settlement to the family of a woman who was in a coma after a car accident. The insurer called the injured woman's mother seven times to offer a settlement within policy limits, with the first call coming just four days after the accident.
On the first call, the adjuster was told that the mother had hired an attorney, but the attorney's name was not provided. Once the adjuster learned that the family had hired an attorney, he was precluded by ethics rules from negotiating directly with family members. All subsequent calls over the next six weeks to obtain the attorney's contact information were to no avail. When the adjuster was finally able to locate the attorney nearly two months later, the attorney did not respond and then rejected the offer.
Nevertheless, the family sued the insurer for bad faith, alleging that it should have immediately sent a check for the policy limits. A trial court dismissed the case and, after years of costly litigation, the appellate court affirmed. Despite the insurer's exhaustive efforts to settle the claim, one member of the three-judge panel actually wanted the case to go to trial, exposing the insurer to significant potential liability.
This decision could have gone the other way. The previous year, Florida's Third District Court of Appeal affirmed a multi-million dollar verdict against an auto insurer whose attempts to settle were also met with no response. In that instance, the insured, who was driving while intoxicated, ran a stop sign and hit the car of a state judge, killing him and his passenger. Immediately following the accident, the insurer sent a check for the policy limits for bodily injury, even before the judge's family contacted the insurer. Two months later, without explanation or counteroffer, the estate returned the check. Repeated calls from the insurer to the estate's lawyer went unreturned. Years later, a $5.2 million judgment obtained against the drunk driver was assessed against the insurer through a bad faith lawsuit.
While the Third District majority effectively validated the bad faith claim and the attorney tactics used to engineer the claim, Chief Judge Linda Wells dissented. She found that the case should have never gone to a jury since the insurer "received no notice, claims or demands whatsoever," but nonetheless "issued a check for its bodily injury policy limits within a day of learning of the accident." She rejected the reason eventually given in litigation for returning the check – that it was accompanied by a general release of liability – because the check was not conditioned on accepting the release, and, more significantly, the family did not respond to the insurer's attempts to settle the claim. Rather, she found that "[t]his action presents just such a case where counsel for an injured party refuses to communicate or negotiate following a good faith offer by an insurer and after dodging information requests via vague responses by office staff, brings an action for bad faith." Judge Wells concluded, "As deeply sympathetic as this case is and as in need of a deep pocket as it is, I simply cannot agree that the facts support a bad faith claim." The result was that the drunk driver who caused the accident did not pay a dime even though he purchased the minimum amount of auto insurance in Florida, while the insurer, who immediately responded to the claim and promptly offered the insured's policy limits was made to pay out several million dollars for its efforts.
Efforts to provide modest safeguards in Florida's bad faith law have thus far been troublingly unsuccessful.
The Looming Threat of Out-of-Control Medical Liability
South Florida's healthcare environment continues to improve due to medical liability reforms adopted a decade ago, but the helpful law could be wiped off the books by the Florida Supreme Court. As noted in last year's Judicial Hellholes report, observers are closely watching for the state high court's ruling on a challenge to a law enacted in 2003 that limits medical liability damages for pain and suffering to $500,000 in most cases and $1 million in cases of catastrophic injury or death. Still, the wait for a decision in Estate of McCall v. United States continues. Should the Florida Supreme Court strike down Florida's medical liability reforms, the healthcare environment, particularly in South Florida, may return to the abysmal condition it was in prior to the law's enactment. At that time, "concern over litigation and the cost and lack of medical malpractice insurance [had] caused doctors to discontinue high-risk procedures, turn away high-risk patients, close practices, and move out of state," as the Select Task Force on Healthcare Professional Liability Insurance found. "In some communities, doctors [had] quit delivering babies and discontinued hospital care."