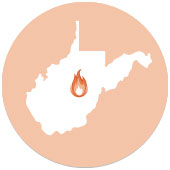 While there are occasional glimmers of hope that West Virginia will overcome its reputation as a Judicial Hellhole, in many ways, each year seems like déjà vu. With law that is out of the mainstream, a lack of appellate due process, stunningly high verdicts, and an attorney general's office that was almost indistinguishable from a private-sector personal injury law firm, Wild, Wonderful West Virginia continues to astound. If there's a silver lining with respect to at least one of these elements, it may be found in the recent electoral defeat of 20-year incumbent Attorney General Darrell McGraw, Jr.
The Ups and Many Downs of West Virginia's High Court
As noted in last year's Judicial Hellholes report, the West Virginia Supreme Court of Appeals has shown that, despite its checkered history, it can issue fair and reasonable rulings. For example, in White v. Wyeth (2010), the court properly interpreted the state's consumer protection law to require actual reliance and refused to apply it to products that are already tightly regulated by government agencies. The court followed with an encore, upholding the state's cap on noneconomic damages in medical malpractice actions in MacDonald v. City Hospital.
These are welcome rulings, particularly considering some of the high court's liability-expanding, outlier decisions in years past. Such decisions have included allowing consolidation of thousands of claims, permitting juries to consider prejudicial evidence regarding punitive damages before determining a defendant's liability, rejecting the learned intermediary doctrine that recognizes the physician's role in discussing the benefits and risks of drugs with patients, allowing individuals with no present injury to obtain cash awards for medical monitoring, and upholding (or refusing to even review) excessive awards.
The West Virginia Supreme Court of Appeals issued another outlier decision in 2011, permitting a trial court to impose a protective order that required an insurer to destroy claimant records following litigation. Such protective orders, which are routinely used by some West Virginia judges, have the potential to place insurers in a position where they run afoul of document retention requirements set by state insurance regulators and inhibit insurers' ability to monitor and report fraud. The U.S. Supreme Court declined to hear an appeal of the 2011 decision and, this November, in two separate cases, the West Virginia Supreme Court of Appeals allowed the practice to stand.
Lack of an Intermediate Appellate Court
West Virginia remains the only state that lacks the combination of an intermediate appellate court and full appellate review as a matter of right. The Supreme Court of Appeals can simply choose not to fully consider an appeal, leaving many parties with no recourse after unjust and biased trial verdicts.
Over the course of the past three years, some members of the high court have refused to acknowledge the need for an intermediate appeals court, even after the state Senate passed legislation that would have created such a court. The bill later failed in the House Judiciary Committee, as Chief Justice Menis Ketchum hoped it would. He continued to reiterate his position, backed by the plaintiffs' bar, that an intermediate appeals court is unnecessary. Tellingly ironic was what the president of the personal injury lawyers' trade group called this proposal to ensure everyone's right to a meaningful appeal: a "jackass stupid idea." Prior to recent legislative action, in 2010 the high court rejected an independent commission's recommendation to create an intermediate appellate court to address the thousands of appeals filed each year, opting instead for a marginal expansion of its own appellate review.
Excessive Awards
West Virginia also is known for excessive damage awards. One of the most recent examples occurred in October 2011, when a West Virginia judge permitted $90 million of a $91.5 million, single-plaintiff verdict against a nursing home to stand. It was the fourth largest verdict in the country over the past two years. The judge ruled that the state's limit on noneconomic damages in medical malpractice cases applied only to $1.5 million of the award because 20% related to professional negligence while 80% related to ordinary negligence. In May 2012 the Supreme Court of Appeals found that the trial court judge erred by refusing to include the defendant's proposed verdict form in the record and sent the case back for further consideration. Upon last report, the trial court was reconsidering the size of the award.
The Claims Journal listed the West Virginia verdict among seven recent "super losses" in the healthcare sector, reporting that such extraordinary verdicts are on the rise. It also reports a study by Hiscox, an insurer of healthcare specialists, showing that such "large losses keep on getting larger with juries in the last two years alone awarding more than $1 billion in total damages for just seven medical liability cases." Such decisions have real-life implications for the affordability and accessibility to healthcare services. For example, if allowed to stand, the $90 million West Virginia verdict will likely dissuade some nursing care providers from operating in the state, leaving residents with even more difficult decisions about where and how to care for aging or disabled loved ones.
A Troubling Asbestos Litigation Environment
An overarching theme in many of this year's Judicial Hellholes – West Virginia among them – is the overwhelming abuse of asbestos litigation. The Mountain State is a place where, for example, 15 plaintiffs named 190 defendants in 8 asbestos cases and, more recently, 14 plaintiffs sued 173 defendants in Kanawha Circuit Court. Serious questions have been raised about the filing of fraudulent claims in West Virginia state courts. CSX Transportation is pursuing a racketeering suit against a Pittsburgh law firm and a radiologist, alleging that they fabricated asbestos claims against the company. A trial court found that the railroad was too late in bringing its claim, but a federal appellate court reversed in late 2010 after ATRA and others filed a well-reasoned amicus brief in the case. Earlier this year, that lawsuit survived a motion to dismiss and the litigation is now moving forward.
McGraw-Style Justice on the Way Out
As noted in prior Judicial Hellholes reports, a longstanding concern in West Virginia has been the type of "justice" meted out by Attorney General Darrell McGraw. But with his defeat at the polls in November, the perennial hellhole has a real opportunity to turn the page on the types of practices that raised concern among citizens and businesses alike.
AG McGraw frequently hired private lawyers through no-bid contracts to enforce state law, giving them a share of whatever damages or fines they could impose on businesses operating in the state. Not surprisingly, McGraw raised nearly half his campaign funds from attorneys he hired to represent the state. He was also repeatedly criticized for using settlement funds collected on behalf of the public for his own pet projects and self-promotion. The U.S. Department of Health and Human Services even sued McGraw to recoup funds from a settlement his office made with Perdue Pharma over alleged Medicaid overbillings, a portion of which should have been used to repay Medicaid. Instead, the attorney general spent the money on a pharmacy school and community corrections programs.
In November, West Virginia voters decided they'd had enough. After two decades, they parted ways with McGraw, a former West Virginia Supreme Court Justice, and elected his reform-promising challenger Patrick Morrisey. Morrisey has pledged to change how the state hires outside counsel by utilizing a "competitive bidding process to make sure that we get high quality . . . services . . . at reasonable prices." He has also vowed to return settlement money to taxpayers rather than spend it from the attorney general's office, and he says he'll end self-serving consumer awareness campaigns prior to elections for which McGraw had become notorious.