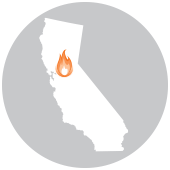 Were it not for the brazen bias pervading of New York City's asbestos court and its judges' and lawyers' cozy ties to state lawmakers, California, ranked #1 among all Judicial Hellholes the past two years, would have easily pulled off an unprecedented Hellholes three-peat. After all, with consistently more than a million new lawsuits filed there every year, there are so many things wrong with the administration of civil justice in the once Golden State that a third consecutive #1 ranking would have been perfectly justifiable. Furthermore, the state is so large that its civil justice machinations invariably affect people all across the country who are trying to business there in one form or another.
"California is a big state with a big economy, and as a result there is a tremendous amount of big litigation here," said David Levine, a professor at the University of California's Hastings College of Law when speaking to Law360.com earlier in 2014. "Because of the sheer amount of money being generated here, it can be tempting to bring litigation to see if you can get a piece of the pie."
It's impossible in the limited space of this report to even touch on, much less detail all the efforts to divvy up Professor Levine's proverbial pie. A book-length treatment would better serve that task. Nevertheless, this year's report briefly endeavors to sample several issues, including the troubling use of "public nuisance" law and private- sector contingency-fee lawyers by district attorneys who seek to rifle the deep pockets of corporate defendants, the continuing expansion of asbestos liability, personal injury lawyers' exploitation of both the health-warning law known as Prop 65 and consumer protection laws, the still relentless targeting of small business owners by so-called disability-access lawsuits, the absurd but costly lawsuits that California's permissive judiciary encourages and, in the interest of fairness, even a few pieces of good news.
LEAD PAINT AND PAINKILLERS
On the same day last year's Judicial Hellholes report was published, Santa Clara Superior Court Judge James Kleinberg issued his decision in a much watched lead paint-as- public nuisance case. The public nuisance theory of liability as applied to lead paint had been tried by personal injury lawyers and their allies among various state prosecutors for years as a means of trying to slip under the higher burden of proof required by products liability law. Their scheme to rifle the pockets of defendant corporations that haven't produced lead paint in decades – as opposed to going after the slumlords whose failure to properly maintain painted surfaces in rental housing poses the only real health risk to children – had ultimately failed everywhere. But not with Judge Kleinberg.
After entertaining post-verdict motions, the judge's final decision issued in January 2014 ordered three companies to pay $1.15 billion, to be shared among Alameda, Los Angeles, Monterey, San Mateo, Santa Clara, Solano and Ventura counties, and the cities of Oakland, San Diego and San Francisco.
During the bench trial, which concluded in September 2013, the defense adduced plenty of evidence that showed the paint companies had stopped selling lead paint once science demonstrated its threats to health and child development, and before the federal government ordered a halt to such sales in 1978. They also showed that California suffers no appreciable lead exposure problems, at least not relative to the national average for such exposure. Still, trial observers reported that Judge Kleinberg's very California-like antipathy toward all things corporate was repeatedly on display, such as when he questioned the industry's strict reliance on certain American doctors and experts about lead-paint risks when international researchers had noted such risks much earlier. "I'm quite troubled by the idea that because American doctors say 'X, Y and Z' that that is the end of the inquiry," the judge snapped. (Yeah, what do those darn American doctors and scientists know, anyway? They're not the boss of me.)
Defendants have appealed Judge Kleinberg's lead paint decision to the California Court of Appeals, Sixth Appellate District. But careful Judicial Hellholes report readers may remember that the high court in 2010 had blessed city and county officials' use of private-sector personal injury lawyers on a contingency-fee basis to pursue their public-nuisance scheme, so no one should necessarily assume the verdict will be overturned.
In the interim, the lead-paint-as-public-nuisance success before Judge Kleinberg has inspired the second horror film of this double feature – call it "Son of Lead Paint" or the "Attack of the Nuisance Opioids." In May 2014, Santa Clara County teamed this time with Orange County and a host of private-sector contingency-fee lawyers to sue narcotics makers, alleging they have caused a deadly epidemic of addiction to potent painkillers such as OxyContin with a "campaign of deception" designed to promote sales and boost profits.
But again, rather than pursue the litigation under strict products liability law, the county prosecutors and their hired guns are relying on California's sprawling and always easily exploited false advertising and unfair competition law, as well as the more adaptable law of public nuisance. Santa Clara Assistant County Counsel Danny Chou told the press upon filing the lawsuit that, "In looking at the issue, you realize that doctors and patients weren't getting complete and accurate information" from the drugmakers. "They were being deceived about the risks and benefits of these drugs, and they were being deceived by the companies that were producing them."
Leaving aside the pesky facts that the painkillers have been approved by the Food and Drug Administration and require a prescription from a licensed and not readily deceived physician to obtain them, Chou went on to explain that making sure people understand the risks and benefits of drugs like OxyContin and Percocet before taking them is the lawsuit's "primary goal." That must mean that extracting hundreds of millions of dollars from drugmakers to be poured into county coffers and the personal bank accounts of multimillionaire personal injury lawyers who'll likely support the prosecutors' future political campaigns is only a secondary goal.
ASBESTOS HOT-ZONES
While California's Los Angeles and Alameda counties don't quite stack up with Madison County, Illinois, in terms of sheer volume of asbestos lawsuits, and their courts aren't necessarily as brazenly imbalanced as New York City's asbestos litigation court known as NYCAL, they continue to be known nationwide as hot-zones for such litigation, replete with sometimes unscrupulous plaintiffs' lawyers, biased judges and often mind-blowingly generous verdicts.
Such "large verdicts show the dangers of going to trial," observed one veteran attorney. "If the defense isn't put on in the right way and the jury gets mad at you in California, you can get hit with an adverse verdict with a big number."
One such "big number" – $18 million in punitive damages – out of Los Angeles County was affirmed in October 2014 by a divided panel of the California Second District Court of Appeal. The National Law Journal reported that the original award of $48 million included $30 million in compensatory damages for a homebuilder (and his wife) who had contracted mesothelioma after allegedly inhaling asbestos dust from construction materials in Southern California from 1964 to 1994. Though Los Angeles County Superior Court Judge Steven Kleifield granted materials supplier Union Carbide Corp.'s motion for a new trial on compensatory damages, both sides in Izell v. Union Carbide Corporation later stipulated to a reduced amount of $6 million, all in noneconomic damages.
The appeals court majority disagreed with defendant Union Carbide's argument that the 2012 award was based on insufficient evidence and that the $18 million in punitive damages was "unconstitutionally excessive." In upholding the original punitive damages award, the court found that Union Carbide "acted with a reprehensible indifference to the health and safety of others." Justice Patti Kitching dissented, saying, "the significant reduction of the jury's compensatory damage award requires a new trial on the amount of punitive damages."
A spokesperson for Union Carbide's parent company, Dow Chemical Co., issued this statement:
"The California Court of Appeal for the [Second] District's decision in Izell once again makes clear defendants in asbestos litigation cannot expect proper application of California law in California's trial or appellate courts. While UCC feels sympathy for Mr. Izell and his family, UCC is extremely disappointed in the decision and believes… [it] was based on a fundamentally flawed interpretation of California law on the issues of causation, comparative fault and punitive damages…. UCC intends to vigorously pursue its appellate options, including petitioning the California Supreme Court for review, as the time is now for the California Supreme Court to level the playing field and abandon the relaxed rules governing asbestos litigation…."
Just eight days after the Los Angeles County jury's $18 million dollar award for punitive damages was upheld on appeal, an Alameda County jury took less than a day, following a six-week trial, to render… wait for it… a nearly $71 million verdict for another single asbestos plaintiff and his wife against gasket manufacturer John Crane Inc. (Whalen v. John Crane Inc., No. RG14711964).
While only finding Crane 3% liable for the mesothelioma diagnosed in the former U.S. Navy Machinist's Mate in 2013, the jury nonetheless said Crane's negligence, defectively designed products and failure to warn would cost it $40 million for the plaintiff 's pain and suffering, another $30 million dollars for his wife's loss of consortium, and $861,113 in economic damages.
During the trial, Superior Court Judge Victoria Kolakowski excluded mitigating evidence the defense wished to present – not that this is an unusual phenomenon faced by defendants in Alameda County asbestos litigation. Crane is expected to appeal this monstrous verdict, one of the largest single-plaintiff asbestos verdicts in recent memory.
Still, if there's any hope that reason may yet assert itself in California asbestos litigation, it may be found in the Second District's late-November 2014 decision upholding a lower court that found Shell Oil was not responsible for protecting a woman from asbestos exposure that allegedly arose from laundering her husband's work clothing. The panel cited Campbell v. Motor Company (Cal. Ct. App. 2012) in finding that to hold the defendants responsible for off-premises exposure would unfairly saddle them with "limitless" liability. Other California appeals courts have ruled similarly in such secondary exposure cases, and now the high court is poised to take up the issue of take-home exposure in early 2015, having granted cert in two cases, Kesner v. Superior Court and Haver v. BNSF.
ROLLING FOR DOLLARS
Watered down compromise legislation out of Sacramento in recent years has done nothing to slow the rolling threat posed to California's small business owners, particularly those who speak English as a second language, by a finite group of "frequent filers" specializing in so-called "disability-access" lawsuits. These opportunistic suits exploit both the federal Americans with Disabilities Act (ADA) and the state's civil rights law to stake their claims.
In August 2014 the Modesto Bee profiled one of those frequent filers, Robert McCarthy, "a 59-year-old pedophile who stole his dead brother's identity to illegally obtain food stamps and disability payouts…." Each year since 2001, except when incarcerated for sex crimes and fraud, reported the Bee, McCarthy "has left his Arizona home for short trips to California. That's where the money is when you want to sue for disability discrimination."
"As he has done in numerous other California communities before and since, McCarthy rolled through Modesto, Ceres and Turlock on a four-day trip in May 2013, spending $500 on hotel rooms, alcohol, an ashtray and other items. Six months later, he sued 13 of the places he'd visited, saying they did not accommodate him and his wheelchair."
McCarthy's modus operandi is similar to others practicing his craft. He asks judges to order the businesses he's targeted to award him "$4,000 for each of the multiple problems he detects, and to triple the amounts," as allowed under California's civil rights law, "to teach the companies a lesson." It should be noted that far more often than not the "problems" McCarthy and his ilk "detect" are minor and technical, ranging from bathroom soap dispensers and grab-rails being a fraction of an inch too high to fading blue paint on a handicapped parking-spot.
Of course, not all of California's wheelchair racketeers are as unsavory as McCarthy, and some plaintiffs may actually have been hindered in their good-faith efforts to access public places. But a lengthier Bee exposé published later in August illustrated the cumulative scope of this lawsuit abuse problem. More than 40% percent of all ADA lawsuits in the U.S. occur in California, according to the Bee, and they are "likely raising prices to other consumers," since "millions of dollars have changed hands." And while these "drive-by lawsuits" were "once mostly confined to Southern California and the Bay Area," they are now becoming more prevalent in Northern California counties as the four most active plaintiffs (including McCarthy), who have filed 820 separate ADA lawsuits throughout the state, are now moving to expand their territory and beat other, less prolific litigants to the punch.
Together, this merry band of litigants has sued an estimated 35,000 shops and restaurants up and down the state, according to the California Justice Alliance, putting many family-owned mom & pop operations out of business. As San Jose Councilman Sam Liccardo told the Mercury News, "This is a shameful abuse of a well-intended law. We know there are plenty of small businesses out there hanging by a thread right now, and these lawsuits don't make things any easier."
"Something needs to be done," said Tom Scott, executive director of California Citizens Against Lawsuit Abuse. "We have 3.6 million small businesses out there (in California) trying to comply with a variety of laws, and there are bad actors taking advantage with bad intent. This shakedown of small businesses is not stopping because people are seeing it as a way to make quick money."
Scott and others are hopeful that California lawmakers will finally get around to enacting practical, meaningful reform in 2015. Elements of such reform might give business owners the option of paying state-sanctioned engineers to inspect, recommend needed improvements to and/or certify their premises as "accessible" under the ADA. Such certification would serve to ward off unreasonable claims. Some would also like to see the state institute a safe-harbor period of several weeks to a few months, during which a business could consult with certified engineers and affect necessary renovations after receiving official notice of a plaintiff 's intent to sue. Lawmakers should find a way to improve access for the disabled without allowing hardworking Californians to be victimized by lawsuit blackmail.
ALL-NATURAL LITIGIOUSNESS MEETS PROP 65
Regular readers of this report know that, in recent years, California has been home to a growing wave of often ridiculous consumer class actions that target the labeling and marketing of various food and beverage products. This report has also been critical of the abuse of private-attorney-enforced Prop 65, the voter-passed referendum that has since 1986 required ominous warning signs in businesses and other public accommodations where even the slightest, non-threatening trace amounts of some 800 different chemicals may be present. In large enough doses, these chemicals are "known to the state of California to cause cancer, birth defects or reproductive harm," but the now ubiquitous and thus generally ignored signs serve only as an invitation for more lawsuits.
In January of 2014, an innovative personal injury lawyer, Jack Fitzgerald, invented hybrid litigation that combines phony consumer confusion with labels and a Prop 65 twist. Fitzgerald's meritless class actions, Cortina v. PepsiCo, Inc. and Cortina v. Goya Foods, Inc., were filed in the U.S. District Court for the Southern District of California and allege that a byproduct of caramel coloring in soft drinks and other products is harmful, even though the Food and Drug Administration says it's not.
Both multimillion-dollar suits claim the defendants are in violation of California's Unfair Competition Law, False Advertising Law and Consumers Legal Remedies Act by allegedly failing to tell consumers that their products contain "dangerous levels" of 4-methylimidazole, or 4-MeI. The chemical is considered a carcinogen but, as reported by Food Navigator-USA.com, government authorities in the U.S., Canada and Europe say it poses no risk for humans in the concentrations allowed in food products.
"Under California's Proposition 65, products with more than 29 micrograms of the potentially carcinogenic chemical must carry a health warning label," according to Law360.com, and Fitzgerald's lawsuits purport that "independent testing" shows significantly higher levels in the defendants' products. But it's unclear where (in which state or states) those products were purchased for testing. And where the tested beverages were purchased may be important since, as Law360.com's coverage continued, PepsiCo says it immediately moved to meet the latest regulatory requirements under Prop 65 and that all of its products in California are below the state's threshold. It also said it intended to make the same changes in all its products sold across the U.S. before the end of February 2014.
But lawsuits without injury are routine in California, and if personal injury lawyer-written laws and regulations open loopholes for lawsuits – like setting thresholds for potential harm to absurdly low levels – rest assured those loopholes will be shamelessly exploited. Meanwhile, soft drink consumers in California should prepare to pay a little more for their favorite beverages. After all, money for lawyers' fees has to come from somewhere.
If there's any good news to report from California's food courts, it may be on the "all natural" front. ATRA ally Glenn Lammi of the Washington Legal Foundation explained in a late-2013 piece for Forbes how plaintiffs' lawyers for several years have been serving California courts "a steady diet of all-natural… class actions[,] alleging that the use of 'natural' or 'all natural' on a food product label is false or misleading under state law…." But a dismissal with prejudice in the case of Kane v. Chobani, Inc. in February 2014 could invite a trend toward reasonableness. In firmly rejecting the plaintiffs' claims, Northern District of California Judge Lucy K. Koh wrote that, "Plaintiffs do not provide… any basis to support their claim that the color additives which Defendant uses in its yogurts are in fact 'highly processed unnatural substances.' Plaintiffs also provide no basis whatsoever to support their allegation that fruit and vegetable juice is somehow unnatural, nor explain with any specificity what they contend is 'unnatural' about these particular ingredients."
No one believes for a moment that Judge Koh's commonsense dismissal of this particular waste of court resources will end all efforts by shameless class-action lawyers to get rich beyond their wildest dreams at everyone else's expense. But perhaps it will discourage future food-labeling suits from incredibly claiming that concentrated or dehydrated fruit juices are somehow "unnatural."
CRAZY LAWSUITS ENCOURAGED BY PERMISSIVE COURTS
Speaking of court resources, California court budgets have been drastically cut and tightened in recent years as the spendthrift state barely stays in the black, thanks only to the smoke-and-mirrors gimmicks of wiley Governor Jerry Brown.
"The court system has been cut by more than $1 billion in the last several years," according to the Los Angeles Times, "forcing the closure of 51 courthouses and more than 200 courtrooms. The cuts have created long, snaking lines at clerk windows, delays in resolution of cases and trial dates, and sent court fees skyrocketing." And though 2014's budget brought a modest funding boost for the courts, California Supreme Court Chief Justice Tani Cantil-Sakauye said in June that it still falls short of relieving all the problems.
Perhaps the chief justice might consider adding to her future remarks and speeches about budget shortfalls a polite message to her lower court colleagues, whose collective reputation for being too often receptive to even the most laughable of lawsuits irrefutably adds to California's fiscal woes. When crackpots, charlatans and parasites believe judges will let them use meritless claims to extort settlements from defendants, they come out of the woodwork to crowd dockets and otherwise chase taxable commerce from the state. California's courts can't routinely host a clown- show without the state suffering serious repercussions. Imposing stiff sanctions on panderers of frivolous lawsuits every now and again could go a long way in changing the way some self-centered plaintiffs and their attorneys think.
For example, a dressing down in open court would have been perfectly reasonable treatment for the filers of these nonsense suits:
Helmet-haired bit actor Frank Sivero, who played gangsters in films like "The Godfather Part II" and "Goodfellas," filed a $250 million lawsuit in October 2014 against FOX Television and the producers of its long-running megahit cartoon series "The Simpsons," alleging they unlawfully appropriated his likeness with use of their recurring mafia man character "Louie." It sounds like somebody may have gotten ahead of his residual checks while playing the ponies out at Santa Anita, and is now hoping Simpson millionaires will offer him a fresh stake in order to make this pathetic lawsuit go away. Only in Hollywood.
Home improvement retailer Lowe's in August 2014 reached a $1.5 million settlement in a class action brought by several California county district attorneys who had alleged false-advertising of 2×4 pieces of lumber. What every contractor and every do-it-yourselfer in America has known forever, namely that measurements for tight, new pieces of lumber are always marginally smaller than the advertised measurements so as to accommodate for later expansion and the easier joining of components during construction, was news to these DAs and the "investigators" they sent out at taxpayers' expense to get the dirt on Lowe's. Rather than take on the expense of fighting this typically Californian, anti-business lawsuit all the way to trial, Lowe's took the less expensive way out by settling. Who can blame them?
And though this list of resource-wasting lawsuits could go on nearly forever, let's end it with good news for litigious lovers of alfalfa sprouts and bad news for restaurants with an occasionally forgetful employee or two. Heather Starks was the lead plaintiff in a Los Angeles County class action that settled in 2014. The suit had accused the popular sandwich shop chain Jimmy John's LLC of fraud and false advertising after she'd ordered a sandwich she believed would include sprouts but allegedly did not. Rather than simply tell restaurant staff that her sandwich needed sprouts, she instead found a lawyer (or her lawyer found her) and sued. Like Lowe's, Jimmy John's caved and future customers will have the pleasure of picking up the tab for a $725,000 settlement.
GOOD NEWS
Unlike many California judges, the Judicial Hellholes report annually strives for fairness and balance. Accordingly, it is only fair to report that there were some welcome bright spots in California in 2014 that are worthy of note.
Wage & Hour Litigation In late May 2014, the California Supreme Court issued a decision in Duran v. U.S. Bank National Association, that reversed a $15 million plaintiffs' verdict in the class action that had been tried in Alameda County Superior Court. The high court couldn't abide by the trial judge's uncritical reliance on the plaintiffs' statistical "evidence," saying "we cannot have confidence in such findings because the trial court did not use a valid representative witness group or consider individualized evidence that might have presented a more complete picture of the class. On remand, the trial court must start anew by assessing whether there is a trial plan that can properly address both common and individual issues if the case were to proceed as a class action."
Limiting Liability for Commercial Property Owners California's high court also stepped up for commercial property owners in June 2014, with its answer to a certified question from the U.S. Court of Appeals for the Ninth Circuit in Verdugo v. Target Corporation. In holding that a business does not owe a duty to its customers to obtain and make available an automated external defibrillator (AED) for use in a medical emergency, the court explained that such policymaking authority should be left to the legislative branch by way of statutory law and not the courts' judgment in making common law.
Still Hungry for GMO Lawsuits, Trial Lawyers Stumble Again Exercising their rightful policymaking authority, California lawmakers in 2014 nobly resisted Sacramento's powerful lawsuit lobby and instead listened to traditional farmers, food producers and restaurants in rejecting a S.B. 1351, a bill designed by and for the lawsuit industry to accomplish what a ballot proposition in 2012 could not – since it was soundly rejected by voters.
In an effort to grow more robust and bountiful crops, humans have experimented with genetically modified organisms, or GMOs, for thousands of years, long before Augustinian friar Gregor Mendel made a true science out of it in the 1800s. Such work has since developed to produce drought resistant corn and soybeans, rice with more vital nutrients, and various other crops that thrive even when the soil around them is treated with herbicides. Yet the struggling organic food industry and its trial lawyer allies keep up their efforts to impose GMO labeling mandates, hoping to scare consumers away from perfectly safe and more affordable food products while ensnaring some unlucky food sellers in class actions. (Voters in Colorado and Oregon also rejected related ballot initiatives in 2014.)
Propositions 45 & 46 Kudos to California voters in 2014, too, for seeing through two new trial lawyer-crafted ballot measures that, respectively, would have worked to boost insurance premiums and make medical care more expensive and less available by creating additional civil liabilities for insurers and healthcare providers.