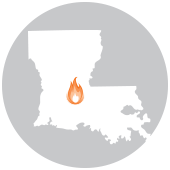 The shameless feeding frenzy initiated by personal injury lawyers and enabled by a plaintiff-friendly federal judge that began in the wake of 2010's Deepwater Horizon oil spill continues, seemingly unabated, and other long-standing problems in civil courts there combine to qualify Louisiana as a Judicial Hellhole for another year. But its drop in the rankings from #2 last year to #7 shows that progress is being made – if not so much by the courts themselves than by lawmakers determined to improve the Pelican State's reputation for civil justice. In fact, several positive tort reform laws enacted by Louisiana in 2014 are outlined among other legislative Points of Light on p. 50. One of them, in particular, was designed to put an overdue end to the "Buddy System."
HIGH COURT STRIKES BLOW TO 'BUDDY SYSTEM'
Before the legislature got around to reining in Attorney General James "Buddy" Caldwell's notorious "Buddy System," wherein the AG had long made a practice of hiring his friends among the personal injury bar to sue deep-pocket corporate defendants on behalf of the state so those friends in turn could win big fees and make generous contributions to his next campaign, Louisiana's Supreme Court in January 2014 struck a preliminary blow.
A 4-3 high court majority overturned a $258 million verdict in the state's lawsuit against a drug company that Caldwell and his hired guns alleged had downplayed, in a letter to doctors, the risk of diabetes associated with an anti-psychotic medicine, Risperdal. The decision also wiped out $70 million in fees and $3 million in costs and expenses that the court additionally awarded to the private-sector plaintiffs' lawyers who'd brought the idea for the lawsuit to the attorney general's office in the first place.
In fairness to Caldwell, this particular case, Caldwell v. Janssen Pharmaceutical Inc., was initiated by his predecessor, Charles Foti. But Caldwell ultimately embraced it as his own and had since made it a model for his own tenure as attorney general.
"[W]e find the Attorney General failed to establish sufficient facts to prove a cause of action against the defendants under [the state's Medical Assistance Programs Integrity Law] because no evidence was presented that any defendant made or attempted to make a fraudulent claim for payment against any Louisiana medical assistance program within the scope of MAPIL," wrote Justice Greg Guidry for the majority. "Even if the defendants misrepresented the efficacy or safety of their product to Louisiana doctors, there is simply no evidence in this record, and moreover no allegation, that this misrepresentation in fact caused any health care provider or his billing agent to knowingly present a claim for payment that is false, fictitious, untrue or misleading in regard to any material information," Guidry added.
More coverage of this important Louisiana Supreme Court decision was offered by the Associated Press and Bloomberg News.
LOUISIANA'S CONTINUING CIVIL JUSTICE PROBLEMS
While the days of the pay-to-play "Buddy System" appear to be over, a number of less publicized but important problems with Louisiana law persist in encouraging lawsuits, often at the expense of consumers and jobseekers. And since a 2014 survey of Louisiana voters showed that strong majorities favor continuing civil justice reforms, here are a few issues that lawmakers might look to tackle next:
Jury Trial Threshold Many Louisianans are being denied their fundamental right to a trial by jury thanks to a unique law that sets the jury-trial threshold for damages sought by a plaintiff at $50,000. Lawsuits seeking less are heard only by a judge. And when personal injury lawyers develop a cozy relationship with particular judges, it's no surprise that they file plenty of smaller claims in the jurisdictions where those judges sit. This law effectively takes citizen jurors, who might actually return defense verdicts from time to time, out of the mix, and nearly 7 in 10 voters in the survey noted above don't like it.
Why? Because when plaintiffs' lawyers have good reason to believe they'll win cases tried only by friendly judges, they file more lawsuits. And the frequency of such lawsuits is reflected, for example, in Louisiana's auto insurance rates – some of the highest in the country. And it should be noted by way of comparison that 36 states have no threshold for civil jury trials. Of the 14 that do, Louisiana's is by far the highest. Legislative efforts to eliminate the $50,000 threshold failed in 2014 as trial-lawyer lobbyists vigorously opposed them. But lawmakers should try again.
Direct action Louisiana's direct action statute allows an injured person, or his survivors or heirs, to assert a claim against both the insured and its insurer. In some instances, the direct action statute also allows a lawsuit to be brought against the insurer alone. Again, this law, which encourages litigation, is unique to Louisiana. Common law in many other states prohibits a plaintiff from suing a tortfeasor's insurer directly.
Duplicative Damage Awards: Louisiana is one of only seven states in the nation that awards hedonic damages for the "loss of enjoyment of life." Until a 2006 Louisiana Supreme Court ruling, hedonic damages were considered to be duplicative to "pain and suffering." But in McGee v. A C and S Inc., the high court's ruling allowed awards for hedonic damages as separate from other intangible losses, such as pain and suffering.
Shameless Judges There's only so much lawmakers can do about judges who shamelessly curry favor with wealthy litigants, but voters who elect such judges could take a stronger stand. If Louisianans wish someday to boost their state up out of the Judicial Hellhole it's currently mired in, they might start by paying more attention to judges like 18th Judicial District Court Judge J. Robin Free. He took an all-expenses-paid trip to a lavish hunting ranch owned by a Texas trial lawyer, who only days earlier had settled a lawsuit in Judge Free's court for $1.2 million. On December 9, 2014, the state's high court found the actions improper, but only slap-on-the-wrist sanctions will be applied to the judge, who's poised to begin another six-year term on the bench.
FEDERAL, STATE LITIGATION TARGETS ENERGY PRODUCERS
Of course, no discussion of what makes Louisiana a Judicial Hellhole is complete without pointed mention of the tort bar's steady, self-serving assault on the state's energy industry. That assault has received renewed attention since the Deepwater Horizon oil spill.
"Within weeks of the epic 2010 oil spill in the Gulf of Mexico, BP apologized, acknowledged partial blame, began paying claims and cleanup costs, and sought to settle lawsuits rather than fight in court," began a September 2014 update of this sorry saga written by BloombergBusinessweek correspondent Paul Barrett. "Yet after spending more than $28 billion so far to make amends and dilute the public-relations debacle, the London-based oil giant remains enmeshed in litigation."
Last year's Judicial Hellholes report and countless media accounts since have documented the blatant fraud perpetrated by plaintiffs' lawyers who, on behalf of businesses that suffered no harm remotely traceable to the Gulf oil spill, have nonetheless sought to squeeze free money out of the Court Supervised Settlement Program that
BP voluntarily established. The fund has been too easily exploited under the administration of veteran Louisiana lawyer Patrick Juneau. He was appointed to administer the fund by federal District Judge Carl Barbier, a past president of the state's trial lawyers association and the judge presiding over all oil spill-related federal litigation ongoing in New Orleans.
But BP has tried to fight back. In September 2014 it filed a motion with Judge Barbier seeking to have Juneau removed as administrator of the claims fund, citing what BP sees as a conflict of interest, since Juneau, prior to his appointment as administrator, had represented the state in claims against BP. "With billions of dollars at stake, the Court, the parties, and the public rightly expected that the Claims Administrator would be a neutral, not a partisan," the motion reads. "Because he is Court-appointed and functions as an arm of the Court, he must be a neutral, free of a disqualifying conflict of interest. Mr. Juneau, however, was not a neutral when the Court appointed him."
No surprise, Judge Barbier denied BP's motion in November. But BP is appealing that denial to the Fifth Circuit. Meanwhile, it had petitioned the U.S. Supreme Court to intervene in a separate class action filed against it by various bayou opportunists calling themselves the Plaintiffs' Steering Committee. BP wanted the high court to review certification of the class, arguing in its petition:
"The Fifth Circuit improperly interpreted the certified class in a way that expanded it to include parties never injured…. The class yokes together many claimants that suffered spill-related losses with numerous others whose alleged losses are entirely unrelated to the spill, thereby awarding damages without any connection to the theory of liability."
But BP's hopes that the high court would ride in to save the day were dashed on December 8 when the justices, without comment, declined to review lower court rulings.
Of course, in addition to federal litigation targeting BP, "legacy lawsuits" based on state law and similarly aimed at energy producers' deep-pockets continues apace, as well. To its credit, the Fifth Circuit in February 2014 cited preemption by federal law in upholding a lower court's dismissal of 11 Louisiana parishes' lawsuits against BP. But lawsuits by two parishes aimed at a broader swath of the energy industry effectively got a green-light to proceed with a home-field advantage in state court when a federal judge ordered them returned there after the defendants had sought to have them tried in federal court. And despite legislative efforts to end it, controversial "coastal erosion" litigation launched against scores of energy companies under the questionable authority of the South Louisiana Flood Protection Authority-East also continues. So when it comes to suing the energy industry in Louisiana, like the late, great Jimmy Durante might have said, "Everybody wants to get in on the act."