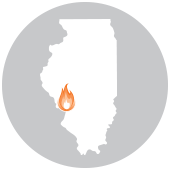 Madison County became synonymous with abusive litigation in the early 2000s when ATRA and groups such as the Manhattan Institute spotlighted how the largely rural county had become a magnet for nationwide class actions. The local court's civil docket bulged with the names of major corporations being hauled into seemingly sleepy Edwardsville, Illinois. Lawyers there made millions while the consumers they purportedly represented received coupon recoveries. That situation changed significantly after Congress enacted the Class Action Fairness Act (CAFA) in 2005, expanding federal court jurisdiction over multi-state class actions, and the Illinois Supreme Court stepped in to address local pro-plaintiff rulings.
But plaintiffs' lawyers have gone back to the future in their latest effort to resurrect a multi-billion dollar class-action verdict thrown out years ago by the state's high court. Meanwhile, Madison County continues to function as a nationwide claims-processing center for asbestos lawsuits, most of which have no connection to the county or anywhere else in Illinois. As the Chicago Tribune observed, "The 5th Judicial District, and Madison County in particular, is a magnet for personal injury and product liability cases because the courts are notoriously plaintiff-friendly."
'PRICE' IS WRONG
"The Price is Right," a still wildly popular television game-show implicitly referenced elsewhere in this
report, first hit the airwaves in 1956. A class action lawsuit in Madison County that resulted in a jackpot
verdict seems to have gone on nearly as long. That suit sought damages on behalf of all Illinois residents who
had purchased "light" cigarettes since their introduction in 1971. After a three-month trial in 2003, now-retired
Madison County Circuit Court Judge Nicholas Byron, sitting without a jury, reached a whopping $10.1 billion verdict in Price v. Philip Morris. He was no Bill Cullen, Bob Barker or Drew Carey, however, and the Illinois Supreme Court effectively canceled his show in 2005 when it overturned the verdict. But plaintiffs' lawyers have since updated the format and brought it back for a 2014 encore.
Here's the back-story: In 2005, the Illinois Supreme Court found that Philip Morris was not subject to liability under the state's Consumer Fraud Act because the Federal Trade Commission (FTC) allowed use of the terms "light" and "low tar" in marketing cigarettes. The U.S. Supreme Court declined to hear the case in 2006. Two years later in 2008, the plaintiffs' lawyers, still hoping to claim their grand-prize of about $1.8 billion in attorneys' fees, seized on a U.S. Supreme Court ruling in a different case, Altria Group Inc. v. Good, to petition the Madison County court to reopen Price. The plaintiffs argued that in Good, the U.S. Supreme Court, relying in part on the position of the FTC, found that federal law regulating cigarette advertising did not preempt Maine's consumer protection law – a distinctly different issue than application of a specific state consumer statute's regulatory compliance provision.
To his credit, Madison County Circuit Court Judge Dennis R. Ruth ruled that too much time had passed to revisit the Price verdict, but Illinois's Fifth District appellate court reversed Judge Ruth in 2011, instructing him to consider the merits of the plaintiffs' motion. On remand, Judge Ruth carefully evaluated whether the FTC's position, expressed in a brief filed in Good, would have led a divided Illinois Supreme Court to reach a different outcome. He found that the plaintiffs did not meet their burden of showing that the new evidence would make it "more probably true" that they would have prevailed.
In April 2014, the Fifth District again reversed the trial court. Astonishingly, it reinstated the decade-old $10.1 billion verdict. So Philip Morris has once again appealed to the Illinois Supreme Court.
This in turn has led the plaintiffs' lawyers to engage in desperate tactics aimed at the Illinois Supreme Court Justice Lloyd Karmeier. Why? In 2005, newly seated Justice Karmeier not only joined the majority that dismissed the state law-based claim on grounds that cigarette advertising is federally regulated, he also would have rejected it because, his concurrence reasoned, class members had not incurred any actual loss. Had they not purchased light cigarettes, they simply would have purchased other cigarettes at the same price.
So the plaintiffs' lawyers decided to try to prevent Justice Karmeier from hearing the pending appeal. First they tried desperately to force Justice Karmeier to recuse himself from the case. But the plaintiffs' lawyers have been unable to point to any campaign finance records supporting their accusation that Phillip Morris played an undue role in Justice Karmeier's initial election to the high court in 2004.
With failure of their recusal-forcing efforts, the plaintiffs' lawyers adopted a new strategy: removing Justice Karmeier from the court altogether. They launched an "October surprise," suddenly spending millions on negative advertising in an effort to defeat him in his 2014 retention election.
According to the Bellville News-Democrat, the anti-Karmeier campaign war chest included $1.2 million from lawyers affiliated with Korein Tillery, the firm that stands to profit most from reinstatement of the Price judgment. Other firms contributed thousands of dollars to the anti-Karmeier effort. But despite the plaintiffs' vast expenditures and smear tactics, including an effort to link Justice Karmeier to the accidental death of a state trooper in 2012, voters in Southern Illinois retained him in November.
Thus the stage is now set for a final episode of the Price litigation. At stake is not only one of the most excessive and extraordinary verdicts in history, originating in Madison County's heyday as a haven for consumer class actions, but also the finality of court rulings. If the resurrected verdict is sustained, Illinois trial courts will have a green light to second-guess decisions of higher courts based purely on speculation as to how later developments may have affected past evaluations of the law.
STILL THE EPICENTER FOR ASBESTOS LITIGATION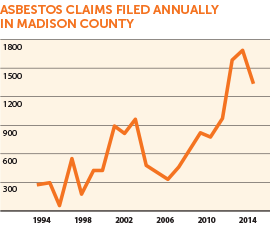 Personal injury lawyers from across the country are still flocking to Madison County to file asbestos claims. In fact, roughly 90% of plaintiffs who file in Madison County come from outside Illinois. They drag with them scores of defendants they name in each lawsuit, hoping enough of those defendants will settle out of court and thus help sustain the lawsuit industry's asbestos business model.
Thanks primarily to Judge Byron's plaintiff-friendly ways, Madison County had developed early last decade a nationwide reputation as a welcoming venue for asbestos claimants. Asbestos filings skyrocketed from a low of just 65 in 1996 to 953 in 2003. Asbestos trials between 2000 and 2003 led to news-making verdicts of $16 million, $34 million and $250 million.
In July 2004, Judge Byron handed the asbestos docket off to also now retired Judge Daniel Stack, who showed an initial willingness to transfer or dismiss claims that reasonably should have been heard elsewhere. And when a new, reform-minded Chief Judge Ann Callis took the reins in 2006, many optimistically believed that Madison County's civil courts were poised to become more fair and less likely to produce outlier verdicts. Asbestos lawsuit filings dropped appreciably. These and other promising signs led ATRA to move Madison County from the rankings of Judicial Hellholes to this report's less onerous Watch List between 2007 and 2009, even as the court began to experience a resurgence of asbestos claims. Sadly, the nascent reform movement ultimately failed to launch, and the county regained its infamous standing as a Judicial Hellhole in 2011 when Judge Barbara Crowder inherited the largest asbestos docket of any state court in the nation.
Judge Crowder quickly faced controversy for accepting generous campaign contributions from three local asbestos law firms just days after she'd allocated to them valuable trial dates – valuable because possession of a trial date gives asbestos plaintiffs another big advantage in extracting settlements from the defendants corralled in their lawsuits. Judge Callis was forced to remove Judge Crowder from the asbestos docket, replacing her with Judge Clarence Harrison. In March 2012, he replaced the trial date-assignment system that had given preferential treatment to local asbestos firms.
But rather than stem the flow of new lawsuits, abandonment of the trial allocation system opened the door to new players from outside the county. The asbestos docket doubled from two years earlier. New York-based law firm, Napoli Bern Ripka & Shkolnik, opened an office in Madison County and quickly became the "new king" of asbestos lawsuits, surpassing the local firms that had long-dominated the litigation. The Napoli firm filed a surge of cases claiming that asbestos exposure resulted in lung cancer, rather than the conditions more closely linked to asbestos: mesothelioma and asbestosis. While the number of people with mesothelioma is shrinking and competition is fierce among law firms to represent such plaintiffs, lung cancer is more common and presents a big new business opportunity for plaintiffs' lawyers willing to allege their client's cancer was caused by exposure to asbestos and not other, more obvious possibilities.
These lung cancer lawsuits contributed to a record number of asbestos claims in Madison County in 2012 and 2013. In fact, in 2013, the Napoli firm filed one-third of the 1,678 asbestos lawsuits filed in the county, most of which were lung cancer cases. The firm's senior partner, Paul Napoli, views the increased litigation as benefiting the county's economy – more filing fees for the court, more taxes from and jobs at satellite law offices, and more out- of-town lawyers staying at hotels and eating at local restaurants.
Judge Stephen Stobbs, who took over the asbestos docket in late 2013, doesn't appear inclined to make his court any less attractive to the nation's asbestos plaintiffs. This year, only one-half of 1% of new Madison County asbestos lawsuits were filed on behalf of Madison County residents.
Judge Stobbs has also proved reluctant to transfer or dismiss cases in which the plaintiffs never lived or worked in Madison County (or anywhere else in Illinois). In June 2014 he denied several defendants' motions to dismiss claims filed by the Napoli firm on behalf of plaintiffs hailing from states such as Alaska, Colorado, Tennessee, Texas and Utah. As a result of his decision, which runs contrary to Illinois Supreme Court precedent, some defendants have reportedly developed a sort of Stockholm syndrome, like kidnapped heiress Patty Hearst did decades ago. They've given up efforts to escape their judicial captors in Madison County and no longer resist with motions to have their cases with no relation to the jurisdiction transferred or dismissed. One observer said of Judge Stobbs' ruling: "Madison County sent the message – loud and clear – that it is open for business and welcomes new filings from out of state." The more things change, the more they stay the same.
Unfair yet also typical, Madison County still sets numerous asbestos cases for trial each week, delighting plaintiffs' lawyers who know defense counsel can't possibly prepare for multiple trials simultaneously and thus will, again, be more inclined to offer a settlement upon concluding that resistance is futile. For example, in an October 21 Order, Judge Stobbs set 50 individual asbestos cases filed by Gori, Julian & Associates against John Crane, Inc. for a single day, December 8, 2014. And that number does not account for other cases filed by the same or other plaintiffs' firms that were already set for trial on the same day against the same defendant. There were 181 asbestos cases set for trial in a single Madison County courtroom on December 1. Only one of the plaintiffs involved is from Madison County. Just 15 are from Illinois.
As one local defense attorney opined, "Without a commitment to dramatically reduce the number of trial set- tings, and an equal commitment to making sure that we are spending the resources of the county and all the parties on cases that really belong in Madison County, I don't see that there's going to be a lot of change in the current situation." Indeed, Judge Stobbs had already set 1,074 asbestos cases for trial in 2015 by mid-October of 2014.
Despite these significant concerns, the only two cases that have gone to trial under Judge Stobbs, in November 2013 and February 2014, resulted in defense verdicts. This continues a trend of nine consecutive defense victories at trial there since 2005. Even if Madison County judges are willing to embrace plaintiff lawyers' overreach, it's encouraging to see that increasingly savvy jurors are having none of it. If only more defendants would fight back by going to trial. Who knows? Perhaps they could finally escape the courts and personal injury lawyers holding them hostage in Madison County.
Despite these significant concerns, the only two cases that have gone to trial under Judge Stobbs, in November 2013 and February 2014, resulted in defense verdicts. This continues a trend of nine consecutive defense victories at trial there since 2005. Even if Madison County judges are willing to embrace plaintiff lawyers' overreach, it's encouraging to see that increasingly savvy jurors are having none of it. If only more defendants would fight back by going to trial. Who knows? Perhaps they could finally escape the courts and personal injury lawyers holding them hostage in Madison County.
But back to reality. Although mid-year statistics indicated that Madison County's new asbestos filings in 2014 were on pace to dip a bit from 2013's record high, they're still likely to remain about double the 20-year average. Furthermore, plaintiffs' lawyers will now have more potential clients thanks to the lame-duck state legislature's parting gift, an amendment to the state's 10-year statute of repose for lawsuits related to building construction that exempts asbestos claims. And if all this isn't sufficiently discouraging, a new Madison County associate judge, appointed to fill a vacancy in September 2014, is Martin Mengareli, a personal injury lawyer who arrives from Simmons Hanly Conroy LLC, which happens to bill itself as the "Mesothelioma Law Firm."