♦
Annual Report Also Criticizes Civil Courts in California, West Virginia, Florida, Illinois, Missouri, Louisiana and Elsewhere
♦
'North Carolina Bankruptcy Judge's Transparency-Favoring Decision in 'Garlock' Asbestos Case Is First among 'Points of Light'
♦
Important 'Special Feature' Looks at Trial Lawyers' Multimillion-Dollar Ad Campaign Driving Wave of 'Pelvic Mesh' Litigation ahead of Science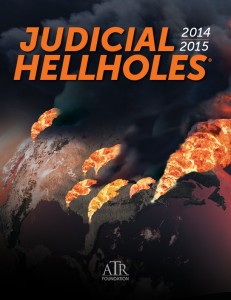 WASHINGTON, D.C., December 16, 2014 – The American Tort Reform Foundation issued its annual Judicial Hellholes® report today, naming courts in New York City, California, West Virginia, Florida, Illinois, Missouri and Louisiana among the nation's "most unfair" in their handling of civil litigation.
"With both this annual report and a year-round website, our Judicial Hellholes program since 2002 has been documenting developments in jurisdictions where civil court judges systematically apply laws and court procedures in an unfair and unbalanced manner, generally to the disadvantage of defendants," began American Tort Reform Association president Tiger Joyce.
"This year's report shines its harshest spotlights on New York City asbestos litigation (NYCAL) and many courts throughout California," Joyce continued. "It also focuses on state supreme courts in West Virginia, Florida and Missouri; the judges and trial lawyers in Madison County, Illinois; and the improved but still troubled state of Louisiana, where both out-of-the-mainstream laws and too-cozy relations between judges and plaintiffs' lawyers make it open season on civil defendants.
"Troubling developments in NYCAL in 2014 have served to make an already plaintiff-friendly court inarguably so," explained Joyce. "At the behest of a powerful New York-based plaintiffs' law firm, which happens to pay the moonlighting speaker of the state Assembly $750,000 a year, NYCAL's managing judge revived long suspended procedures that effectively coerce asbestos defendants into settling cases. And when defendants insist on a trial and lose, they face verdicts that are much higher than elsewhere around the country.
"Were it not for the NYCAL judges' truly brazen pro-plaintiff bias, California's civil courts might have again been ranked as the #1 Judicial Hellhole for an unprecedented third consecutive year. But their #2 ranking this year is nothing to brag about," Joyce made clear.
Among other problems in California, Joyce cited district attorneys and personal injury lawyers contorting public nuisance law to gang up on corporate defendants, expanding asbestos liability, small businesses hounded by bogus disability-access lawsuits, consumer protection lawsuits with no demonstrable injuries, and a generally permissive judiciary that invites wholly absurd lawsuits that clog dockets, even as the state's perpetually precarious finances have led to sharp cuts in court budgets.
"Our latest report is also quite critical of three state supreme courts," noted Joyce, "in West Virginia, Florida and Missouri, all of which this year continued their respectively stubborn habits of expanding liability and showing disdain for the legislative and executive branches, to say nothing of the voters' will.
"No Judicial Hellholes report would be complete without the latest dispiriting news from rural Madison County, Illinois, still home to more asbestos litigation than any other jurisdiction in the country. The overwhelming majority of asbestos claims filed there come from plaintiffs with no connection to the county, much less the state of Illinois. And most new claims are speculative lung cancer claims.
"Ranked #7 on the Hellholes list this year, Louisiana's civil litigation environment has improved since last year's #2 ranking, but that's due primarily to reforms enacted by lawmakers and the governor. Pelican State judges still seem to go out of their way to please plaintiffs' attorneys, even when those attorneys bring what one federal appeals court judge has called fraudulent claims."
The report also features a less onerous "Watch List," comprising civil jurisdictions of concern that don't quite qualify as Hellholes. This year they include Atlantic County, New Jersey; courts of the Mississippi Delta; Montana, as trial judges ignore a statutory limit to punitive damages; Nevada; Newport News, Virginia, where application of maritime law to asbestos cases unfairly disadvantages defendants; and an improved but still worrisome Philadelphia, a former two-time #1 Judicial Hellhole.
Two "Dishonorable Mentions" are "awarded" to Alabama's high court for doubling down on "innovator liability," and its counterpart in Pennsylvania for subjecting drugmakers to "negligent design defect."
"But the Judicial Hellholes report always includes good news, too," Joyce said. "This year's 'Points of Light' section features several laudable court decisions and positive legislative reforms undertaken in reform-minded states. A North Carolina bankruptcy judge's decision to unseal asbestos claims evidence could lead to additional revelations about manipulation of the civil justice system by plaintiffs' lawyers, and bolster the case for legislation requiring greater transparency for both tort claims and those made on bankruptcy trusts.
"Finally, our latest report also offers a special look at the personal injury bar's $45 million ad blitz aimed at drumming up clients for pelvic mesh lawsuits that ignore the latest science and could limit effective treatment options for women," Joyce concluded.
Full text of the 2014/2015 Judicial Hellholes report is posted here. But for easy reference, text from the report's executive summary is also available.