In early 2012 Philadelphia Court of Common Pleas Chief Administrative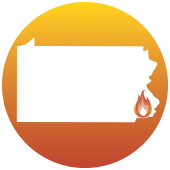 Judge John Herron acknowledged an explosion of mass tort cases hosted by the court's Complex Litigation Center (CLC). By instituting significant procedural reforms, he e ectively withdrew the CLC's open invitation to out-of-state plaintiffs. As a result, new mass tort filings fell 70%, from 2,690 in 2011 to 813 in 2013, and Philly dropped from its #1 Judicial Hellholes ranking to the Watch List, where it remains.
But new mass tort filings have ticked up in "The City of Unbrotherly Torts" and, along with newly elected state supreme court justices who were favored by the plaintiffs' bar, a disgraced attorney general facing criminal charges and disbarment, the spread of plainly contrived disability-access lawsuits, and a reportedly growing bias against asbestos defendants in Allegheny County, the whole Keystone State may be heading for a hellhole.