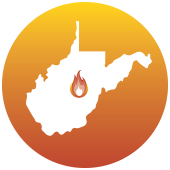 Despite the fact that the latest ranking of Judicial Hellholes features ongoing madness in California courts and a historic corruption conviction with connections to New York City's asbestos court, the biggest headline from this year's report may be: West Virginia Is No Longer a Judicial Hellhole!
Most jurisdictions, much less an entire state, would not celebrate a Watch List citation, either. But such a designation for the Mountain State, a perennial Judicial Hellhole for many years, represents a significant, even joyous achievement owed to historic legal reforms enacted by state lawmakers in 2015.
Of course, with the state's high court notoriously inclined to expand liability, and with no intermediate level appellate court, the long-term impact of these reforms
remains to be seen as legal challenges are likely. But an uncertain future should not mute in the near-term well- deserved congratulations for a bipartisan majority of West Virginia lawmakers and a governor who decided to put the needs of jobseekers and job creators ahead of the job destroyers of the plaintiffs' bar.