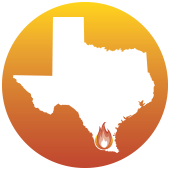 Storm-chasing trial lawyers have swept through Texas litigation for years, seeking to pro t from the damage and devastation caused by natural disasters. Typically it is hurricane destruction that draws personal injury lawyers' attention. But in 2012 and 2013, two historic hailstorms hit the state, causing millions of dollars in damage. True to form, trial lawyers jumped at the chance to profit. While hailstorm cases have been filed in 41 counties in Texas, Hidalgo County is at the eye of this storm. As of May 2015, 11,000 out of 21,000 cases had been filed there.
TRIAL LAWYERS' 'PERFECT STORM'
Hidalgo County has historically been a plaintiff-friendly jurisdiction. With little regard to proportionality or relevance, elected judges there are o en quite amenable to the discovery requests of the plaintiffs' lawyers who helped fund their campaigns. Add to these already dangerous conditions some damaging hail, and you get a perfect storm.
On average, 2% of insurance claims become lawsuits in Texas, but a er the McAllen hailstorm in Hidalgo County, that number jumped to 22%. Texas insurance authorities blamed the storm for $260 million in physical damage, but the subsequent lawsuits have driven that cost up to $600 million and counting. Insurance companies paid out over $550 million in homeowner claims and another $47 million to vehicle owners for damage from two storms combined. But the trial lawyers and lawsuits are still raining down.
"This whole process is not about ensuring that people get their hail-damaged roofs paid for," an attorney for commercial property insurers told the Insurance Journal. "It's about people making money and pocketing money at the expense of the insurance industry." Most of the lawsuits are over claims that have been settled and paid, he added.
The hailstorm litigation pending in Hidalgo County shows just why the jurisdiction has earned its plaintiff-friendly reputation. In February of 2013 all the hailstorm cases against the main defendant, insurer National Lloyds, were consolidated into the county's three district courts for the purpose of handling all pretrial matters for both residential and commercial property claims. Over the course of 2014, the courts made a series of pretrial discovery rulings that can only be described as overly broad, irrelevant and unduly burdensome to the defendant.
DIGITAL FISHING EXPEDITION
The "Revised Master Discovery" order crushingly required National Lloyds to hand over all documents, in native format, re ecting summaries of total payments paid out for all hailstorm claims; all documents regarding generalized assessment, review, and evaluation of the claims; and any other general documents which applied to the hailstorm claims, including emails, charts and any other internal files. The discovery order even obligated the defendant to provide irrelevant reports that included information about other types of claims. The court gave the defendant the option of going claim by claim to redact any information not pertaining to Hidalgo – a monstrously time-consuming and costly exercise – or produce the files as they were.
This demand was nearly impossible to meet because most companies no longer retain historical documents in native format once they have been scanned and stored as digital files. Furthermore, large plaintiffs firms are buying technology that makes it easy to search large digital files in order to mine the information and collect every small detail that might be used to file additional claims. Discovery rules have not yet caught up to the realities of these eDiscovery fishing expeditions, and judges have wide discretion when making such rulings.
National Lloyds filed a series of motions and oppositions, but ultimately the order was upheld by the Court of Appeals for the thirteenth District of Texas in May 2015. Adding injury to insult, the district court spitefully ordered National Lloyds to pay nearly $16,000 in related attorneys fees because it effectively failed to comply promptly with the initial order and had the audacity to appeal. No wonder plaintiffs' attorneys flood Hidalgo County's courts.
ATTORNEYS' FEES COST CONSUMERS
While hailstorm litigation is making some trial lawyers richer, many Hidalgo County residents are feeling poorer. The trial bar has danced in a downpour of more than $800 million in attorneys' fees from property damage lawsuits there in recent years, but policy-holding consumers have been drowning under fast-rising insurance premiums, some of which have gone up more than 100%, from $500 to more than $1,200 annually. And at least 10,000 former policyholders have lost their coverage altogether as three insurance carriers have simply stopped writing policies in notoriously litigious Hidalgo County.
These lawsuits are particularly attractive to plaintiffs' lawyers because Texas law requires mandatory attorney-fee awards and an 18% penalty interest if an insurance company is just a day late or a dollar short in paying a claim. Allowance for attorneys' fees in simple breach of contract cases is unique to Texas. Most states have a heightened requirement, such as a showing of bad faith, before a court may award attorneys' fees. So attorneys' fees that are higher than the amount of the claim itself are not uncommon in the Lone Star State.
'HURRICANE STEVE'
No single plaintiff's lawyer has more aggressively manipulated and successfully exploited the legal system as has Houston-based multi-millionaire Steve Mostyn. From January of 2013 through May of 2014, after the twin hailstorms, Mostyn filed 719 cases against insurance companies. Each of these cases alleged that insurers had engaged in deceptive trade practices. In addition to the 719 cases with Mostyn's name on them, 893 more cases have been filed by other attorneys from Mostyn's law firm. Of the more than 6,700 hailstorm cases filed in Hidalgo County since 2013, Mostyn's firm has had a hand in more than a quarter of them.
Even more troubling than the sheer number of storm case filings was their timing. Nearly half came in the two-month period between March and April 2014, just as the relevant statute of limitations was about to expire. plaintiffs' lawyers targeted area residents with their own man-made storm of TV commercials, road signs, mailings, phone calls and even door-to-door solicitations, hoping to maximize the number of lawsuits before the deadline.
It should be noted that the timing and sheer numbers involved in this newlings surge had prompted an investigation of possible trial lawyer fraud by the Texas Department of Insurance. Since the department has reported that administrative complaints against home and auto insurers have actually declined over the past five years, one can fairly question why the number of lawsuits would rise dramatically.
Alarmed by the impact these lawsuits were having on his constituents' ability to find a ordable insurance, Texas Senator Larry Taylor (R) introduced reform legislation in 2015 that, among other things, would have required policyholders to notify an insurer of a claim before ling a lawsuit and clari ed when the two-year statute of limitations actually begins. And though the politically powerful lawsuit industry managed to kill the bill in the House, lawmakers are expected to try again.
To end on a positive note, Steve Mostyn's firm suffered an important defeat in the first hailstorm case to go to trial in March 2015. The jury found that National Lloyds had not engaged in deceptive trade practices and complied with the terms of the policy.
While this is a positive sign, rejection of one of these many claims is far from a trend, and judges need to continue disposing of these meritless claims if Hidalgo County's reputation as a Judicial Hellhole is to be mitigated.