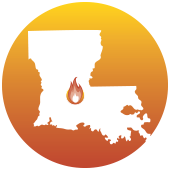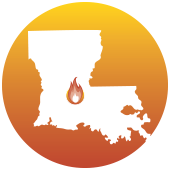 Despite some modest reforms in recent years, the perception that Louisiana has one of the worst legal climates in the country persists today. e state is tarnished by elected district judges with close ties to the plaintiffs' bar, forum shopping, and never-ending lawsuits targeting the state's principal employer, the oil and gas industry. The plaintiffs' bar dominates state politics. Te recent gubernatorial election of John Bel Edwards, a plaintiffs' lawyer himself and nemesis of civil justice reform, has dimmed prospects for progress. But voters also chose wisely to replace ethically-challenged incumbent Attorney General James "Buddy" Caldwell, known for his close alliance with contingency fee lawyers.
PLAINTIFFS' LAWYERS GET THEIR MAN (ELECTED GOVERNOR)
John Bel Edwards has pledged to be a governor for all Louisianans, but those targeted by o en meritless lawsuit are skeptical. plaintiffs' lawyers invested record amounts this year to put allies in the governor's mansion and state legislature. Their targeted campaign spending — fueled by proceeds from the BP oil spill settlement and environmental lawsuits against energy producers — was instrumental in electing Edwards and legislative candidates who favor expansions of civil liability.
Edwards benefitted from more than $4 million spent by his trial lawyer patrons, including $1.1 million in direct campaign contributions and $3 million in spending through super PACs. A trial lawyer himself, Edwards repeatedly blocked efforts to reform Louisiana's civil justice system during his eight years as a state representative. In fact, he consistently supported bills to increase lawsuits and legal fees benefitting the plaintiffs' bar. Here are just a few examples:
Edwards supported legislation in 2010 allowing trial lawyers working on contingency fee contracts to siphon millions of dollars out of Louisiana's settlement with BP over the Gulf oil spill.
Edwards opposed a 2012 compromise bill that put environmental remediation ahead of plaintiffs' lawyers' profits in environmental contamination lawsuits.
And Edwards in 2014 led the opposition to every lawsuit fairness bill, including bills that would have eliminated Louisiana's $50,000 jury trial threshold, reformed the state's lax venue requirements, and prevented abusive "double dipping" with asbestos claims that erode bankruptcy trust funds set aside for veterans and others with meritorious claims. Edwards also fought attempts to increase transparency and accountability in the attorney general's office and stood by Caldwell, even after it was revealed that the AG routinely handed out lucrative legal work to top campaign contributors.
Governor-elect Edwards's legislative record suggests he will veto civil justice reform legislation and work to expand liability on behalf of the plaintiffs' lawyers who have supported him.
In addition to winning the Louisiana governor's mansion, plaintiffs' lawyers also have successfully focused on the state legislature, spending more than $8.5 million on campaign contributions and lobbying efforts since 2008. A recent study found trial lawyer spending far outpaced political contributions by every other industry. None of this is good news for businesses trying to create jobs and promote economic development in the Pelican State. Observers predict that "[t]he consequences for Louisiana taxpayers and the state's economic competitiveness in the coming years could be dire."
GOOD NEWS: THE 'BUDDY SYSTEM' IS OVER
Voters chose not to reelect incumbent state Attorney General James "Buddy" Caldwell. Caldwell's much criticized "Buddy System" functioned as a textbook pay-to-play operation wherein he'd hire contingency-fee lawyers to sue deep-pocket corporations on behalf of the state and, in turn, they'd contribute to his campaign coffers. For example, 8 of the 11 law firms working for Caldwell on the state's case against BP were among his top campaign contributors.
This practice continued despite a law passed in 2014 to end it. Campaign finance reports show 5 of the 7 outside law firms hired by Caldwell in December 2014 to pursue a lawsuit led against drug manufacturer GlaxoSmithKline donated to his campaign. Caldwell also hired 9 private law firms along with 17 private attorneys working for those firms to pursue state-sponsored litigation against another pharmaceutical firm, AstraZeneca. That lawsuit was filed in March 2015. His spokesperson claimed the contract was entered prior to the new law taking effect. Among the regularly hired firms was Usry, Weeks & Mathews.
Together, Caldwell's former campaign manager T. Allen Usry and his former campaign treasurer, E. Wade Shows, benefited from more than 30 separate, highly lucrative contracts with the attorney general's office since 2008, according to research of campaign finance records conducted by Louisiana Lawsuit Abuse Watch. In addition, the New York Times reported that outside plaintiffs' firms partnering with Caldwell made more than $54 million in legal fees since 2011.
Caldwell reportedly spent "$38.5 million on nearly a dozen law firms" he'd hired to negotiate a settlement with BP for damages inflicted on the state by the 2010 Deepwater Horizon disaster in the Gulf of Mexico. Critics again questioned the size of the payday relative to the amount of work performed.
In any case, expectations are running high for Caldwell's successor, former Congressman Jeff Landry, who will move into the AG's office in 2016. Landry has pledged to end Caldwell's unethical, anti-growth, anti-jobs racket. But with an incoming governor committed to expanding civil liability on behalf of his wealthy trial lawyer backers, Louisiana's unemployed and underemployed shouldn't get their hopes up.
LOUISIANA'S CONTINUING CHALLENGES
Jury trial threshold. Louisiana has an excessively high threshold – $50,000 – for litigants to receive a jury trial. The national average is under $2,000, with most states even allowing jury trials in cases where no money is sought. This barrier for obtaining a jury trial puts a lot of power in the hands of Louisiana's elected judges, who receive substantial campaign donations from plaintiffs' attorneys. They decide the outcome of most smaller civil lawsuits while citizens are cut out of the process. In fact, studies show less than 2% of all civil lawsuits result in a jury trial in Louisiana today.
Lax venue laws. Louisiana's lax venue laws allow for "forum shopping," a tactic often used by plaintiffs' lawyers to have their cases heard by the friendliest judges. For years defense attorneys have expressed concerns about Orleans Parish Civil District Court for the outsized role it plays in civil litigation, particularly in cases involving alleged exposure to asbestos and silica. plaintiffs' lawyers flock to Orleans Parish seeking plaintiff-friendly judges and rulings that often allow meritless claims to proceed and result in excessive awards. Meanwhile, defendants find themselves dragged to a distant, inconvenient and expensive forum that often has little or no connection to the dispute.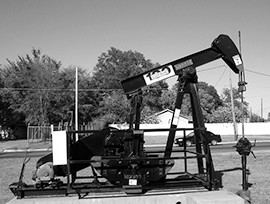 Legacy lawsuits. For more than a decade this booming litigation racket has put millions of dollars into the pockets of aggressive lawyers and landowners who lodge environmental contamination complaints, many of which are unsubstantiated, against Louisiana oil and gas producers for activity that took place decades and sometimes a century ago. Prior to 2003, Louisiana landowners had filed just seven legacy lawsuits alleging environmental damage to their property. Nearly 10 years later, in 2012, the Department of Natural Resources reported 271 such cased had been led. Today, more than 400 legacy lawsuits with nearly 3,000 named defendants have been filed against oil and gas producers in Louisiana.
Economists estimate this niche sector of environmental litigation, which is unique to Louisiana, has cost the state thousands of jobs and billions in foregone investment. The legislature passed a series of bills to improve the regulatory process for handling these lawsuits and discouraging the ling of meritless claims, but chal- lenges remain as the latest data reveal that legacy lawsuits are still on the rise.
Local governments hire out. It is not just outgoing AG Caldwell that developed the habit of hiring private-sector law firms to bring unwarranted litigation. Local government bodies have also gotten into the act. John Carmouche with the Baton Rouge-based law firm, Talbot, Carmouche and Marcello, which is responsible for filing more than half of all the legacy lawsuit cases in Louisiana, is working on behalf of Plaquemines Parish to file so-called coastal lawsuits.
Meanwhile, personal injury lawyers benefitting from the back-room contingency-fee deal that drove the Southeast Louisiana Flood Protection Authority's misguided lawsuit against 88 oil and gas companies over alleged damage to the New Orleans area's system of levees won't take no for an answer. Though a federal judge dismissed the lawsuit in February 2015, finding no viable claim, lawyers representing the authority filed a May appeal in the U.S. Court of Appeals for the Fifth Circuit. If they manage to win a reversal and their suit is ultimately successful, the lawyers will get millions of dollars in fees and establish a template for similarly lucrative future lawsuits against employers across the state.
GETTING TO FUTURE VOTERS EARLY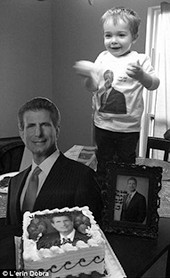 As noted above, Louisiana's personal injury lawyers have exercised their First Amendment rights by directly spending millions during the past several campaign cycles, supporting candidates likely to expand civil liability and help grow the lawsuit industry. But as anyone who watches television, listens to the radio or occasionally glances at a roadside billboard in the Pelican State will attest, those same lawyers have spent millions more advertising themselves and a litigation lifestyle to residents of all ages.
So no one should be surprised that perfectly adorable 2-year-old Grayson Dobra was so influenced by the ubiquitous and noisy TV ads run by New Orleans personal injury lawyer Morris Bart that he became obsessed with "Bart! My Bart!," according to his mom. And when it was time to plan the toddler's 2015 birthday party, reported People Magazine, Grayson's mom felt her little boy would be most pleased with a Morris Bart-themed celebration. She was right (moms always are).
Morris Bart himself could not make an appearance at Grayson's party, but a cardboard cutout, tee-shirt, autographed photo and a delicious cake with the lawyer's image su ced as a collective stand-in, and the beautiful birthday boy was happy as can be. Nonetheless, paranoid conspiracy theorists can't help but wonder if the trial bar's incessant ad campaigns are as much about controlling the hearts and minds of future voters as they are about trolling for clients in the here and now.