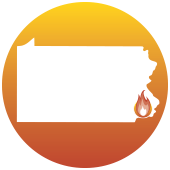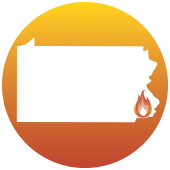 In early 2012 Philadelphia Court of Common Pleas Chief Administrative Judge John Herron acknowledged an explosion of mass tort cases hosted by the court's Complex Litigation Center (CLC). By instituting significant procedural reforms, he e ectively withdrew the CLC's open invitation to out-of-state plaintiffs. As a result, new mass tort filings fell 70%, from 2,690 in 2011 to 813 in 2013, and Philly dropped from its #1 Judicial Hellholes ranking to the Watch List, where it remains.
But new mass tort filings have ticked up in "The City of Unbrotherly Torts" and, along with newly elected state supreme court justices who were favored by the plaintiffs' bar, a disgraced attorney general facing criminal charges and disbarment, the spread of plainly contrived disability-access lawsuits, and a reportedly growing bias against asbestos defendants in Allegheny County, the whole Keystone State may be heading for a hellhole.
PHARMACEUTICAL CLAIMS
Pharmaceutical claims continue to dominate the mass tort docket of Philadelphia's CLC. There are more than 4,500 such claims currently pending there, along with additional medical device and asbestos claims.
This rising number of pharmaceutical claims is driven in part by the Risperdal and Xarelto dockets, accounting for more than 2,000 claims. And not surprising to anyone familiar with the CLC's history, the Pennsylvania Record reported that as of August 2015, nearly 9 out of 10 pharmaceutical claimants there are not Pennsylvania residents.
The CLC also handles pelvic mesh cases with a specific docket created in February 2014. After Judge Arnold New denied defendants' various motions to dismiss for lack of personal jurisdiction in March 2015, 182 mesh cases remain.
It's too soon to know if Philadelphia's mass tort docket's recent growth spurt is a coincidence of maturing litigation or a harbinger of a return to the bad old days when the jurisdiction held the #1 Judicial Hellholes ranking for two consecutive years in 2010 and 2011.
CHANGES ON THE HIGH COURT
The Pennsylvania Supreme Court has a new leader. Per the Pennsylvania Constution's Article V, Section 10(d), Chief Justice Thomas G. Saylor, as the court's most senior justice, took the helm in January 2015. He is well regarded as a thoughtful and fair-minded jurist by Pennsylvanians across the political spectrum.
But 2015 elections for three vacant seats on the high court all went to candidates favored by the plaintiffs' bar. According to BallotPedia.org, new Justices Kevin Dougherty, David Wecht and Christine Donohue are expected to change "the partisan balance of the court: where the court previously had three Republicans, two Democrats and two vacancies, it now has five Democratic justices and two Republicans."
The Pittsburgh Post-Gazette reported that "total spending in the primary and general elections topped $15.8 million, setting a national record for spending on a court race." And "for Democrats, and allies that included unions and trial lawyers," the paper's analysis concluded, "that investment seems to have paid off."
UNDULY PARTISAN AG FACING CRIMINAL CHARGES, DISBARMENT
As chronicled in an October 2015 Judicial Hellholes blog post, "Kathleen Kane, Pennsylvania's attorney general and a politician national Democrats had hoped might someday win a U.S. Senate seat, continue[s] . . . her embarrassing and desperate descent toward likely disbarment and a self-imposed political death sentence."
As of October 22nd, she is the only attorney general in the country without a law license after her suspension from the bar by the state supreme court for ethical violations. Another senior judge has called her "the most corrupt, dishonest, deceptive, politically motivated public servant" he'd encountered in his career on the bench.
Kane's troubles can be traced back to her apparently false and misleading testimony given in November 2014 to a grand jury investigating the April 2014 leak of a previous grand jury investigation into alleged misappropriation of state grant money by a Philadelphia non-profit with ties to the NAACP's leader in Philadelphia. That case resulted in two guilty pleas by employees of the non-profit, with no further investigation into the NAACP. The grand jury investigating the April 2014 leak found her testimony to be false, and recommended that she be criminally charged.
In early August 2015 Kane was arraigned and charged initially with felony perjury, misdemeanor false swearing, multiple counts of misdemeanor obstruction of justice, and multiple counts of misdemeanor oppression/ denial of rights. She was arraigned a second time on additional charges in early October.
Observers say Kane chose to leak the 2009 grand jury information in an effort to embarrass two Pennsylvania prosecutors and political opponents she blamed for providing information for a March 2014 Philadelphia Inquirer story that was critical of her decision to end a corruption probe of various Philadelphia Democrats caught accepting cash on videotape. As a response to the criticism that followed, she eventually handed off the probe to a Philadelphia prosecutor who reopened the case, got four guilty pleas, and has two trials pending.
Would it be piling on to note that AG Kane was and probably remains a favorite of the plaintiffs' bar, elements of which, reported an Inquirer editorial, she rewarded with "several secretive no-bid contracts" in return for "more than $350,000 in cam- paign contributions"?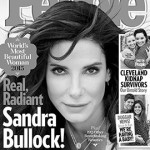 In any case, as this sad story of an ethically challenged and seemingly lawless state attorney general drags on, Pennsylvanians must be morti ed as they wonder who is looking out for their rights. Speaking of rights, Judicial Hellholes reporters hear rumors that Sandra Bullock, Oscar-winner and People Magazine's "Most Beautiful Woman of 2015," is interested in optioning the rights to a screenplay based on the attorney general's dramatic rise and fall.
ADA LAWSUITS ON A ROLL
California is still ground zero for the exploitation of the Americans with Disabilities Act (ADA) by plaintiffs' lawyers and their often wheelchair-bound clients who aggressively target mostly small businesses. But such claims are on a roll and picking up speed in Pennsylvania, so watch out!
According to the Pennsylvania Record, some 290 non-employment ADA lawsuits were filed in state district courts between July 1, 2012 and Jan. 1, 2015, nearly doubling the total for the previous 30-month period. And two attorneys – R. Bruce Carlson of Carlson Lynch in Pittsburgh and solo-practitioner John F. Ward in Royersford, Pa. – are behind much of this recent surge. Among the eight most active plaintiffs frequently represented by these two is Florida resident Owen Harty who somehow managed to have his rights violated in a Philadelphia area Toys Я Us.
ALLEGHENY ASBESTOS ACTION
And finally, moving to the Western end of the Keystone State, a defense attorney spoke for clients and fellow counsel when recently telling Judicial Hellholes reporters that "we are all horrified and dismayed" by unfair procedural trends facing asbestos defendants in Pittsburgh (Allegheny County).
There, leading plaintiffs' counsel Michael J. Gallucci, from the politically influential law firm of Savinis, D'Amico & Kane LLC, has seemingly charmed District Judges Ronald Folino, Michael Della Vecchia and Michael Marmo, in particular. The judges reportedly allow the Savinis firm and others to name scores of defendants in a single asbestos lawsuit and, often contrary to well-established state law, deny virtually every defense motion for summary judgment. And because interlocutory appeals are not permitted under Pennsylvania law, defendants are trapped.
Then the scheduling of trials and conciliation proceedings are frequently changed at the last minute, too, making it di cult and sometimes impossible for defense counsel to be in more than one place at any given moment. If one didn't know better, one might think these Fi h District judges were favoring asbestos plainti s at the expense of defendants' due process rights.