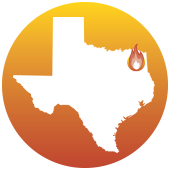 Few jurisdictions in the country are as synonymous with an entire subject area of litigation as the U.S. District Court for the Eastern District of Texas is with respect to patent litigation. As commentators have appreciated, plaintiffs are not flocking to the Eastern District of Texas for the BBQ. They head there because of the federal district court's "plaintiff-friendly" reputation.
Now, the concerns extend beyond patent litigation as the Eastern District recently entered the largest False Claims Act judgment in history in a lawsuit against a highway guardrail maker alleged to have defrauded the government – despite the fact that a federal agency has repeatedly found the guardrails to be fully compliant with applicable safety standards.
TOP OF THE PATENT LITIGATION HEAP
As patent litigation has increased dramatically across the country over the past several years, the U.S. District Court for the Eastern District of Texas, where a storied "rocket docket" of expedited trials keeps defendants on their heels, continues to be the hot spot it has been for decades. In fact, despite growing dockets elsewhere, it has managed to increase its market share. In 2009, there were roughly 2,500 new patent cases filed nationally. That number ballooned to over 6,000 in 2013, and the Eastern District of Texas was home to nearly 1 in 4. And that percentage has only increased. Of the more than 5,000 new patent case filings nationwide in 2014, this single court attracted 1,436 of them or nearly 29%. In 2015, the court appears to have maintained its dominant position as the place to bring a patent lawsuit, and may even gain ground with respect to its percentage of all new patent cases filed. In fact, in 2015, the court overtook the federal government's Patent Trial and Appeal Board (PTAB) as the top venue for adjudicating patent disputes.
Today, the court's popularity among patent plaintiffs has less to do with its system for quickly adjudicating cases than it does with its reputation for higher plaintiff win rates and awards for damages than other courts. Plaintiffs also love the court's routinely reliable denials of defendants' motions to transfer cases to other venues. And the court is viewed as favorable to so-called "patent trolls" by refusing to dismiss meritless claims early in litigation, thereby providing claimants with greater settlement leverage.
Additionally, defense attorneys have been given clear notice that Eastern District judges do not look kindly on either motions seeking to impose sanctions on plaintiffs who file frivolous lawsuits or the U.S. Supreme Court's ruling that courts have broad discretion to award attorneys' fees to prevailing defendants.
Claimants also have a good idea of who will be selected to preside over their case. One of the court's judges, Judge Rodney Gilstrap, presides over about 17% of all patent cases in the United States.
Perhaps encouragingly, in September 2015 Judge Gilstrap suddenly moved to eliminate 10% of his patent docket. He dismissed 168 cases led by a serial patent troll, eDekka, the modus operandi of which is attempting to extort small settlements from numerous companies. Judge Gilstrap found eDekka's claim to a patent governing the storage and labeling of information was too abstract. But in his four years on the bench Judge Gilstrap has never awarded a prevailing patent defendant its attorneys' fees.
DISTORTION OF FALSE CLAIMS ACT RESULTS IN RECORD VERDICT
Although the Eastern District of Texas's spot on this year's Judicial Hellholes list is rooted significantly in its reputation for plaintiff-friendly adjudication of patent claims, at least as alarming is its wholly lopsided handling of a federal False Claims Act (FCA) case that resulted in a record verdict of $663 million against a maker of highway guardrails, which the Federal Highway Administration (FHWA) has repeatedly found safe and e ective in reducing the severity of automobile crashes.
The manufacturer, Trinity Industries, was sued by an individual who operated a competing business. The plaintiff claimed that, in 2005, Trinity improperly modi ed the design of its ET Plus guardrail end terminal system – by changing a 5-inch wide guide channel to a 4-inch wide guide channel – without informing the FHWA. The competitor brought the lawsuit under the FCA on behalf of the United States, alleging that Trinity had effectively defrauded the government by not reporting the design modi cations. As a purported FCA "whistleblower," the competitor sought to recover a share of the government funds spent on the guardrail purchases.
Trinity defended the claim on the basis that the one-inch design modification was recommended by engineers at the Texas A&M Transportation Institute who developed the guardrail to improve the product, and that, regardless, it was a minor modification that did not need to be disclosed. Trinity also pointed out that the FHWA had previously investigated for a potential FCA violation and promptly affirmed that the modified ET Plus product was compliant with the agency's standards. Accordingly, the federal government declined to join the plaintiff's FCA lawsuit.
Nevertheless, Judge Gilstrap – yes, that Judge Gilstrap – curiously allowed the case to proceed to a jury, which returned a verdict of $175 million against Trinity. In June 2015, Judge Gilstrap, who apparently took a break from his heavy patent docket to preside over this case, tripled the verdict pursuant to the FCA. He awarded additional civil penalties in the amount of $138 million, ordering Trinity to pay a grand total of $663 million. For bringing the lawsuit, the court awarded the claimant a $199 million portion of the judgment (a 30% bounty) and more than $18 million in attorneys' fees and expenses.
During the litigation, the FHWA released test results again confirming that Trinity guardrails passed crash tests and complied with government standards, prompting the company to make a still-pending request for a new trial.
Meanwhile, in August 2015 Trinity filed a notice of appeal with the U.S. Court of Appeals for the Fifth Circuit in an effort to overturn this unfounded verdict and restore the reputation of its guardrail safety product. Arguably beyond restoration is Judge Gilstrap's reputation for having presided over this disgraceful distortion of the FCA and a seemingly willful attempt to destroy an upstanding company that provides a reliable and affordable product protecting Americans all along our nation's roads and highways.