'Insane' $82 Million Verdict Suggests Missouri Trial Courts Take Cues from 'Hellhole' of a High Court
Apparently taking cues from the Supreme Court of Missouri, currently the sixth-ranked Judicial Hellhole, a Jackson County court this month rendered what is perhaps the most absurd plaintiff's verdict thus far in 2015.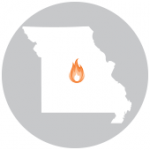 As reported by the Associated Press, the jury assessed about $82 million in damages — nearly all of it in punitive damages — against a debt-collection firm that repeatedly demanded $1,130 from a Kansas City woman who had not incurred the debt.
The case arose two years ago when Maria Guadalupe Mejia Alcantara was first sued by Portfolio Recovery Associates LLC for alleged failure to pay a credit card debt.
Alcantara's lawyers filed a counter-claim that accused Portfolio Recovery of malicious prosecution and violation of federal law.
A Jackson County judge allowed Alcantara's suit to proceed last October, saying the defendant had "acted in bad faith, abused the discovery process, and repeatedly violated this Court's discovery orders."  The jury returned it gigantic award for Alcantara on May 11.
The AP reports that a Portfolio Recovery spokesman "called the verdict 'outlandish' and said the company will ask the judge to reduce the assessed amount. It could also appeal or ask for a new trial."
Alcantara's lawyer said, "The jury issued a verdict that it thought would get this company's attention."  Well, it's also getting the rest of the country's attention and furthering Missouri's plaintiff-favoring reputation as the "Show Me Your lawsuits State" — and that won't be good for the state's economy or jobseekers.
Sure, it's easy to root against bill collectors, especially those that may be careless with documentation or harass the wrong folks.  But anyone who thinks that an $82 million verdict is justified in a dispute originally centered around an $1,130 debt is either certifiably insane or a plaintiff's lawyer poised to pocket a third of that giant sum on a contingency-fee basis.