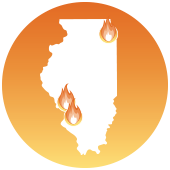 Illinois' quintessentially urban Cook County and largely rural Madison and St. Clair counties are at opposite ends of the state.  But as jurisdictions that almost always draw this annual report's discomfiting spotlight, all three are jurisdictions where no civil defendant wants to face a lawsuit.  And in a state long dominated by the plaintiffs' lawyers bar and the politicians they control, none of these counties is likely to escape the spotlight anytime soon.
COOK COUNTY (CHICAGO)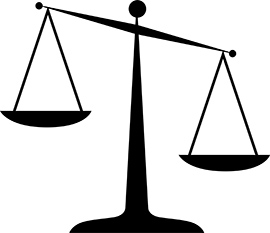 Cook County hosts roughly two-thirds of Illinois' major civil litigation, even though only about 40% of the state's population lives there. Observers consistently tell ATRA that the scales of civil justice have been out of balance there for decades, and no one is holding their breath while waiting for those scales to be leveled.
Cook County's litigation problems are more diverse than Madison County's asbestos-focused docket.  Though Cook County did place seventh nationwide among jurisdictions with the most asbestos lawsuits in 2015, it's handling of medical malpractice cases also has many concerned.  Deiderich Healthcare's latest annual data on medical liability payouts show that Illinois again led its Midwest neighbors with $258 million in 2015.  That's $49.7 million more than 2014's total.  So even as the overall number of new claims got smaller, verdicts and settlements are getting bigger, led by what is thought to be the biggest Cook County medical liability verdict in history – for $53 million – against the University of Chicago Medical Center in June 2016 in a case involving a child's cerebral palsy.
Cook County has also experienced a spike in drive-by lawsuits, often against small businesses, claiming minor technical violations of disability access requirements.  ADA lawsuits filed in Chicago's federal court more than doubled from 44 in 2014 to 94 in 2015, with no signs of slowing down this year. Rather than pay the $10,000 to $20,000 it would cost to fight the lawsuit, real victims like Fabiola Tyrawa, who prides herself on knowing customers at her Chicago coffee shop by name, pay the $5,000 that the lawyers demand to make the lawsuit go away.
After this year's election, Cook County will have a state's attorney who did legal consulting work for a personal injury law firm that has filed numerous lawsuits against the county government she will now defend.  During Kim Foxx's campaign, the Chicago Tribune exposed the arrangement Foxx had with the firm, Power Rogers & Smith, and found she received $18,500 in contributions from its lawyers. Now, when the firm files slip-and-falls and other lawsuits against the city, she'll be negotiating the settlements. Foxx has refused to acknowledge the obvious conflict of interest and vowed not to recuse herself from cases involving the firm, claiming she helped them with medical malpractice and personal injury cases, not lawsuits against the county. And there may be other personal injury firms she worked for, but Foxx ain't sayin'.
There also has been well-publicized concern about the quality of judges in Cook County. For example, Cook County judges deemed unqualified by the bar have nonetheless been retained in elections again and again. Voters even returned a judge to the bench who was declared legally insane in 2012 (she was later removed by a court commission). Rarely if ever does a Cook County judge not win retention. As the Chicago Tribune asked rhetorically in 2014, "Does this signal that Cook County's court system has a blue-ribbon bench? No, the court system has some deep-seated problems."
But as usual, in 2014 and 2015 all Cook County judges were retained, including those found unqualified. The latest major embarrassment CAME THIS PAST Election Day when county voters elected Rhonda Crawford to the bench. Crawford is under indictment for posing as a judge and presiding over traffic cases while she was employed as a law clerk. Her license to practice law has been suspended. Yet Crawford defeated a sitting judge who launched a write-in campaign. But while Crawford was the certified winner of the election, the state supreme court has barred her from taking the bench.
With such poorly qualified judges, ATRA's Windy City sources say, it is no surprise that many of the expert witnesses allowed to testify there are even worse. Judges perform little to no gatekeeping and juries are often intentionally misled by litigants.
The City of Chicago also has had a hand in poisoning the legal environment with its hiring of out-of-state personal injury lawyers on a contingency-fee basis to run a shakedown lawsuit that's trying to pin the cost of painkiller abuse on prescription drug manufacturers. Initially filed in 2014, the case was dismissed in May 2015 by a federal judge who found the city had failed to explain how the drug companies allegedly misled the public. But the city was allowed to file an amended complaint and did so in November 2015. While a court has stayed a similar lawsuit in California as the FDA considers how to address concerns about opioid addiction, the Chicago case remains pending.
On a positive note, rare courage recently ended some Cook County home cooking. Cook County Judge Daniel J. Lynch took the rare step of throwing out a $25 million personal injury settlement in 2016 after a courthouse intern (then a law student) reported that she'd overheard a law clerk tipping off a plaintiffs' lawyer about the contents of a jury note.  The note suggested jurors were poised to come back with a defense verdict, and the intern said she heard a clerk for the judge presiding over the case tell one of the plaintiffs' lawyer what the note said. The clerk waited 27-minutes before informing defense counsel about the jury note, and by that time a fat settlement had been struck between plaintiffs' attorneys and the defendant's insurer.
Shortly afterward, the jury did return a defense verdict, but the presiding found it moot in light of the settlement. The intern reported to Judge Lynch that presiding judge's clerk later told her that she likes to give an advantage to plaintiffs, raising this troubling question: How many other clerks, and even judges, in Cook County like giving advantages to plaintiffs? One can't help but get the sense that this sentiment is not rare among court staff in Cook County.  But what is rare, as Judge Lynch pointed out after he kyboshed the tainted settlement, is the "courage and candor" of the young intern, Ms. Brook Reynolds, who came forward. ATRA wishes this brave young woman all the best in her law career.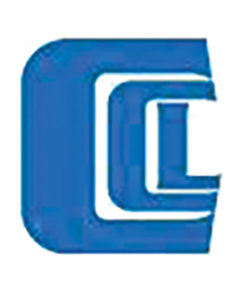 Incidentally, ATRA finds interesting the fact that in its October 2016 ratings of judges facing November retention votes, the Chicago Council of Lawyers found Judge Lynch "not qualified."  Even though the council said Judge Lynch is "widely respected for his knowledge of the law and procedure" and "considered to be well prepared and . . . adept at handling long, complex trials," concerns remain:
Judge Lynch on several occasions has reached beyond his immediate role as judge in a particular matter to engage in legal acts that seem to be outside his normal course of deciding a case before him. These matters include seeking or having sought to have the attorneys prosecuted for fraud or obstruction. In another matter, the judge unsuccessfully sought to have the Cook County State's Attorney prosecute one of the parties before him. These unorthodox uses of judicial discretion, including criminal contempt charges, are troubling to the Council.
Imagine that, sleazy lawyers don't like an "unorthodox" judge who acts against and seeks prosecutions of those who perpetrate fraud on our civil justice system. If only more judges behaved so admirably. In any case, voters who share Judge Lynch's position on lying, cheating and defrauding the courts overwhelmingly returned him to the bench.
MADISON COUNTY – THE ASBESTOS LAWSUIT CAPITAL
Madison County continues to function as a powerful magnet, attracting asbestos plaintiffs and their lawyers from all across the country and around the world. In fact, nearly one third of all asbestos-related lawsuits in the United States, and one half of mesothelioma claims, are filed there, earning it a reputation as our nation's "ground zero" for asbestos litigation.
Asbestos lawsuits accounted for 72% of the civil cases filed in Madison County's courthouse in 2015. And, in the first half of 2016, asbestos lawsuit filings were up 10% from the same period one year earlier. The next busiest jurisdictions are New York City and Baltimore, Maryland, both with considerably larger populations than Madison County but with about one-third the number of asbestos lawsuits.
Most of the lawsuits filed in the Madison County Circuit Court have no connection to the county or to the State of Illinois for that matter. Illinois residents filed only 75 of Madison County's 1,224 asbestos cases in 2015. Just six of the claims were filed on behalf of Madison County residents, comprising a mere 0.5% of the court's asbestos docket. The rest were litigation tourists from around the country, seeking an advantage over defendants in this plaintiff-friendly court.
Why is Madison County so appealing? One reason is the close ties between the local plaintiffs' bar and the judges who preside over their cases. In 2016 Associate Judge Donald Flack, a former plaintiffs' asbestos attorney himself, took some flak when he disclosed relationships with two national asbestos law firms that had developed after he'd become a judge. His wife reportedly works part time for a local personal injury law firm. His son spent a summer working for a firm that specializes in bringing class actions. And Judge Flack continued to file lawsuits in Madison County after announcement of his appointment to the bench, according to the Madison-St. Clair Record, which reports that at least 30 cases he filed are active today. But it's just one of many  controversial examples of ties between judges and the plaintiffs' bar in Madison County.
But a fresh breeze of reform may have begun to blow in August 2016 when Judge Stephen Stobbs, who handles Madison County's asbestos docket, revised the case management order governing those claims. It is the first significant change in more than five years. The order limits the number of cases that will be set for trial each year (still extraordinarily high at 780 cases).  It also requires plaintiffs to show proof of an asbestos-related injury and provide certain information before a case is set for trial.  And by increasing scrutiny for cases alleging asbestos exposure caused lung cancers often associated with smoking or other sources, the order expedites the handling of mesothelioma claims and creates a "special closed" docket for cases not ready for trial.
These are welcome changes that could increase fairness in asbestos litigation and reduce the incentive for plaintiffs' lawyers from across the country to pile into Madison County. Most changes will take effect in 2017, but some plaintiffs' lawyers have already suggested it may be time to seek greener asbestos pastures elsewhere, such as those across the river in St. Louis.  We'll believe in the exodus if and when it happens.
ST. CLAIR COUNTY – MADISON'S TROUBLESOME NEIGHBOR
Meanwhile, neighboring St. Clair County continues to host much more than its share of litigation compared with any other area of the state aside from Cook and Madison counties. It was America's second-fastest growing asbestos jurisdiction between 2014 and 2015, and sees some dubious cases, like a recent lawsuit attributing stomach and colon cancer to asbestos exposure. Not surprisingly, the courthouse in this relatively small county is the largest government office.
Concerned that voters would not return them to office, three St. Clair trial judges manipulated the judicial election system. Rather than face a retention vote that required them to get 60% approval from voters, three St. Clair judges John Baricevic, Robert Haida and Robert LeChien, submitted letters of resignation that were not effective until December 4, 2016, but then ran in the March 2016 Democratic primary to fill the vacancies created by their own resignations. The gambit paid off for Judge LeChien, who squeaked through with a 51% win — enough to beat his challenger even if it wouldn't have been enough for retention. It also worked for Judge Haida, who ran unopposed. But even these shenanigans did not return Chief Judge Baricevic to the bench, and he will be replaced by Ron Duebbert.
It is not only businesses and their employees that are hurt by runaway litigiousness in the Metro-East counties of Madison and St. Clair. The county governments themselves, which is to say their taxpayers, are frequent litigation targets. According to a recent study conducted by Illinois Lawsuit Abuse Watch, Madison and St. Clair counties spent a combined $17.1 million defending themselves against lawsuits between 2010 and 2014, while neighboring counties spent nothing. Live by the sword, die by the sword.
IS JUSTICE FOR SALE IN ILLINOIS?
Even though Judge Lynch survived his retention vote, no one should believe that wealthy plaintiffs' lawyers don't wield incredible political power throughout the Land of Lincoln. In fact, among other findings in a recent report by the Illinois Civil Justice League were these:
While the Illinois Trial Lawyers Association claims more than 2,000 members, its PAC received all of its major contributions from lawyers and law firms in the greater Chicago, Madison County, and St. Clair County areas.
Plaintiffs' lawyers have donated $35.25 million to Illinois politicians over the past 15 years, including state legislators, executive branch candidates, individuals running for local offices, and judges. The top personal injury law firms gave more than $7 million to Illinois judicial candidates alone.
Judicial race spending in Cook, Madison and St. Clair counties was significantly higher than in other areas of the state. Plaintiff-lawyer contributions to county officials' campaigns also were heaviest in these three counties.
"When the three counties with the highest concentration of civil litigation are also the three counties that draw the biggest campaign contributions by trial lawyers," the ICJL says it's fair to ask: "Is Justice for Sale in Illinois?"
It sure seems so.  And given such spending, it is no surprise that these plaintiff-friendly jurisdictions consistently warrant attention from this report and other civil justice reformers.  More broadly, it's similarly unsurprising that Illinois' legislature tends to favor expansions of civil liability over reasonable limits like those enacted in other states. For example, Illinois is one of a shrinking minority of states that has not adopted the Daubert standard for expert evidence, which works to head off junk science before it reaches a jury.
Illinois also is one of only a few states with joint liability, meaning in its case that a defendant who is only 25% responsible for a plaintiff's injury can nonetheless be required to pay 100% of the damages. Illinois allows for unconstrained pain and suffering awards, too, and does not have a statutory limit on punitive damages, unlike most other states. And, of course, state law has allowed plaintiffs' lawyers to bring cases in their favorite county courthouses, even when those cases have no connection to the county or the state.
If there's the slightest of silver linings in the dark cloud that is plaintiffs' bar domination of Illinois politics it may be found in the latest election results.  In addition to no-nonsense Judge Lynch surviving retention in Cook County, as noted above, the trial lawyers' generous campaign contributions didn't seem to have their usual effect – especially in some key appellate court races.
Asbestos personal injury lawyers poured a million dollars into a PAC, "Fair Courts Now," which sent deceptive mailers to voters attacking judicial candidates not wedded to the plaintiffs' bar. The candidates they attacked, John Barberis and James Moore, both won their elections and will sit on the Fifth District Appellate Court, which considers appeals from Madison County. The outcome will give that court a Republican majority for the first time since Illinois began electing appellate court judges in the 1960s.
CHANCE FOR CHANGE?
Illinois Governor Bruce Rauner has for two years consistently advocated civil justice reforms, including limits on forum shopping, strengthening the reliability of expert testimony, reducing the opportunity for fraud and double-dipping in asbestos litigation, and providing jurors with more information to ensure that damage awards accurately reflect the plaintiff's medical expenses. But the governor remains on a long-running stalemate with legislative leaders of the opposing party. And legislation relating to lawsuit reform rarely gets a hearing or becomes law. This less than enthusiastic approach to reform may stem in part from past experience when, last decade, lawmakers did enact meaningful measures only to have them struck down by the Illinois Supreme Court. So the road to needed reforms still appear to be decidedly uphill.