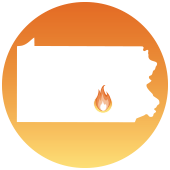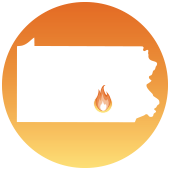 The composition of the Pennsylvania Supreme Court has dramatically changed over the past two years. As a result, litigants are concerned that the court, one that has generally been balanced in its rulings, could quickly become prone to expanding liability and nullifying reforms.
AG SCANDAL DESTABILIZES HIGH COURT
The tumult on the Court began in the wake of the scandal that ultimately led to the conviction and resignation of former Pennsylvania Attorney General Catherine Kane. The ethically-challenged Kane, known for hiring her sister and giving out no-bid contingency-fee contracts to lawyers who contributed to her campaigns, faced criminal charges for perjury and conspiracy for allegedly orchestrating and lying about a grand jury leak in an effort to discredit a political rival.
Kane had her law license suspended, was convicted and forced to resign in disgrace. Her sad legacy includes retaliation against those she perceived as "enemies" after they'd cooperated with the investigation into her wrongdoing. In the tradition of the old East German secret police, Kane released compromising e-mails that eventually led to the resignations of two justices from the state's high court.
Following Kane's released of those sexually-explicit emails, which had apparently been shared among a group of friends, Justice Seamus P. McCaffery stepped down in October 2014. Then, in 2015 elections, trial lawyer-favored candidates swept three open seats left by McCaffery's resignation, another unrelated but also scandal-induced resignation, and the retirement of reform-minded stalwart Chief Justice Ronald Castille.
The new justices, Christine Donohue, Kevin Dougherty and David Wecht, will serve a decade before they face a retention vote. And in what had been the most expensive judicial race in U.S. history, they won with substantial support from Philadelphia plaintiffs' lawyers and other lawsuit-loving special interests. So the litigation industry now enjoys a 5-2 majority after six years in the wilderness and observers presume they'll look to take advantage of it.
Meanwhile, high-court hijinks continued to embarrass Pennsylvanians into 2016 when, in March, another high court resignation, that of Justice J. Michael Eakin, came in the wake of yet more email revelations — these involving offensive jokes. The doomed Kane, like an injured and cornered animal desperately swinging claws and gnashing fangs, released these e-mails a week after Eakin voted with four other justices to revoke her law license. Since then Governor Tom Wolf nominated, and state senators approved, for the empty seat Justice Sallie Mundy. She'll hold it until 2017, when voters will elect a full replacement to a 10-year term.
All this tumult on the high court creates great uncertainty as to whether it will take a balanced and sound approach to deciding liability issues or, as suggested above, begin catering to Philadelphia's influential personal injury bar.
ASBESTOS DECISION IS REASON FOR WORRY
An early and disquieting clue as to how Pennsylvania's newly constituted high court may lean came in November 2016 when, straining to look past two of its own precedents and a soundly reasoned amicus brief by ATRA and others, the court loosened the standard for proving causation in asbestos cases and also seemed to shrug off the threat to defendants' due process rights inherent in the prejudicial consolidation of unrelated asbestos cases for trial.
In Rost v. Ford Motor Company, a case originally tried in Philadelphia's notorious Court of Common Pleas before a new reformist chief judge there in 2012 ended consolidation of asbestos cases, the Pennsylvania Supreme Court addressed two issues: (1) whether the testimony of the plaintiff's expert concerning causation met the standards of its prior decisions in Gregg and Betz and (2) whether the consolidation of the case with unrelated cases was improper.
As to causation, the 4-2 majority, including the three newer justices elected with plaintiffs' bar support, essentially limited the holdings of Gregg and Betz, finding among other things that the plaintiff expert's discussion of "cumulative exposure" did not violate those past rulings' disallowance of the discredited and largely rejected "any exposure theory."  The majority justified this conclusion by explaining that the expert responded to a hypothetical question and thus was free to opine that the plaintiff's actual exposures to Ford products over the course of three months, notwithstanding his other asbestos exposures for many years, was the cause of his disease.
On consolidation, the majority agreed that the case should not have been tried with others but refused to grant a new trial because, it said, the defendant was not demonstrably prejudiced.
In his dissent, which also lamented the majority's willingness to backslide on causation precedent, Chief Justice Thomas G. Saylor observed that "the majority recognizes that the trial court committed a blatant, structural error by consolidating unrelated complex, toxic tort cases" but is nonetheless willing to tolerate this "high potential for prejudice . . . ."
WILL NEW COURT TRY TO SLAY GOOD 'DRAGON'?
Another case being watched as a gauge of the high court's new membership addresses issues of concern to the business community is Villani v. Seibert. In that case the court will decide whether a state law providing a remedy to victims of lawsuit abuse is unconstitutional. The law, known as the Dragonetti Act, provides that a person who is grossly negligent in filing a lawsuit, or who files a lawsuit for improper purposes, is on the hook for a defendant's actual losses, emotional distress, and attorneys' fees and costs resulting from the lawsuit, as well as punitive damages, after the case is dismissed. The law has been on the books since 1980, but, in August 2015, Chester County Court of Common Pleas Judge Edward Griffith found it intruded on the Pennsylvania Supreme Court's sole authority to discipline lawyers.
Yes, most federal and state court rules provide that those who file "frivolous" lawsuits – those unsupported by law or facts — are subject to sanctions. But those rules also typically give lawyers a free pass to withdraw a lawsuit once it's challenged, handcuffing courts and making actual reimbursements to aggrieved parties rare. So if the Dragonetti Act is invalidated, then individuals and small businesses in the Keystone State will lose their only effective means of recovering expenses incurred as a result of lawsuit abuse. A ruling is expected in 2017.
MUST A BAD FAITH CLAIM SHOW ACTUAL 'BAD FAITH'?
The Pennsylvania Supreme Court also will soon decide a case that could vastly expand insurers' exposure to bad faith claims in the state.
The question in Rancosky v. Washington National Insurance Company is whether an action against an insurer for bad faith in paying claims requires a plaintiff to show the insurer acted with a "motive of self-interest or ill-will." A trial court dismissed the claim for lack of evidence showing such motivation, but an intermediate appellate court ruled that Pennsylvania law does not require such a showing. The ruling is contrary to state and federal court decisions that have long required a showing of actual bad faith, ill will, self-interest or malicious conduct. By diluting the evidence standard in bad faith actions, the appellate court's decision will both invite lawsuits over virtually any insurance dispute and even punish insurers for good-faith mistakes.