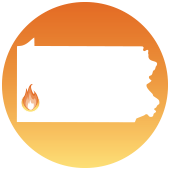 Due west of Philadelphia is Pennsylvania's second largest city, Pittsburgh, also known as the "Steel City." Some personal injury lawyers there and from surrounding Allegheny may privately refer to it as "Steal City," as the fairness of civil courts there is increasingly questioned by businesses named as defendants in asbestos cases and retailers targeted in shakedown lawsuits under the Americans with Disabilities Act (ADA).
As reported here last year, it is common for the Allegheny County Court of Common Pleas to allow plaintiffs' lawyers to name scores of defendants in a single lawsuit and to deny every defense motion for summary judgment. These and other plaintiff-friendly tactics are intended to pressure defendants into settling cases quickly.
One particularly egregious example occurred recently in Wojdylak v. A.O. Smith Corp. There, a steelworker who was exposed to asbestos while living and working in Michigan, later moved to Pennsylvania. Since the plaintiff was injured in Michigan, the defendants (about 25 companies were named) asked the court to apply Michigan law. The choice of which state law to apply – Michigan or Pennsylvania – was significant because Michigan, unlike Pennsylvania, limits noneconomic damages and generally does not award punitive damages, among other reasons.
In July 2016, Allegheny County Court of Common Pleas Judge Michael Marmo agreed with the defendants, finding Michigan law applied. He subsequently found that the plaintiff could only seek punitive damages to the limited extent permitted by Michigan law and reserved deciding whether Michigan's noneconomic damage cap applied until it was necessary to do so, should a jury reach an award exceeding the limit.
But rational, sound rulings for a defendant could not stand. As the case moved toward trial, it was reassigned. In September, on the eve of trial, Judge W. Terrence O'Brien contradicted his colleague, ruling that the court would subject the defendant to unlimited damages under Pennsylvania law and ignore the Michigan limits. Caps off, the defendant was pushed to settle and, thanks in part to this judicial switcheroo, at a higher value.
Also of concern is a wave of lawsuits against retailers, centered in Pittsburgh, alleging that their websites are not ADA compliant. These lawsuits often assert that retailers have not provided reasonable accommodations for blind and visually impaired customers to order online. Online shopping did not exist when Congress enacted the law 26 years ago. Businesses have no clarity on how a website can comply with a law that has focused on providing ramps, elevators and designated parking spaces.
Apparently, a single local law firm, Carlson Lynch Sweet & Kilpela, filed about 100 ADA lawsuits targeting national businesses such as Brooks Brothers, the NBA and Toys "R" Us between 2014 and 2015. Other defendants include Sprint Corp., J.C. Penney Co. and Home Depot Inc. In 2016 the firm expanded its targets to include realty and home building companies. Who knows how many extortionate demand letters have been sent, leading to a make-it-go-away settlements? Most of the cases remain pending in the U.S. District Court for the Western District of Pennsylvania.