New Orleans Personal Injury Lawyer Candidly Promotes 'Forum Shopping' in Website Video
Those who tend to be put off by personal injury lawyers might find much to dislike about New Orleans-based auto-accident specialist Greg DiLeo, but no one can fault him for a lack of candor when it comes to the "forum shopping" made easy by Louisiana's lax venue laws.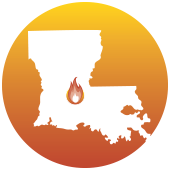 Forum shopping is a tactic most used by plaintiffs' lawyers hoping to have their cases heard by the friendliest judges — often judges to whom they've made generous campaign contributions in the past.  It's a tactic that has helped make the Pelican State a Judicial Hellhole.
For years defense attorneys have expressed particular concerns about DiLeo's home court, the Orleans Parish Civil District Court, for the outsized role it plays in civil litigation.  Plaintiffs' lawyers flock there, seeking plaintiff-friendly judges and rulings that often allow meritless claims to proceed and result in excessive awards. Meanwhile, defendants are dragged to a distant, inconvenient and expensive forum that may have little or no connection to the dispute.
But to hear DiLeo tell it, that's a good thing.  After all, he says in an instructional video posted on his website, his clients wouldn't want their claims adjudicated in a venue where they might meet "skepticism and prejudice" from a no-nonsense judge who can smell liars and meritless lawsuits a mile away.
"In the right venue," counsels DiLeo, his clients "are more likely to get a better result" out of their lawsuits.  "That's why it's so important to hire an attorney with extensive litigation experience to make the best choice of venue for your case."