Missouri, Oregon High Courts Clarify 'Personal Jurisdiction,' SCOTUS Poised to Hear Similar Cases
As both state and federal courts in recent years have created confusion by ruling differently on questions of personal jurisdiction (whether a state's courts should have jurisdiction over cases involving various out-of-state elements), high courts in Missouri and Oregon last week hewed closer to longstanding tradition and appropriately ruled that claims alleging out-of-state injuries against out-of-state defendants doing little business there should be brought elsewhere.
Both original lawsuits were filed under the Federal Employers Liability Act enacted in 1908 to protect and compensate railroad workers injured on the job when a railroad's negligence contributes to such injuries.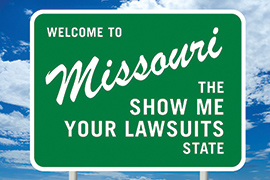 In  Missouri, lately known as the Show Me Your Lawsuits State for its trial courts' willingness to hear claims made by out-of-state plaintiffs against out-of-state defendants over alleged out-of-state injuries,  Virginia-based Norfolk Southern was sued by an Indiana plaintiff over injuries that allegedly occurred in Indiana — even as the railroad only does about 2% of its business in Missouri.
Based on these facts, the Missouri Supreme Court encouragingly concluded that the trial court lacked personal jurisdiction over the railroad defendant, leaving the plaintiff to bring his claim in Indiana or Virginia.  Noteworthy is the fact that Missouri lawmakers are currently moving quickly to pass reform statutes, called for by the state's new governor, that will discourage the brazen forum shopping by out-of-state personal injury lawyers that's been undermining due process and forcing in-state taxpayers to provide court resources for out-of-state litigants.
Nebraska-based Union Pacific was the railroad targeted in Oregon, even though it's incorporated in Delaware, does less than 4% of its business in Oregon, and the plaintiffs' alleged injuries occurred in Idaho.  Like Missouri's high court, the Oregon Supreme Court joined an increasingly shaky majority of state courts in holding that a corporation doing business within a state is not sufficient in and of itself to give that state general jurisdiction over the corporation. And with the only Oregon-specific fact being the plaintiff's residence, the court also found the facts insufficient to grant the trial court specific jurisdiction.
As noted above, despite these two sound personal jurisdiction decisions in Missouri and Oregon, much confusion and uncertainty has been sown by other state high courts and lower federal courts in recent years.  The latest edition of ATRA's Judicial Hellholes report criticized faulty 2016 decisions by high courts in both California and, in another FELA case, Montana.  Thankfully, the U.S. Supreme Court will hear appeals to both of those troubling decisions on April 25.  ATRA has filed amicus briefs (see here and here) and eagerly awaits oral arguments.