SCOTUS Decision Prompts Judge in #1 Hellhole St. Louis to Declare Mistrial in Talc Case
Responding to a defense motion that cited an important 8-1 U.S. Supreme Court decision rendered earlier in the day, a St. Louis trial judge yesterday declared a mistrial in the sixth such trial there in which plaintiffs allege, contrary to widely accepted science, that the makers of talcum powder are responsible for their ovarian cancer.
In putting an end to proceedings in Swann v. Johnson & Johnson, 22nd Circuit Court Judge Rex Burlison cited the high court's much anticipated tightening of jurisdictional rules governing where corporate defendants can be sued, particularly in mass torts comprising overwhelming majorities of out-of-state claimants.
After entertaining arguments and interpreting the Supreme Court decision, Judge Burlison explained yesterday afternoon that, "the mere fact that nonresident plaintiffs have joined their claims with those of a handful of Missouri residents does not suffice to give" Missouri courts jurisdiction over the defendants.
According to the National Law Journal, the "mistrial decision could have dramatic implications for the rest of the Missouri [talc] trials, the next of which was slated for August. The bulk of the 1,700 women who have alleged they got ovarian cancer from prolonged use of talcum powder have ended up bringing their claims . . . in Missouri."
But the NLJ also reports that lead plaintiffs attorney Ted Meadows, of the Alabama-based law firm Beasley, Allen, Crow, Methvin, Portis & Miles,  immediately refuted the idea that the Supreme Court decision meant the end  of the Missouri talc trials.
"After reviewing this morning's Supreme Court ruling, and based on evidence and statements now in the record, we believe this litigation can go forward in Missouri courts," Meadows told the NLJ in an email.  "We plan to conduct additional discovery and depositions to confirm this position, and look forward to that opportunity."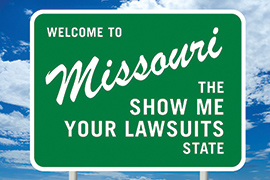 ATRA's analysis suggests that Mr. Meadows is blowing smoke. There's no amount of additional discovery or depositions that can overcome Justice Samuel Alito's rather straightforward majority decision announced yesterday.  Non-Missouri residents will have to file their scientifically groundless talc claims in their home states or where the defendants are incorporated or headquartered.
BTW, if Mr. Meadows thought he could have won his clients' cases in their home states or the defendants' home states, he'd have filed them there to begin with. But he instead chose then-Daubertless St. Louis, where relatively low-cost TV advertising allowed the plaintiffs' bar to saturate the airwaves with willfully misleading propaganda designed to precondition jury pools.
The racket seemed to work pretty well for a while, but ATRA blew the whistle, ranking St. Louis #1 among its annual listing of Judicial Hellholes last December.  Then the new governor cited the hellholes ranking in his first State of the State Address, lawmakers subsequently enacted Daubert reform that made more exacting Missouri courts' standard for scientific testimony, and Judge Alito yesterday made it clear that state courts have no jurisdiction over out-of-state defendants being sued by out-of-state plaintiffs for out-of-state injuries.
Game over, Mr. Meadows.  And Kudos to Judge Burlison for respecting the rule of law, which is more than can be said of many jurists in Judicial Hellholes, which is what makes them so popular with guys like Mr. Meadows.
In any case, prior to this mistrial, talc defendants had lost four of five St. Louis trials to the cumulative tune of more than $300 million dollars.  Appeals of all those verdicts will also be affected by yesterday's high court decision.