A representative of the American Tort Reform Association today testified before Missouri's Senate Government Reform Committee in support of newly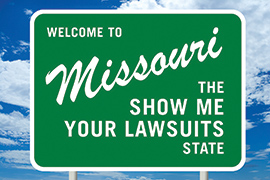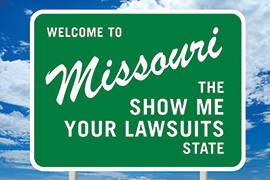 proposed legislation aiming to make the Show Me Your Lawsuits State less welcoming to out-of-state plaintiffs looking to sue out-of-state defendants over alleged out-of-state injuries in plaintiff-friendly St. Louis, one of the nation's worst Judicial Hellholes.
Introduced by Sen. Brian Munzlinger, SB 546 will end litigation tourism, also know as forum shopping, by amending Missouri's venue and joinder statutes, leaving the state's taxpayer provided court resources to be more fairly focused on resolving the civil claims of Missourians.
In 2005 state lawmakers cracked down on a type of forum shopping that was then popular with Missouri personal injury lawyers: bringing lawsuits on behalf of their clients from all across the state in the City of St. Louis, where they knew they had a big advantage over corporate defendants.  That reform statute required lawsuits be filed where the plaintiff or defendant "resided."  It worked to reduce new lawsuit filings in St. Louis from 6,981 in 2004 to 3,383 in 2013.  Then the ongoing tidal wave of out-of-state claims began to swamp the jurisdiction all over again.
Plaintiffs' lawyers figured out a way around the 2005 venue reform by joining the claims of plaintiffs with no right to file in St. Louis with the claim of a single plaintiff who does have that right.   But joinder should not circumvent venue laws.  Missouri Rule of Civil Procedure 51.01 states that the rules allowing separate claims to be joined "shall not be construed to extend the jurisdiction" of the state's courts, "or the venue of civil actions."  But state courts have not enforced this rule.  And when Missouri courts allow out-of-state plaintiffs to piggy back onto a local claim, only one filing fee of $83 plus $57 in surcharges is paid for hundreds of plaintiffs. The out-of-state plaintiffs effectively pay nothing for Missouri's finite court resources or jurors' precious time.
Furthermore, the Missouri Supreme Court opened another loophole in 2011 when it held that the reforms did not apply to insurance companies in State ex rel. Auto Owners Ins. Co. v. Messina.  But Missouri judges have invited lawmakers to fix the law, and SB 546 will do that.