Courts allow "junk science"
Windfalls to plaintiffs' lawyers
Liability-expanding decisions by high court
Legislature enacts modest reforms, more to be done
A perennial Judicial Hellhole, City of St. Louis once again appears on the list due to lack of reforms and a continuation of the status quo. St. Louis City judges continue to allow blatant forum shopping and excessive punitive damage awards.
Plaintiffs' lawyers flock to the city. In FY 2018, they filed 13,542 civil cases in the City of St. Louis Circuit Court—in a city with an estimated population of 308,626. By comparison, the Circuit Court for St. Louis County had 5,366 cases filed in it that year (about 40% of St. Louis City's volume) in a county with 996,726 people. St. Charles County only had 1,335 cases filed (10% of the cases filed) in a county that is 33% larger than St. Louis City. In fact, more than half of all civil cases pending in Missouri are in the City of St. Louis Circuit Court.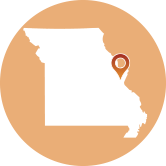 Excessive tort litigation in the greater St. Louis area results in $909.1 million in direct costs annually and a loss of 15,512 jobs. The excess costs result in a "tort tax" of $571.95 per person. Governor Michael Parson (R) and key legislative leaders have taken some important steps to reform the system, but more remains to be done.
JUNK SCIENCE IN THE COURTS
Judges in the "Show-Me-Your-Lawsuit" state fail to ensure that cases they oversee are guided by facts that reflect the consensus of scientific and technical disciplines. Lawyers flock to plaintiff-friendly jurisdictions such as St. Louis because of their reputation for big awards, favorable rulings, and low barriers of entry. They aggressively recruit plaintiffs through extensive advertising to increase the pressure on defendants to settle. In one recent three-month period, trial lawyers spent $1.2 million on 14,000 television ads in St. Louis.
TALC LITIGATION
St. Louis is home to the largest talc verdict to date. In July of 2018, a City of St. Louis jury awarded $550 million in actual damages and $4.14 billion in punitive damages to a group of 22 plaintiffs. The women claimed that their ovarian cancer was caused by exposure to asbestos allegedly found in Johnson & Johnson's baby powder. Of the 22 women involved in the lawsuit, 17 had no connection to Missouri. Each was awarded the same amount of money, despite there being "different facts for each, and differences in relevant law." After a six-week trial, jurors deliberated for less than a full day before reaching this astounding result.
Now, J&J is appealing the decision on several grounds, including whether the City of St. Louis was the proper venue for the case. This argument was strengthened following a decision by the Missouri Supreme Court in February 2019 when it dismissed a similar case against J&J after finding that St. Louis was not the proper venue. The Court held that plaintiffs who cannot themselves establish venue in St. Louis City cannot enter that forum through the backdoor by joining with one St. Louis City resident. This decision could have a far-reaching impact on talc litigation in the state. Of the roughly 700 talc cases filed in St. Louis, just 40 involve Missouri residents.
In addition to forum shopping, there is concern that St. Louis City judges allow plaintiffs' lawyers to introduce junk science. Expert testimony plays a crucial
The U.S. Food & Drug Administration has found that studies have not proven a link between talcum powder and cancer.
role in talc cases. Plaintiffs' "experts" tell jurors that talcum powder causes ovarian cancer, even though the American Cancer Society has found that research regarding this link is "mixed" and potentially "biased," and that if there is an increased risk, the risk "is likely to be very small." Even in generally plaintiff-friendly New Jersey, a judge dismissed two talc cases scheduled for trial after finding that the plaintiffs' experts who had testified in St. Louis were not qualified to testify in the Garden State.
Nevertheless, defendants' pleas to have those so-called experts excluded from St. Louis trials have largely fallen on deaf ears. Despite the legislature enacting expert evidence reform in 2017, St. Louis judges have allowed this junk science to be heard in their courtrooms.
LIABILITY EXPANDING DECISIONS BY MISSOURI COURTS
'PHANTOM DAMAGES' PROVIDE WINDFALL TO PLAINTIFFS
In 2005, the Missouri Legislature passed legislation to improve the state's civil justice system that included a provision intended to prevent inflated damage awards. It provided that when seeking compensation for medical expenses, there is a presumption that the amount a healthcare provider accepted as payment for treatment is the value of the medical care (rather than initially invoiced amounts, which may be much higher). Five years later, the Missouri Supreme Court effectively flipped the statute on its head by interpreting it to allow plaintiffs' lawyers to present evidence of the invoices that no one ever paid, which was the very practice that the legislators intended to stop, and recover these phantom damages.
In 2017, the Legislature responded by amending the statute to explicitly state that lawyers may introduce evidence of the actual cost of medical care at trial, which is defined as not exceeding what the plaintiff or the plaintiff 's insurer paid. That progress was again short lived. In December 2018, a Missouri appellate court allowed a plaintiff to recover fictional damages for overstated medical bills that were never actually paid or even owed. In Brancati v. Bi-State Development Agency, the court held plaintiffs may still introduce the full amount indicated on a medical bill, even if no one paid it. The appellate court reasoned that the statute states that actual costs of medical treatment "may" be offered into evidence, but does not explicitly state that the amount charged cannot also be considered. Reading the statute in this manner, however, ignores the basic rule that when interpreting legislation, a court should not read it in a manner that renders it meaningless, which is exactly what the appellate court did.
MEDICAL LIABILITY DECISION WILL LEAD TO LARGER AWARDS AGAINST DOCTORS AND HEALTHCARE PROVIDERS
A January 2019 Missouri Supreme Court decision is expected to result in significantly higher awards in medical liability cases against doctors and healthcare providers. To control medical liability costs while providing reasonable compensation for individuals whose injuries will require future care, the state legislature enacted a law allowing healthcare providers to pay some future damages in periodic installments, rather than upfront, and pay a lower interest rate on those damages. This year, in a case alleging a hospital failed to diagnose a rare genetic disorder, the state high court invalidated the lower interest rate, finding it would not provide a plaintiff with the full value of the jury's award.
COURTS ALLOWING ABUSE OF '065 AGREEMENTS
Missouri law permits a defendant to allow a plaintiff to obtain a judgment against it in court, so long as the plaintiff only seeks to collect the award from the plaintiff 's insurer. Such agreements are known as '065 Agreements. In 2017, the Missouri legislature amended this law to require that parties give notice to the insurer of these types of agreements, so that the insurer can intervene and protect its interest if needed. In July 2019, the Missouri Supreme Court did not allow an insurer to use this law to intervene in a case that led to a $6.9 million judgment against a nightclub it insured. In that case, Desai v. Seneca, the Court found that the 2017 law did not apply because the agreement between the parties occurred before the legislature enacted the change.
Attorneys have found an additional loophole in the law to utilize the process of arbitration to shut out would-be intervenors from participating in the arbitration process. This is yet another egregious example wherein the court allows lawyers to undermine the legislative effort to rein in this abusive litigation practice of Section 537.065.
In 2019, the Western District Court of Appeals determined that an insurance company could not intervene in the arbitration proceeding or after the arbitration award was entered as a judgment. In Britt v. Otto, the court denied the insurance company's motion to intervene and confirmed an arbitration award of almost $6 million. The court ruled that the insurer, American Family, did not have a right to intervene in a suit to confirm an arbitration award based on a motor vehicle accident because the insurer did not show that it had the requisite interest relation to the property or transaction that was the subject of the suit. The court stated that "the liability of an insurer as potential indemnitor of the judgment does not constitute a direct interest in such a judgment so as to implicate intervention as of right in that action." Since this was American Family's stated interest in intervening, it did not have the right to intervene.
The dispute stemmed from an automobile accident. The parties involved in the accident executed an "Arbitration Agreement" and a separate Section 537.065 agreement in which they agreed to binding arbitration with respect to all issues arising out of the accident. The insured notified American Family of this agreement and provided the company with a copy of the Arbitration Agreement. The injured party was awarded nearly $6 million in arbitration.
MODEST PROGRESS, BUT MORE NEEDS TO BE DONE
The Missouri Legislature and Governor Parson should be applauded for taking the first step towards addressing the blatant forum shopping that St. Louis judges have allowed to occur in the state for years. Missouri courts have been bogged down with claims from out-of-state plaintiffs, as fewer than 10 percent of plaintiffs in mass tort lawsuits filed in Missouri are actually state residents. This year, legislators enacted S.B. 7 (2019), which prevents lawyers from combining the lawsuits of multiple plaintiffs to establish venue in a plaintiff-friendly court, such as the City of St. Louis. It requires individuals file a lawsuit where they live, where they were injured, or where the defendant has its principal place of business. The new law also generally requires those looking to join cases to have been injured in the same instance or under the same circumstances.
Governor Parson also signed S.B. 30 into law during the 2019 legislative session, a bill that allows a jury to consider evidence of a plaintiff 's failure to wear a seat belt when deciding who is at fault for injuries resulting from auto accidents in product liability cases. The bill appropriately allows a jury to place some of the responsibility on the plaintiff for actively choosing not to wear his or her seatbelt.
While the enactment of these bills is a positive development, several other key reforms failed to pass in 2019. Among the reforms considered were amendments to the Missouri Merchandising Practices Act (MMPA), punitive damages reform, and an asbestos trust transparency bill. Similar legislation also failed to pass in 2018.
PUNITIVE DAMAGES
As the recent multimillion and multibillion dollar awards out of St. Louis show, punitive damage awards have gotten out of hand in Missouri. The Legislature had the opportunity to restore punitive damages to their intentional tort roots to provide clear notice of conduct that may result in punishment. S.B. 65 provided that punitive damages should be available when there is clear and convincing evidence that the defendant intentionally harmed the plaintiff without just cause or acted with a deliberate and flagrant disregard for the safety of others. The bill was reported favorably from a Senate committee, but did not receive a floor vote before the session ended.
MISSOURI MERCHANDISING PRACTICES ACT (MMPA)
Lawyers have long abused the state's consumer law, the MMPA. They generate shakedown class action lawsuits alleging that product labels, advertisements, or other business practices are misleading where no reasonable consumer has been misled or lost money. They take advantage of a 2016 Missouri Court of Appeals decision that subjects companies to lengthy and expensive litigation, even for the most ridiculous of claims. The statute has become overstretched and expanded well beyond the intent of the drafters.
The MMPA is a popular vehicle for lawsuits because it provides for things such as attorney's fees and punitive damages. This incentivizes the trial bar to include an MMPA claim when filing personal injury and other lawsuits. This poses a real threat, particularly for small businesses, because punitive damages are not covered by insurance policies. Businesses faced with MMPA claims often settle given the unwillingness of Missouri courts to dismiss meritless cases, the cost of lengthy litigation, and the liability exposure if the case goes to trial.
In 2019, the legislature considered a package of reforms that would have reduced the opportunity for attorney-generated "no-injury" lawsuits. Claims that a business practice is misleading would be evaluated from the perspective of a "reasonable consumer" and there would be no award of damages unless consumers have actually suffered financial loss. The legislation also would have required any fees awarded to lawyers who bring these class actions to have a reasonable relationship to the amount of the judgment – making it more likely that these lawsuits provide a benefit to consumers, not just the lawyers who file them.
ASBESTOS TRUST TRANSPARENCY
St. Louis had the 6th highest amount of asbestos lawsuit filings of any jurisdiction in the country in 2018, according to the consulting firm KCIC. The legislature, however, failed to enact asbestos trust transparency reform. This legislation would have prevented plaintiffs' lawyers from seeking compensation from trusts set up by companies that have already filed for bankruptcy as a result of asbestos litigation, asserting those companies are responsible for the plaintiff 's exposure to asbestos, then hiding this information when suing solvent companies in court.