"ADA" lawsuit abuse on the rise
Frivolous class action lawsuits targeting food and beverage industry
City on the forefront of climate change litigation
Lack of reform to address litigation abuse
Liability-expanding agenda pushed in legislature
As New York Governor Andrew Cuomo (D) continues to promote New York as a business-friendly state, the litigation and regulatory climate tells a very different story. Businesses are fleeing the state, as the legislative and judiciary branches expand liability at every given opportunity.
New York trial lawyers continue to target small businesses with American with Disabilities Act claims, and the number of consumer lawsuits filed against the food and beverage industry remain on the rise. The legislature pursued a very plaintiff-friendly agenda, while much-needed reform to New York's "Scaffold-Law" continued to stall.
NEW YORK BUSINESS TARGETED BY FRIVOLOUS LAWSUITS
ACCESSIBILITY LAWSUITS CONTINUE TO TARGET SMALL BUSINESSES
The volume of lawsuits filed under the Americans with Disabilities Act (ADA) continues its meteoric rise in New York. These types of lawsuits typically are brought by a small group of attorneys and serial litigants who visit restaurants, grocery stores, and other businesses to look for violations of any of numerous accessibility regulations. The attorney then sends a letter to the business identifying the alleged violation, such as a bathroom mirror that is too high or a parking lot at a slight slope, and demanding that the business pay thousands of dollars to settle the case or face a lawsuit.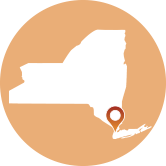 In 2018, 2,338 federal ADA lawsuits were filed in New York, far outpacing the 1,488 claims filed the prior year. Halfway through 2019, New York already had 1,212 ADA accessibility lawsuits, putting it on pace to set another record. New York is second only to California (4,249) in hosting these lawsuits.
This year, one of New York's most notorious plaintiffs' lawyers, Stuart Finkelstein, was discovered to have engaged in a massive scheme to shake down small mom-and-pop stores across the state. He filed multiple lawsuits on behalf of unknowing plaintiffs, threatening stores with additional litigation if they refused to immediately settle. All of the settlement money went straight into his bank account. Finkelstein previously had his law license suspended from 2007 to 2016 after the state ethics panel found he had submitted "false and misleading answers" in response to two professional-misconduct complaints.
New York leads all states with a new brand of ADA lawsuit abuse using the 1990-era law to target company websites. Following the 9th Circuit's 2019 decision, which affirmed that ADA law applied to websites and apps, New York has seen a flood of claims about non-ADA compliant websites. Entrepreneurial plaintiffs' lawyers file cut-and-paste lawsuits against stores whose websites lack screen-reading software. They seize the opportunity to capitalize on a grey area in federal law on web accessibility. Unlike the lawsuits against brick-and-mortar stores, in these cases, serial plaintiffs and their lawyers can search for targets without leaving their desks.
ADA plaintiffs filed 1,564 of these website accessibility lawsuits in New York's federal courts in 2018, accounting for more than two-thirds of all federal website cases filed in the nation that year. As of the first quarter of 2019, another 396 web accessibility claims were reportedly filed in the Empire State.
"This particular litigation feels to me like a cynical effort by a few lawyers to extract payment from our clients and others."
– Thomas Danzinger
"It's profit-seeking attorneys abusing the legal system and using handicapped people as a front," said Tom Stebbins, executive director of the Albany-based Lawsuit Reform Alliance of New York. Two well-known ADA lawyers, Jeffrey Gottlieb and Joseph Mizrahi, have filed hundreds of lawsuits over the past few years on behalf of just a handful of plaintiffs. One client, Deshawn Dawson, a legally blind person, filed 37 lawsuits against a wide range of art galleries and bookstores in the state. Another plaintiff, Henry Tucker, filed 80 similarly-worded complaints against art galleries in November of 2018. While Gottlieb and Mizrahi will earn several thousand dollars in fees, New York law prohibits their clients from receiving more than $500 per case. Art law expert Thomas Danzinger, who is representing several New York galleries, stated, "While the galleries we work with certainly support accommodating people with disabilities, this particular litigation feels to me like a cynical effort by a few lawyers to extract payment from our clients and others."
Jeffrey Gottlieb also has targeted businesses that sell gift cards for failing to include braille on the cards. In less than 10 days in October 2019, over 100 putative class action lawsuits were filed in the Empire State. Eleven plaintiffs and four law firms filed nearly identical claims and all assert the same theory – businesses do not provide a braille version of their gift cards.
FRIVOLOUS CONSUMER PROTECTION LAWSUITS
"Slack fill" litigation remains prevalent in New York, with plaintiffs continuing to file consumer lawsuits alleging that boxes or containers of food mislead consumers because there appears to be space inside that could fit more of the product. The state also is home to numerous lawsuits challenging the "natural" description of products due to certain ingredients or manufacturing processes. In 2018, there was a 33 percent increase in food and beverage class action filings in New York, with 42 new cases filed. The state is second only to California (77).
The most entertaining of all the food lawsuits currently pending in New York were filed by Long Island attorney Spencer Sheehan. He is famous for handling some of the most outrageous cases in the state. For example, he defended "subway vigilante" Bernard Goetz's right to keep a pet squirrel in his Manhattan apartment. In 2019, he filed a class action lawsuit against Welch Food over marketing claims that the products were "Made with REAL fruit" and contained fiber. The case alleges that the fiber actually comes from chicory root, not real fruit. Another suit filed this year against KIND alleges that the company misled consumers into believing its energy and snack bars contained whole, unsullied fruit, when it was processed, simply because the packages contain images of whole fruit, which are listed as ingredients.
Sheehan also is suing 27 different food companies, alleging that they are misleading customers with their labeling of vanilla-flavored food products. The lawsuits claim that the labels on the food products mislead customers to believe they contain "real vanilla" and/or "natural flavors," despite actually containing only a small amount of natural flavors and vanilla extract, with the rest of the flavoring coming from synthetic vanillin. Some of the lawsuits also allege that these companies improperly classify their products as "ice cream," and should instead use the words "frozen dairy dessert." Sheehan is claiming $5 million in damages in each suit – for a total of $135 million.
Perhaps on a mission to steal the title of the "food court" from California, Senator Leroy Comrie (D) introduced legislation that would further increase consumer litigation in New York. The bill would significantly increase minimum damages in lawsuits alleging misleading business practices from $50 to $1,000 per violation – allowing plaintiffs to recover these damages without showing any actual loss as a result of buying the product or service. The bill also would change New York law by making these statutory damages available in class action lawsuits, incentivizing massive no-injury lawsuits. This provision would make New York an outlier when compared to the rest of the country. Less than one-third of states allow for statutory damages, and when allowed, most states do not make them available in class actions. Statutory damages are intended to provide an incentive for lawyers to bring small claims, but that purpose is unnecessary in class actions because the aggregation of hundreds of claims fills that need.
The legislation also proposes prohibiting "unfair" and "abusive" practices – adding two vague terms to New York's consumer protection law that will spark more lawsuits. This bill also would limit or eliminate certain defenses currently available in consumer lawsuits. Icing on this plaintiffs' lawyer layer cake is that the legislation takes away the need for them to find a consumer who actually purchased a product and believes he or she was misled in some way. Instead, the bill authorizes nonprofit organizations with extreme agendas to bring class action lawsuits to pressure businesses into meeting their demands. The bill stalled in the Senate Committee on Rules; however, it is expected to be considered in 2020.
ASBESTOS AND TALC LITIGATION
New York City continues to lead the nation in terms of high mesothelioma verdicts and settlements; however, in November 2018, the New York Court of Appeals dealt New York City Asbestos Litigation (NYCAL) a strong dose of reality. In its highly anticipated Juni opinion, the Court rejected the "cumulative exposure" theory embraced by NYCAL and said it "is irreconcilable with the well-recognized scientific requirement that causation be established based on consideration of the amount, duration and frequency of the plaintiff's exposure." It overturned an $11 million NYCAL verdict, finding that proof that a substance can cause harm is not enough to show that it actually did.
This decision should have positively impacted litigation brought against Johnson & Johnson alleging that talc has traces of asbestos that caused a plaintiff 's injury; however, the company was hit with a $300 million punitive damages judgment on top of a $25 million verdict for compensatory damages in May 2019. The $325 million verdict is one of the highest in more than two years of litigation across the country. A Manhattan Supreme Court jury found in favor of a woman who claimed prolonged exposure to talc powder caused her to develop mesothelioma, despite the U.S. Food and Drug Administration and the National Institute for Occupational Safety and Health, among other organizations, finding the powder to be safe.
"This analysis makes clear that New York's current court rules and procedures are inadequate to prevent trust claim manipulation and abuse within the system." – Tom Stebbins
In October 2019, the New York Civil Justice Institute released a report highlighting some of the troubling ways the plaintiffs bar looks to disadvantage defendants and mislead juries in asbestos litigation. The report discusses how plaintiffs' attorneys "intentionally delay the filing of asbestos bankruptcy trust claims" in order to mislead juries "as to the source of and significance of a plaintiff 's exposure to asbestos." The study reviewed more than 100 asbestos-related personal injury claims filed in New York jurisdictions. "This analysis makes clear that New York's current court rules and procedures are inadequate to prevent trust claim manipulation and abuse within the system," said Tom Stebbins, executive director at the lawsuit Reform Alliance of New York.
NEW YORK CITY AT FOREFRONT OF CLIMATE CHANGE LITIGATION
The Michael Bloomberg-funded State Energy & Environmental Impact Center at New York University School of Law (the Center) pioneered the new practice of embedding staffers to advance litigation. The Center was established and initially funded in 2017 with a $6 million grant from Bloomberg Philanthropies. Its mission is to "support state attorneys general in defending and promoting clean energy, climate and environmental laws and policies," including through "direct legal assistance to interested attorneys general on specific administrative, judicial or legislative matters…" As the Center touts, it is "[w]orking with interested attorneys general to identify and hire NYU Law Fellows who serve as special assistant attorneys general in state attorney general offices, focusing on clean energy, climate and environmental matters." In other words, the fellowship program is designed to wage war on energy companies by placing lawyers funded by the Center in the offices of friendly attorneys general across the country, empowering them to bring climate change litigation.
The Center reportedly had 18 fellows embedded within the offices of attorneys general in at least eleven jurisdictions in 2019, including New York. The Center, through NYU, fully funds these legal positions, meaning attorneys general use outside dollars for this work. The effort is aided by the Center's communications arm, which aims to promote and defend the legal strategy of supportive state attorneys general in the media.
The Center's fellows are far from student interns or junior lawyers. To be considered for the program, the Center requires an applicant to have between five and ten years of experience with climate change, clean energy, and environmental issues, as well as litigation and/or regulatory experience. If accepted, a lawyer must make a minimum two-year commitment to the state attorney general office in which he or she is placed.
Functionally, the program places these lawyers into the offices of state attorneys general by initially pitching the program to either the targeted state official or a top aide. Assuming there is interest, the state attorney general's office then makes a formal request to the Center outlining its needs. Should all go according to plan, the program then farms out the lawyers to the state attorney general office that made the request.
New York Attorney General Letitia James currently has two NYU fellows on staff. One of the fellows, Gavin McCabe, signed off on an amicus brief that was filed in June of 2018 in New York City's lawsuit against ExxonMobil, BP and several other energy companies attempting to pin them with costs related to climate change. In addition, New York City Mayor Bill de Blasio continues his push to hold these companies responsible for climate change, openly stating, "Let's help bring the death knell to this industry that's done so much harm."
A landmark bench trial over claims that Exxon Mobil "deceived its investors about climate change risks to its business" took place in New York state court in October 2019. No decision was announced prior to the report going to press, but ATRF will keep a close eye on future developments.
THIRD PARTY LITIGATION FUNDING
Third-party litigation financing increases the amount of litigation and provides benefits to plaintiffs' lawyers in New York. New York hedge funds drive mass tort litigation in the state by lending money to law firms that represent plaintiffs in a variety of lawsuits against prescription medications and medical devices. In return, the lenders become entitled to a portion of any recovery. It is estimated that the third party litigation funding global industry has approximately $100 billion available to funders and firms.
A leading global litigation-finance firm, Burford Capital, came under fire in 2019 after Muddy Waters Research claimed the company egregiously misrepresented the value of its legal cases, basing its stock valuation and earnings on "meaningless" metrics manipulated by the company.
In July 2018, the New York City Bar Association published a formal opinion concluding that lawyers may not enter into a litigation financing arrangement with a non-lawyer funder under which the funder is paid out of any recovery. Such arrangements, the NYCBA found, violate ethical rules that have long prohibited lawyers from partnering with or sharing fees with non-lawyers. While the bar association has said it "will not be revisiting" last year's Ethics Opinion, it held a comment period for its Litigation Funding Working Group during the summer of 2019. The Working Group is expected to issue a full report by the end of the year. One proposal the group is considering would require lawyers to disclose litigation funding contracts to both the court and opposing parties. This would create transparency and allow all parties to know who has an interest in the outcome of the litigation.
The New York Legislature also must address rampant abuse. Legislation introduced to rein in predatory lawsuit lending in 2019 stalled in committee.
SCAFFOLD LAW CONTINUES TO DRAIN CITY'S ECONOMY
New York's Scaffold Law continues to disincentivize real estate investors and builders from investing in the city and in construction site safety. The Scaffold Law was enacted to "protect workers who helped build New York's now-iconic skyline in the 19th century."
Under this law, courts hold contractors and property owners liable for workers' "gravity-related injuries," whether that injury occurred due to a fall from a stepstool or New York's tallest tower. New York courts have found that liability under this law is "absolute," meaning that businesses must pay up regardless of whether the fall occurred due to the workers' carelessness or reckless conduct. No other state has such a law.
The absolute liability standard imposed by the Scaffold Law has led to a massive exodus of underwriting companies from the state, leading to higher premiums and an overall high cost of doing business. It is estimated that money wasted on the Scaffold Law could be spent to create 12,000 new jobs, boosting the state's economy by over $150 million.
Not only does the law cost the state money, it also fails to achieve its main goal – making construction sites safer. An objective analysis of the impact of absolute liability for gravity-related injuries has revealed that having this law in place actually increases the number of falls that result in injury or death by a rate of 5.5 per thousand. This is because under the current law, no amount of safety equipment, training, or workplace controls reduce the liability to which builders are subjected. It is a proven disincentive to invest in construction site safety. In locations where the law has been repealed, there has been a documented increased investment in worker safety, and as a result, the rate of accidents has dropped significantly.
A small number of New York lawmakers have long sought to address this excessive liability but continue to come up short. Opposition from powerful special interests – especially the trial lawyers – has stymied efforts to reform the law.
LIABILITY EXPANDING LEGISLATIVE AGENDA
Last year's report warned of the potential impact of Lavern's Law, enacted in January 2018, on New York's medical liability payouts. The new law extended the statute of limitations for medical liability cases alleging a missed cancer diagnosis. As a result of the state's liability-expanding approach, New York continues to lead the nation in medical liability payouts both per capita and total amounts. In 2018, New York had an average payout of $446,461. The national average payout was $348,065, almost $100,000 less than the New York average. 1,535 claims were paid in New York in 2018, totaling $685,317,000, marking an 11% increase from 2017. Rather than address the growing medical liability crisis in the state, the New York legislature failed to enact meaningful reforms and considered legislation that would further exacerbate the problem.
S. 4006, introduced by Senate Judiciary Chair Senator Brad Hoylman (D), would expand existing law to permit the families of wrongful death victims to recover additional compensation for subjective things like loss of companionship and consortium, loss of nurture and guidance, pecuniary injuries, including loss of support or assistance, and grief or anguish. It is estimated that, if enacted, insurance premiums paid by New York residents and businesses will increase by $2.2 billion, or 12.6%. Medical professional liability premiums are predicted to increase by 47%, thereby further discouraging doctors from practicing medicine in New York. The bill remains in the Senate Finance Committee and is expected to advance in 2020.
Two liability expanding bills that passed both houses of the legislature, mostly on party lines, await action from the governor. S.6552, introduced by Senator James Skoufis (D) permits a plaintiff to recover directly against a third-party defendant when the judgment against the original defendant has not been satisfied after thirty days. Troublingly, if signed into law, this would allow plaintiffs to bypass defendants and collect directly from a party which they had no legal standing to sue.
Another bill, S.6081, introduced by Senate Judiciary Chair Brad Hoylman (D), would require settling co-defendants to choose between limiting their liability by either their equitable share of fault or by the remaining balance of the final jury award before the award is determined. If signed into law, a plaintiff could receive more damages than the amount awarded by a jury verdict. Defendants in asbestos cases will be at an even greater disadvantage because other defendants rarely know the identities or settlement amounts of all parties in the litigation.
Senator Kevin Thomas (D) introduced the New York Privacy Act, which would, among other things, create a private right of action for individuals to sue companies over alleged data privacy violations. This measure is more expansive than California's recently passed Consumer Privacy Act, which does not contain a private right to file a lawsuit and only applies to businesses that take in more than $25 million in gross revenue.
Lastly, Governor Cuomo signed legislation that expands liability for workplace discrimination. The new law lowers the threshold for filing a complaint by eliminating the need for "severe or pervasive" behavior, extends the statute of limitations to file such cases, bans non-disclosure agreements related to discrimination claims, prohibits arbitration of discrimination claims, and authorizes punitive damages. These changes are expected to lead to a flurry of new lawsuits and will expand liability even for companies that have abided by all of the laws and regulations to create and promote a safe workplace.
END NOTES
In February of 2019, the Appellate Division, First Department upheld a

record-setting $6.1 million

pain-and-suffering award in an ankle fracture lawsuit. A Bronx jury awarded the plaintiff a total of $10.4 million. This is the largest amount upheld by the court, outside an amputation or brain damage case. The award included future medical expenses, despite no evidence that the plaintiff would require future care.
A Manhattan federal court jury convicted three men of running a

"trip-and-fall" scheme

, defrauding New York City businesses and insurance companies out of more than $31 million. The men recruited "patients," coached them on how to stage the accidents, and then steered them to complicit lawyers, doctors and chiropractors.
Governor Cuomo signed a bill that

reinstates

the six-year statute of limitations for filing a lawsuit under the Martin Act. This reverses a decision by the state's high court in 2018, which interpreted the law to have a three-year statute of limitations. New York leadership has made a habit of politicizing the state's unique Martin Act, a 1921 law which grants the Office of the Attorney General far-reaching powers to investigate alleged financial fraud – without ever having to prove intent.