Attorney General mishandles opioid litigation
Court adopts expansive view of "public nuisance" law
Court makes habit of issuing liability-expanding decision
Legislature's failure to address problems
Once a national leader in enacting fair and balanced civil justice reform for plaintiffs and defendants, Oklahoma, regrettably, has become a place where pervasive liability expansion threatens to destabilize the economy.
Oklahoma Attorney General Mike Hunter and his litigation against pharmaceutical companies over the state's opioid crisis have dominated the news cycles in 2019. His actions, coupled with liability-expanding decisions by the state's Supreme Court and a legislative bottleneck caused by legislators backed by the plaintiffs' bar, earned Oklahoma the unenviable distinction of being added to the Judicial Hellholes list.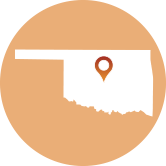 ATTORNEY GENERAL CHOOSES POLITICAL DONORS TO BRING UNPRECEDENTED STATE LAWSUITS
AG Hunter's opioid litigation came to a head in 2019 as the state began its long-awaited trial against Johnson & Johnson in May. Prior to the start of the trial, he reached settlements with Teva Pharmaceutical Industries and Purdue Pharma.
Time and time again, litigation has failed to solve the broader societal problems proponents state they want to address. Public health problems, like the opioid crisis, require comprehensive solutions designed by Congress, state legislators and federal and state public health officials and regulators. They are obligated to serve and protect the public, and they are accountable to us all. By contrast, lawsuits like AG Hunter's case are driven by a profit motive that risks putting private interests above those of the broader public.
OUTSIDE LAW FIRMS HIRED BY THE STATE
In 2017, when AG Hunter joined scores of other states and municipalities in suing the makers of opioids, he chose not to rely on his own office's lawyers or even hire one of the many plaintiffs' firms experienced in pharmaceutical litigation. Instead, without any competitive bidding process, he awarded contracts to three law firms that had generously contributed to his campaigns over the years. In fact, one of the firms he selected – Glenn Coffee & Associates – does not even tout litigation as a service offered on its website. Glenn Coffee is a former Senate Pro Tem and was an advisor to Hunter's 2018 campaign. Prior to the start of the Johnson & Johnson trial, Coffee withdrew his services, but not before his firm became entitled to collect millions of dollars from the settlements with Teva and Purdue Pharma.
Another firm, Texas-based Nix Patterson, a key player in the tobacco litigation in the '90s, boasts to clients the availability of its private plane – because apparently flying commercial just takes too long. All told, the employees and families of the three firms selected by Hunter contributed at least $72,500 to his political campaigns.
When asked to justify the hiring of outside counsel in the opioid litigation, governments and their lawyers point to the "success" of the tobacco litigation from a generation ago. A closer examination of the experience proves that corruption can be a real problem in such cases when enormous sums of money are on the line, and litigation cannot assure that settlements address the underlying problem.
SETTLEMENTS AND FIRST VERDICT
In April of this year, AG Hunter reached a $270 million settlement with Purdue Pharma, just weeks before the case was scheduled to go to trial. In doing so, AG Hunter spurned the legislature's fundamental authority regarding state funds and apportioned the money himself. The generous campaign donors he hired to represent the state on a contingency fee basis are to be paid almost $60 million in fees, nearly five times more than the amount designated for municipalities and counties in the state. The bulk of the settlement went toward establishing a Health and Wellness Center at AG Hunter's alma mater, Oklahoma State University, where his son also happens to be employed.
In a sharp rebuke of AG Hunter following the Purdue settlement, the Oklahoma Legislature and Governor Kevin Stitt (R) joined forces to preserve the legislature's authority to expend state funds and determine how settlement money is allocated.
This new law jeopardized the validity of Hunter's settlement with Teva reached just days before the company's May trial was scheduled to begin. Following enactment, the judge in the opioid litigation demanded full transparency from Hunter and requested that he explicitly state how the money would be allocated in compliance with the new law. This request came in response to concerns raised by Governor Stitt and two high-ranking lawmakers who feared that the AG's handling of the settlement might violate the new law. In a June 2019 filing, AG Hunter laid out the details of the Teva settlement and disclosed that the outside counsel would receive $12.75 million – 15 percent of the $85 million settlement.
While Purdue and Teva settled, Johnson & Johnson went to trial. After a bench trial, Cleveland County District Court Judge Thad Balkman ruled that the company had created a public nuisance through its marketing of ingredients used to make opioids. Judge Balkman awarded $572 million to fund an "abatement program" in August 2019—an amount he viewed as equal to that which is needed to combat the opioid epidemic in the state for one year. It is an extraordinary sum, though far less that the $17.5 billion sought by the state. About six weeks later, however, Judge Balman admitted that he had made a $107 million math error, and indicated that he would reduce the judgment to $465 million. J&J has filed an appeal, which, among other issues, raises the question of whether a nuisance must be connected to a property. According to J&J, the judgment has "grave implications for all businesses operating in the state," carries "immense public policy implications" and is "threatening wide-ranging liability" for companies that operate in the Sooner State.
INVENTIVE PUBLIC NUISANCE LEGAL THEORY
Historically, public nuisance law involved instances in which a property owner's activities unreasonably interfered in a right that is common to the public, usually affecting land use—not the manufacturing of a legal and highly regulated product. Typical cases include blocking a public road or waterway, or permitting illicit drug dealing or prostitution on one's property. Now, Oklahoma has expanded the law to cover costs related to a public health crisis. Oklahoma law now is well outside of the legal mainstream as evidenced by a May 2019 decision in North Dakota where a judge dismissed a similar claim against Purdue Pharma.
Manufacturers should view the Oklahoma judgment with great concern, as the applicability of vague public nuisance law to other activities will grow, particularly as states look to perceived deep pockets to fund public health or other programs. By this logic, cell phone manufacturers could be held liable for harm caused by distracted drivers. Similarly, auto-manufacturers might be held liable for accidents caused by drunk drivers. And manufacturers of alcoholic beverages could be liable for economic costs and injuries associated with alcoholism. If allowed to stand, this case certainly opens the door to those possibilities.
Hunter's use of public nuisance law in the opioid context is of particular interest given that he took a dramatically different position regarding public nuisance law in another high-profile case. In May 2019, Hunter joined 17 fellow state AGs in filing an amicus brief in a climate change case in a federal appeals court in California. In that instance, the AGs argued that use of public nuisance law is inappropriate. The brief states that "the issues surrounding climate change and its effects—and the proper balance of regulatory and commercial activity—present political questions that cannot be resolved by judicial decree." It also should be noted that in July of 2018, Hunter authored an op-ed entitled, "Lawsuits are not the answer to climate change." In this piece, he explicitly stated, "you cannot litigate what legislators refuse to legislate and regulators refuse to regulate."
This is a sound and reasoned analysis, but he fails to follow the same reasoning in the state's opioid litigation. In fact, one could switch out the words "climate change" for "opioids" as done here, and Hunter's op-ed, in our view, would be equally true. He also cautions that if the courts adopt this expansive view of public nuisance law, it would lead us into a situation in which virtually anything could be deemed a public nuisance. We agree with AG Hunter – in the context of the climate change case.
While the litigation around climate change and the opioid crisis are different matters, they each intend to "solve" complex problems through litigation. Attempting to resolve a public health crisis in court, however, requires the court to assume the responsibilities and authority of the other two branches of government.
OKLAHOMA SUPREME COURT MAKES HABIT OF ISSUING LIABILITY-EXPANDING DECISIONS
Throughout the first half of 2019, the Oklahoma Supreme Court significantly diminished the role of the legislature with regard to civil justice policy by handing down activist opinions that either strike down existing laws or interpret them with a complete disregard for their plain meaning.
COURT STRIKES DOWN CHECK ON EXCESSIVE AWARDS
In April 2019, the Oklahoma Supreme Court issued its long-awaited decision in Beason v. I.E. Miller Services. In doing so, the court abandoned established legal precedent and held that the state's statutory limit on noneconomic damages was a "special law," and therefore, unconstitutional.
In 2011, the state enacted legislation that generally limited noneconomic damages, such as awards for pain and suffering, to $350,000 per person in personal injury cases. The law did not impact the ability to recover other damages such as current and future lost wages and medical expenses. In striking down the law, the court applied head-scratching reasoning. Since Oklahoma's constitution prohibits limiting damages in cases in which a person has died, the Court reasoned that the legislature could not treat cases in which a person was injured, but lived, differently. Logic suggests precisely the opposite: A constitutional provision that says the legislature cannot limit recovery in cases in which injuries result in death suggests that it can do so in other cases.
This was a blatant overreach by the court. As Justice James Edmonson stated in the dissent, "[a] legislative cap on damages…is included within the historically recognized role of a legislature in defining, creating, or abolishing a legal cause of action." Most courts have respected the prerogative of legislatures to enact reasonable limits on awards for pain and suffering. Unfortunately, the Oklahoma Supreme Court did not.
ACTIVIST COURT EXPANDS DAMAGES DESPITE CLEAR LEGISLATIVE LANGUAGE
The Court's elimination of the statutory limit on noneconomic damages is far from the only way in which it has increased liability exposure in 2019. The Court also expanded a treble (triple) damages statute, which it described as "absurd."
In McIntosh v. Watkins, an intoxicated driver rear-ended a vehicle, injuring the two occupants. Both vehicles pulled over to discuss the accident, but when the plaintiff stated that he needed to call the police to report the accident, the intoxicated driver returned to his vehicle and fled. He was later arrested and charged with driving a motor vehicle while under the influence of alcohol and leaving the scene of an accident involving damage.
Months later, the parties settled all of plaintiff 's bodily injury claims, but did not resolve whether the plaintiff was entitled to treble damages for the damage sustained to his vehicle. An Oklahoma law provides that treble damages are available "in an accident resulting only in damage to a vehicle" when the driver that caused the damage leaves the scene of the accident. The intent of the law, it would seem, is to provide additional compensation to the owner of a damaged vehicle who might otherwise have to go to court to pursue a relatively small amount and to discourage negligent drivers from hitting and leaving a vehicle, even if no one is harmed. Since the plaintiff had sustained physical injuries, the trial court properly ruled he was not entitled to treble damages.
In a 5-4 decision, the Oklahoma Supreme Court reversed the lower court, finding that the treble damages statute applied even when the accident involves more than property damage. The majority decided that, in its view, the statute was ambiguous and its opinion prevented an "absurd interpretation" that would lead to greater harm.
"When a statute doesn't say what the Court thinks it ought to say, it declares the statute ambiguous and then, under the guise of ascertaining 'legislative intent,' resolves the so-called ambiguity by assigning to the statute whatever meaning aligns with the Court's policy preferences."
– Justice Patrick Wyrick
In a strongly worded dissent, Justice Patrick Wyrick wrote, "The majority arrives at this counter-textual conclusion by employing an all-too-familiar interpretive device: when a statute doesn't say what the Court thinks it ought to say, it declares the statute ambiguous and then, under the guise of ascertaining 'legislative intent,' resolves the so-called ambiguity by assigning to the statute whatever meaning aligns with the Court's policy preferences."
It is the legislature's job to establish public policy, and it is inappropriate for the judiciary to substitute its judgment for that of the legislature, no matter how misguided it believes the legislature to be. Judges who allow their decision-making to be guided by policy preferences, rather than the plain meaning of a statute, undermine adherence to the rule of law.
OKLAHOMA SUPREME COURT IMPEDES WORKERS' COMPENSATION REFORM
In March of 2019 the Oklahoma Supreme Court once again undermined the Legislature's civil justice reform efforts by shifting the burden of proof in workers' compensation cases onto the employer. The case arose out of a "slip-and-fall" incident in which a nursing assistant injured her knee when it gave out and she fell.
When asked at her hearing whether she had slipped on any substance on the floor, the nursing assistant stated that she was not aware of anything on the floor; in fact, she said that had she seen anything on the floor, she "would have picked it up or wiped it up with paper towels." It was thus uncontroverted that her fall was not caused by some slippery substance on the floor, but rather was the result of her knee giving out.
An expert for her employer concluded that the assistant suffers from patella-femoral malalignment, a previously unidentified pre-existing condition that can cause her right kneecap to dislocate out-of-socket and to relocate into socket.
An administrative law judge, the Workers Compensation Commission sitting en banc, and a three-judge panel of the Court of Civil Appeals, reviewed the evidence and unanimously concluded that the assistant failed to prove that her knee injury was work-related. Crucial to this conclusion was that her expert witness had based his compensability conclusion on a fact that did not exist: that the assistant "slipped on a wet floor while getting ice." That fatal flaw in the expert's conclusion left the assistant unable to meet her burden of proof.
The divided Supreme Court reversed the denial of benefits, finding no credible evidence that the claimant had a pre-existing injury and improperly shifted the burden of proof to show a medical condition is work-related from the employee to the employer. In his dissenting opinion, Justice Wyrick wrote that, "the majority's apparent adoption of a standard of review expressly rejected by the Legislature when it enacted the AWCA [Administrative Workers' Compensation Act, Oklahoma's Workers' Compensation reform] is indicative of a broader and more troublesome trend of decisions of this Court reverting our workers' compensation laws to what they were prior to the AWCA." And that these efforts are "merely the latest in the Court's death-by-a-thousand-cuts dismantling of the Legislature's efforts." Once again, the Oklahoma Supreme Court substituted its judgment for that of the elected – and accountable – legislators.
LEGISLATORS DO TRIAL LAWYERS' BIDDING, REFUSE TO MOVE MUCH-NEEDED LEGAL REFORMS
The Oklahoma Legislature has a rich history of addressing civil justice issues through legislative reforms. For much of the early 2000's, the state was a national leader in enacting legislation to ensure a fair and balanced judicial system. This contrasts sharply with recent years when the legislature has failed to enact commonsense reforms.
House Judiciary Chairman Chris Kannady has been a key member of the Oklahoma legislature since 2014. A well-known beneficiary of trial lawyer campaign contributions, Representative Kannady works for Foshee & Yaffe, an Oklahoma City law firm with a robust personal injury practice. The firm currently is looking to aggregate plaintiffs for litigation over medical conditions they seek to blame on Roundup®.
Representative Kannady took the highly unusual step of leading a movement to oust several legislators during the 2018 elections. Unfortunately, many of these legislators were consistent supporters of legal reform in the past.
A return by Oklahoma to its legal reform mindset would be a welcome development. In particular, legislation such as the Transparency in Private Attorney Contracting Act (TiPAC), a version of which has been enacted in 23 states, would ensure greater transparency in the hiring of outside counsel by the state, and, in the process, help to ensure that litigation brought by the state serves the interests of Oklahomans, not the profit motives of outside law firms. This would be a good start to return to national leadership on reforms and to remove the state from the Judicial Hellholes list.