After a tumultuous 2018, the West Virginia Supreme Court of Appeals has temporarily stabilized, but all will be up for grabs in the 2020 election. Three of the five seats on the state high court will be on the primary ballot as individual non-partisan elections. All eyes will be on the results, as the state has the opportunity to continue to move in a fair and balanced direction, potentially moving off the Watch List once and for all.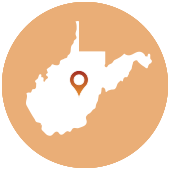 HIGH COURT INSTABILITY
Last year, the West Virginia Supreme Court of Appeals was thrown into chaos with investigations and removals of many of the justices for improper spending of government funds. Fortunately, the investigations are complete and the Court is recovering from a turbulent 2018.
Disgraced former Supreme Court Justice Allen Loughry was sent to prison for his mail and wire fraud crimes. He was found to have improperly used state resources for personal use, crimes which he then tried to cover up. Former Supreme Court Justice Menis E. Ketchum, who pled guilty to fraud, will face three years' probation, a $20,000 fine and restitution to the state. Former Supreme Court Justice Robin Davis retired after her impeachment. She is suing the Governor and the legislators who supported the impeachment proceedings, claiming that her constitutional rights to free expression and due process were violated. She engaged in misconduct similar to her colleagues by spending approximately $500,000 on office renovations. Lastly, Justice Margaret Workman was impeached but has managed to stall her removal.
Governor Jim Justice (R) appointed U.S. Representative Evan Jenkins, and previous House of Delegates Speaker Tim Armstead, to serve as interim Justices on the West Virginia Supreme Court of Appeals in August 2018, filling the vacancies created by the resignation of Justices Ketchum and Davis. Jenkins and Armstead were formally elected to the court by voters in the 2018 November election.
The future is uncertain for the Supreme Court of Appeals, as the composition of the court will be decided at the 2020 ballot box. Justice Tim Armstead will seek a 12-year term, Justice Hutchison will seek the remainder of the term for his seat (four years), and Justice Workman will not seek re-election.
West Virginia is one of only nine states that does not have an intermediate appellate court, making it that much more important that the court provide balance and fairness.
LEGAL REFORM STALLS IN 2019
An impressive record of legislative achievements in addressing excessive liability and lawsuit abuse between 2015 and 2018 helped West Virginia shed its status as a Judicial Hellhole. This year, however, several long-needed legal reform proposals did not cross the finish line.
Legislation to establish an intermediate appellate court has repeatedly fallen short of enactment. A 2019 bill passed the Senate, but failed to advance in the House. Although most West Virginians support establishing an intermediate appellate court, some members of the state's high court and the plaintiffs' bar have opposed doing so. The main sticking point was the cost of the new court for the state, which, of course, is ironic given the allegations regarding the justices' own wasteful spending.
In addition to the legislature once again failing to establish an intermediate appellate court, other important legislation stalled.
Legislation introduced, but not enacted, included a commonsense proposal that would have allowed jurors in West Virginia to learn whether people involved in car accidents were wearing their seatbelts. West Virginia law currently allows the court to reduce a plaintiff 's damages by no more than 5 percent for not wearing a seatbelt, even though wearing a seatbelt is often the difference between those who live and survive a car accident and is required by law. Keeping this law in place blindfolds the jury from fairly considering irresponsible behavior, as it would in any other personal injury case.
West Virginia also failed to address its status as an outlier in allowing plaintiffs who believe they were exposed to a hazardous substance to collect cash awards for medical monitoring without a present physical injury. Legislation is needed to rein in a 1999 West Virginia Supreme Court of Appeals decision that allows such claims even if the amount of exposure to a toxic substance is insufficient to cause injury and regardless of whether there is a medical benefit to early detection of a disease. While some other states allow claims seeking medical monitoring, the requirements for doing so are tightly circumscribed and there are safeguards requiring any money spent to actually go toward medical tests. In West Virginia, plaintiffs can take the quick cash.