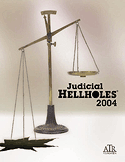 Read the full Judicial Hellholes 2004 Report.
Summary of Key Findings
Judicial Hellholes are places that have a disproportionately harmful impact on civil litigation. Personal injury lawyers seek out these places because they know that they will produce a positive outcome – an excessive verdict or settlement, a favorable precedent, or both.
Through a survey of ATRA members, and comprehensive follow-up research, the report identifies nine Judicial Hellholes and four "dishonorable mentions." They are: Madison County, Illinois; St. Clair County, Illinois; Hampton County, South Carolina; the State of West Virginia; Jefferson County (Beaumont), Texas; Orleans Parish, Louisiana; South Florida; Philadelphia, Pennsylvania; and Los Angeles California. Dishonorable mentions include: Oklahoma, the Utah Supreme Court, the District of Columbia and New Mexico's Appellate Courts.
Reform is possible in Hellhole jurisdictions. In Mississippi, a combination of voter action, sound decisions from the Mississippi Supreme Court, and a slate of civil justice reforms enacted by the legislature are bringing business back to Mississippi and stabilizing the state's medical liability marketplace.
Litigation in Judicial Hellholes needlessly harms consumer access to affordable healthcare. For example, In Illinois' Madison and St. Clair Counties (numbers one and two on our 2004 list), more than 1100 healthcare providers have been sued. More than half of the region's 950 licensed physicians have been sued. Records show that 85 percent of these suits resulted in no payment to the plaintiff. Together, both counties will have lost 161 physicians by the end of 2004. Philadelphia's litigation engine (number eight on the list) is driving physicians out of Pennsylvania. In 2001, 704 medical school residents stayed in Pennsylvania after completing their residency training. In 2003, that number fell to 285. One orthopedic surgeon who left Philadelphia for Maryland (which has limits on damages) saw his insurance rates fall from $103,000 to $8,000.
A number of factors contribute to a Judicial Hellhole designation, including the prevalence of forum shopping, novel legal theories, and discovery abuse, as well as the certification of class action lawsuits, the proliferation of junk science, contributions to judges and the uneven application of evidentiary rules.
Judicial Hellholes can destabilize the legal system of an entire region. The litigation woes in Madison County recently have infected neighboring St. Clair County. Philadelphia's courts have jeopardized access to affordable healthcare in Pennsylvania, and decisions in South Florida Courts have compromised access to affordable healthcare throughout that region.