Largely rural Madison County in Southwestern Illinois continues to be a popular venue for personal injury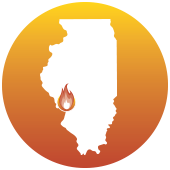 lawyers, particularly those specializing in asbestos litigation. Though the Madison Record reports that new asbestos case filings there have edged down from their record peak of 1,678 in 2013, as plaintiffs' lawyers have begun to take cases across the Mississippi to St. Louis and other plaintiff-friendly jurisdictions, they are still on pace to exceed 1,000 in 2015, based on a mid-year gure of 588.
Astoundingly, Madison County is still home to about a third of all asbestos lawsuits brought in the entire United States. And that more than 90% of these cases brought in the county come from out-of-state plaintiffs – some from as far away as Puerto Rico – it stands to reason that plaintiffs' lawyers believe they have a significant advantage there.
Of course, being the nation's epicenter for asbestos litigation is but a symptom of Madison County's more serious disease – a culture of bias wherein local judges and plaintiffs' lawyers seem to agree that it's perfectly okay to stack the deck against and fleece out-of-state defendants, even if that may sometimes require willful end runs around judicial election law and the will of voters.