The Bayou State continues to climb up the Judicial Hellholes list, due to the costly combination of former plaintiffs' attorney and current Governor John Bel Edwards' (D) aggressive litigation agenda, the plaintiff-friendly legislature, and inescapable advertising practices by the plaintiffs' bar.
Lawsuit abuse continues to drain the Bayou State's economy. Families and businesses in the Bayou State paid nearly $7 billion in expenses related to tort litigation in 2016 – that's more than $4,000 paid by every Louisiana household. The impact of this hidden "tort tax" on the Louisiana economy ranks among the top 5 states in the nation, with litigation costs equaling almost 3 percent of the state's Gross Domestic Product (GDP).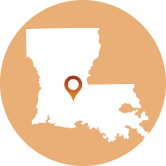 The total current impact of excessive tort costs on the Louisiana economy amounts to estimated losses of $1.1 billion in annual direct costs and $1.5 billion in output (gross product) annually. More than 15,500 jobs are lost when dynamic effects are considered. All major industry groups are negatively impacted, with retail trade, business services, health services and other service industries showing the greatest losses. As of 2018, the yearly fiscal losses are estimated at $76.4 million in state revenues and $64.3 million to local governments.