Last year's #1 Judicial Hellhole, the Philadelphia Court of Common Pleas once again stole the show in 2020, and this year, the Supreme Court of Pennsylvania was intent on joining the city at the top of the list.
A pervasive liability-expanding approach has permeated through the state's civil justice system. Plaintiffs from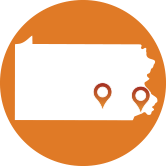 across the country continue to flock to the Court of Common Pleas because of its reputation for excessive verdicts and its "open door" policy to out-of-state plaintiffs. This policy clogs the courts, drains court resources, and drives businesses (and jobs) out of the state. The Supreme Court made the state even more appealing with a ruling that solidified the state's low standard for expert witness testimony. It issued another ruling that openly defied the U.S. Supreme Court and will open the floodgates for filings from out-of-state plaintiffs. The high court also increased potential liability for asbestos defendants. No industry is safe as the courts look to expand liability for all defendants, including those in the essential health care industry.