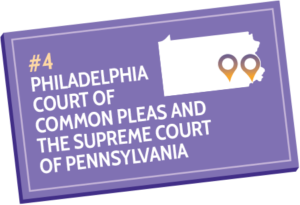 The reigning No. 1 Judicial Hellhole®, the Philadelphia Court of Common Pleas & Supreme Court of Pennsylvania once again lands near the top of the list in 2021. Its drop to the No. 4 spot is not due to reforms or progress made in the state, but indicative of the number of issues plaguing California, New York and Georgia. Additionally, shutdowns resulting from the COVID-19 pandemic led to a decrease in activity.
The Philadelphia Court of Common Pleas continues to be a preferred court for pharmaceutical mass torts cases and asbestos litigation. Plaintiffs from across the country flock to the Court of Common Pleas because of its reputation for excessive verdicts and its "open door" policy to out-of-state plaintiffs. This policy clogs the courts, drains court resources, and drives businesses (and jobs) out of the state.
The Supreme Court of Pennsylvania joined the Court of Common Pleas atop the list in 2020, and the Court continues to expand liability for businesses and municipalities across the state.