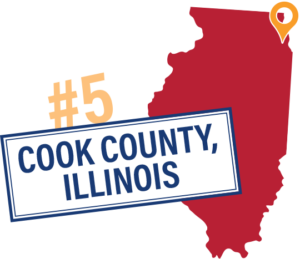 Cook County has become ground zero for "no-injury" lawsuits, mainly arising out of the state's Biometric Information Privacy Act (BIPA). BIPA litigation has reached record highs with no signs of slowing down and the county has become a magnet for food and beverage litigation. The county also remains a preferred jurisdiction for asbestos litigation.
Unfortunately, the state's General Assembly is one of the most plaintiff-friendly legislatures in the country and does very little to combat the pervasive liability-expanding agenda of the plaintiffs' bar.
While previous reports have included Madison and St. Clair counties in Illinois' Hellholes designation, the issues plaguing those counties have narrowed. They are the plaintiffs' bar's preferred jurisdictions for asbestos litigation, an issue discussed in the Dishonorable Mentions section.