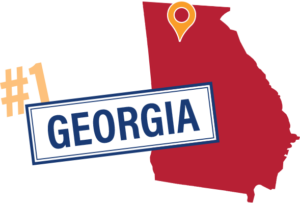 A new #1 Judicial Hellhole® burst onto the scene in 2022. The litigation climate in Georgia has deteriorated for years and in 2022 it reached fever pitch. Georgia replaced California on the top of this year's list thanks in no small part to a massive $1.7 billion nuclear verdict that can charitably be called concerning. Georgia state courts issue some of the country's largest nuclear verdicts in state and superior courts, as personal injury lawyers cash in on plaintiff-friendly judges that benefit greatly from trial lawyer campaign contributions.
Additionally, the Georgia Supreme Court refused to modernize the state's seatbelt gag rule, precluding a jury from hearing evidence about whether an occupant wore a seatbelt at the time of a crash. The Court also declined to expressly adopt the apex doctrine, a framework that courts across the country have adopted to protect high-level corporate employees from unnecessarily being deposed. To make matters worse, the Court issued a ruling that will force defendants to potentially pay double the plaintiffs' attorneys' fees when they are unsuccessful at trial.
The Georgia Supreme Court points to the Georgia General Assembly as the appropriate branch to handle growing policy concerns. The General Assembly has responded in years past, but much work remains to be done to address the lawsuit abuse sweeping across the state. Until state leaders focus on the many abuses bogging down the state's economy and burdening small business, Georgia will be firmly affixed atop the Judicial Hellholes® list.