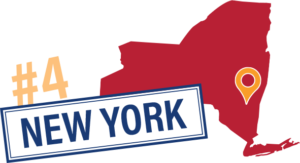 New York's fall in the rankings is in no way a reflection of positive change in the Empire State, but rather due to the immense challenges facing other jurisdictions.  Lawsuit abuse continues to plague New York and bog down the state's economic growth. Meritless food class actions, American with Disabilities Act lawsuit trolling, third-party litigation financing, and nuclear verdicts only worsened in New York in 2022.
New York City paid out $794.4 million in taxpayer funds to cover judgments and settlements in the 2022 fiscal year, up more than 38% from the previous year ($575.9 million). This exceeds any 12-month high at least since 1998. According to a study by the New York Civil Justice Institute, New York State is ranked number one in lawsuit costs per capita and number of lawyers per capita in the world.
Meanwhile, the legislature did not address the problems plaguing the state's civil justice system, and instead, lawmakers focused on expanding liability.