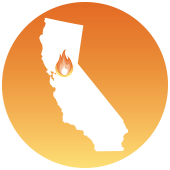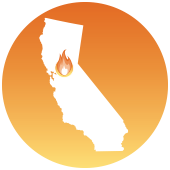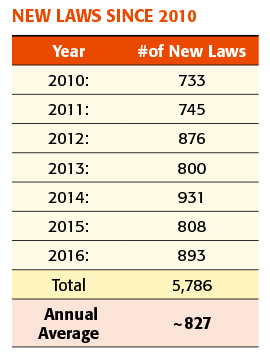 It takes a civil justice system shock analogous to San Francisco's 1906 earthquake to dislodge California from its typically ignominious perch atop the annual Judicial Hellholes rankings. In 2014, for example, it was rampant corruption of New York City's asbestos court that prominently featured the crumbling former Empire State's then-most powerful politician (who has since been arrested, convicted and sentenced, pending a desperate appeal). This year it's an utter disdain for sound science in the Show Me Your Lawsuits State of Missouri, particularly in St. Louis, and the wholly meritless lawsuits there fleecing defendants and driving consumer prices higher.
But as this report notes regularly, a lengthy book could be written every year about the inexorable expansion of civil liability in the once Golden State. Here collected are merely a few highlights (or lowlights, as it were). And as parasitic elements of the plaintiffs' bar seek further liability expansions from state lawmakers, regulators and judges each year, no reasonable observer can believe that California's litigation climate is going to improve anytime soon.
MORE LAWS MEAN MORE LAWSUITS
From 2010 through 2015, lawmakers in Sacramento managed to tack onto the books an annual average of more than 800 new laws. In 2016, they added another 893, at least some of which ( see SB 859, SB 1063, SB 1130, SB 1150 and SB 1241) were designed primarily to foment still more litigation and related costs that for many years have helped drive businesses, along with their jobs and tax revenues, into the arms of less litigious states across the country and around the globe.
So, in a state where citizens and businesses can't possibly be expected to stay abreast of the many hundreds of new statutes and attendant rules churned out every year, it's no wonder that the latest data available from the Court Statistics Project of the National Center for State Courts show that the number of new lawsuits filed annually in California's state courts approaches a million. And tens of thousands more are filed there in federal courts.
More troubling is that fact that California judges and lawmakers seem perfectly happy to host tens of thousands of out-of-state plaintiffs in courts paid for by California taxpayers. Just a snapshot of this phenomenon can be found in data collected for the Civil Justice League of California on 2,919 product liability cases filed against pharmaceutical companies in Los Angeles and San Francisco between January 2010 and May 2016.
These mass torts, which group multiple claims into one case, comprised 25,503 individual plaintiffs, of which 22,935 (89.9%) resided outside California. More than two-thirds of these cases included not a single Californian.
Though California courts are already plagued with budget issues that have resulted in clogged dockets, courthouse construction projects being put on hold, and unfunded but needed judgeships, according to CJAC, the state's judiciary continues incomprehensibly to roll out the red carpet for still more out-of-state plaintiffs – even those suing out-of-state defendants for alleged injuries that occurred outside California.
SEEMINGLY 'CLUELESS'
So check it: California was already a perennial top-ranked Judicial Hellhole and a nationwide magnet for often meritless, no-injury consumer class actions. And the state's always precarious finances had forced dramatic court-spending cuts in recent years, which prompted the state's chief justice and her lower court colleagues to speak out about the need for more court funding.
So why in an August 2016 decision did the chief justice and a majority of her high court colleagues, like, further throw open the doors to the state's already overburdened courthouses to out-of-state plaintiffs with products liability (and other) claims against national defendants, discarding due process and effectively ignoring several U.S. Supreme Court opinions?
In Bristol-Myers Squibb v. Superior Court, the 4-3 majority ruled that state courts may decide cases against businesses that are not headquartered or incorporated in California, even when the plaintiffs live and were allegedly injured out of state. The court found that when a defendant company has significant sales of a product in California (as any national business does, given the state's size), it becomes subject to lawsuits there. There does not need to be any more of a connection between the individual plaintiff's claim and the state. In other words, so long as Cherilyn and Dionne have a claim against the makers of Noxema in California, so will Tai.
With a proverbial "as if," Justice Kathryn Werdegar, wrote a commonsense dissent, saying: "By weakening the relatedness requirement, the majority's decision threatens to subject companies to the jurisdiction of California courts to an extent unpredictable from their business activities in California, extending jurisdiction over claims of liability well beyond our state's legitimate regulatory interest.  . . . Such an aggressive assertion of personal jurisdiction is inconsistent with the limits set by due process. "
Chief Justice Tani G. Cantil-Sakauye, who has inveighed against court budget cuts and ever-growing docket backlogs, seems to have missed the irony when writing the majority's poorly reasoned invitation to an unknowable number of out-of-state plaintiffs who'll now add to those backlogs with new lawsuit filings and thus deplete recently boosted but still finite budgetary resources.
It all boils down to one inevitable conclusion: California's high court majority is, like, totally clueless, for sure.
SITTING DOWN ON THE JOB
California's high court in April 2016 administered another kick to employers' collective rear end, forcing many of them to let employees sit down on the job.  (And some economists wonder why productivity growth has stalled.) In a case certified to it by the Ninth Circuit, a unanimous court ruled that Goldbrick State law entitles employees to sit in a chair at work on a task-by-task and location-by-location basis.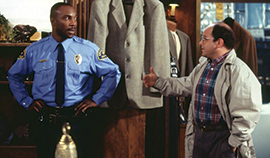 Cashiers at CVS and tellers at Chase Bank brought suit in federal court against their employers, alleging they were entitled to sit down at their jobs if each discrete task "reasonably permits the use of seats." Notably, the lawsuit argued, employers found in violation are liable for civil penalties to each employee or class member for each separate instance, perhaps totaling well into the many millions of dollars.
The defendant employers sensibly argued that seating rules should be left to them as they consider the nature of employees' work, the entire range of tasks performed, and whether or not the work can be properly performed while seated.  For example, can a customer be properly greeted or helped with a transaction from a seated position?  Or, as with the ultimately sleeping store security guard on whom well-intentioned Seinfeld character George Costanza imposed a chair, can shoplifters be adequately detected from a seated position?
The court acknowledged that a business's judgment is a factor, but added that it is neither dispositive nor worthy of deference.
FOOD & BEVERAGE SUITS
California law encourages specious, often no-injury consumer fraud and false advertising lawsuits. Many of these suits against the makers and sellers of foods and beverages can be downright laughable, such as when Starbucks is sued for putting too much ice in its iced coffees.
As Food Navigator-USA.com reported in late November 2016, "There have been hundreds of class actions lawsuits directed at food and beverage companies in recent years" over everything from whether the phrase "evaporated cane juice" on a product's label fraudulently misleads consumers about sugar content to allegations that products marketed as "natural" may contain genetically modified ingredients.
Many of these class actions are filed in California state courts or federal courts located there. The federal Northern District of California has been derisively referred to as the "Food Court" as these cases piled up.
"As to what happens to most [of these] false advertising cases once they are filed," Food Navigator observed, "it depends on a multitude of technical factors, many of which seem to the casual observer to have little to do with the actual merits (e.g., is this label actually deceptive?). Few are thrown out completely after a motion to dismiss, and many drag on for years as plaintiffs are given the opportunity to amend their complaints and tweak their arguments."
A defense attorney explained to Food Navigator that since many of these food and beverage lawsuits eventually show up in court records as "voluntarily dismissed," it's likely that parties often come to a private settlement. So "we don't know how much money is changing hands, but the fact that so many of these cases are still being filed suggests that the plaintiffs' attorneys think it's worth it."
There are occasional espresso shots of sanity. Raise your glasses to U.S. District Court Judge Percy Anderson of the Central District of California, who dismissed the iced coffee lawsuit, observing that "If children have figured out that including ice in a cold beverage decreases the amount of liquid they will receive, the court has no difficulty concluding that a reasonable consumer would not be deceived" when purchasing an iced beverage. Cheers also to U.S. District Court Judge William Alsup of the Northern District of California for dismissing the claim of a plaintiff who repeatedly sued companies with products containing trans fats. The judge said the serial plaintiff "is not a typical consumer but is a self-appointed inspector general roving the aisles of our supermarkets."
But until more California courts follow the lead of Judge Anderson and Judge Alsup and become decidedly less welcoming to these lawsuits — suits that effectively ask courts to believe that consumers are imbeciles — the plaintiffs' attorneys who gin them up will continue to take their chances at getting rich as the rest of us pay higher foods and drink prices.
PROP 65
In addition to the food and beverage class actions brought under California's easily exploited consumer protections laws, many are served with a special twist. The private-attorney-enforced Prop 65 became law as a voter-passed referendum in 1986, requiring ominous warning signs in various businesses and other public accommodations where even the slightest, non-threatening trace amounts of some 800 different chemicals may be present.
In large enough doses, these chemicals are "known to the state of California to cause cancer, birth defects or reproductive harm," but the now ubiquitous and thus generally ignored signs serve only as an invitation for personal injury lawyers and their favorite lead plaintiffs to bring more lawsuits. Prop 65 claims produce hundreds of settlements each year, and such settlements can be fattened up when consumer protection laws sweeten the mix.

In litigation first reported here two years ago, defendant Goya Foods Inc. continues to fight back against a serial plaintiff and her bogus, no-injury claim that seeks to exploit Prop 65 labeling requirements. According to Law360, Goya in early 2016 sought to block a bid for class certification by professional plaintiff Thamar Cortina and her attorney, Jack Fitzgerald.  Their lawsuit alleges that trace amounts of a certain food coloring byproduct in some Goya beverages poses a cancer risk, even though the U.S. Food and Drug Administration and health authorities in Canada and Europe say such amounts pose no danger to human health.
In addition to questioning the meritless and often inconsistent elements of Ms. Cortina's claim (did she even purchase the product?), Goya's opposition to class certification pointed out that she and her attorney cannot keep their arguments straight in their frequent filings and subsequent bungling of similar would-be class actions: "In sum, Ms. Cortina has proven she is incapable of monitoring her cases or her counsel's conduct. She cannot handle the responsibilities of a class representative," Goya argues.
Goya has since filed a motion questioning the fact that plaintiffs have yet to offer any feasible model by which to calculate damages. The court has yet to decide whether this typically specious yet costly-to-defend Prop 65 case can move forward. It certainly should not.
UNINTENDED 'CONCEQANCES'
According to the state's Department of Fish and Wildlife, the California Environmental Quality Act, known as CEQA, "is California's broadest environmental law," helping to "guide the Department during issuance of permits and approval of projects. Courts have interpreted CEQA to afford the fullest protection of the environment within the reasonable scope of the statutes. CEQA applies to all discretionary projects proposed to be conducted or approved by a California public agency, including private projects requiring discretionary government approval."
Of course, lawmakers who write well-intentioned statutes only rarely consider unintended consequences or, in this case, "conCEQAnces." Thus, according to detailed coverage by the San Francisco Chronicle, CEQA has for the past 30 years been increasingly used as "Not In My Back Yard" types' "tool of choice" to bludgeon – which is to say "challenge, block, delay or kill construction projects across the state." Protection of the environment is barely a consideration as wealthy plaintiffs, concerned more about the protection of their property values, level lawsuits which, observes the Chronicle, is a significant factor in the state's chronic shortage of affordable housing.
Among others, a thorough study of CEQA abuse by the law firm Holland & Knight offered these key findings:
Nearly half of CEQA lawsuits target taxpayer-funded projects, frequently those designed to advance California's environmental policy objectives.
CEQA's most frequently targeted private sector project: housing – with the most frequently challenged type of housing project being higher density urban projects such as transit-oriented development and multifamily (including affordable) housing.
Despite claims by special interests that defend CEQA litigation as a means to combat urban sprawl, 80% of CEQA lawsuits target projects in established communities rather than those on undeveloped or agricultural lands outside established communities.
CEQA litigation is overwhelmingly used in cities. Special interest CEQA lawsuits often target core urban services such as parks, schools, libraries and even senior housing.
CEQA litigation abuse is primarily the domain of NIMBY opponents . . . to gain leverage against business competitors, negotiate union agreements, or stop neighborhood-scale changes required to meet new state mandates such as greenhouse gas reductions or improve critical local services and facilities such as schools and parks.
MORE PUBLIC NUISANCE NONSENSE
If those private citizens and interest groups flooding California courts with the CEQA litigation discussed above were to justify or rationalize their behavior, perhaps they might point to government attorneys' efforts to misuse and sidestep the law in comparable pursuit of their own political ends.
Last year's report updated readers on the misuse of public nuisance law. With a lower standard of proof relative to products liability law, public nuisance law had been seized by various government prosecutors' and politically connected private-sector contingency-fee lawyers who were tag-team suing defendants that made lead-based paints decades ago and today's makers of opioid painkillers prescribed by physicians. This year's defendant is Monsanto, which had made polychlorinated biphenyls (PCBs) through the 1970s, primarily for use by electric power-generating utilities.
Several California cities, including San Diego, San Jose, Oakland and Berkeley have sued Monsanto for PCB pollution of public waterways. But by partnering with the plaintiffs' lawyers who pitched these lawsuits to the cities, the cities can leave the expense of investigating and prosecuting the cases to those lawyers. Of course, these partnerships are "ethically suspect" since such lawyers also are well known for giving generously to city politicians' campaigns.
"Until now," wrote Civil Justice League of California president Kim Stone in a June 2016 San Diego Union Tribune op-ed, "courts in other states have sided with Monsanto and understood that the company is not responsible for how other parties handled its products. But [the] trial lawyers have come to California and are trying to expand" liability, "which is a far stretch in legal doctrine…."
In August 2016 U.S. District Judge Edward J. Davila appeared to agree with Stone in dismissing the consolidated cases on behalf of Berkeley, Oakland and San Jose, saying the plaintiffs have thus far failed to show a necessary "property interest" in the allegedly contaminated water that flowed through city pipes and into public waterways. But the judge has invited the plaintiffs to amend their complaint, and another judge presiding over San Diego's similar lawsuit is waiting to see how things develop up north. Meanwhile, as noted above, lawmakers quickly passed and Governor Brown signed SB 859 in September, granting local governments standing to pursue such questionable lawsuits in the future.
'TAKE HOME' ASBESTOS
For years this report has documented the steady flow of out-of-state-based asbestos lawsuits into several California jurisdictions, most notably Alameda and Los Angeles counties. Generally high verdicts and questionable judicial rulings on the admission of evidence and applicable law continue to worry defendants. But a 2015 bankruptcy trust order entered by Los Angeles County Superior Court Judge Emilie Elias in the asbestos Case Management Order required disclosure of bankruptcy trust claims.
Among other things, the order appropriately requires plaintiffs to disclose "all facts relating to all of their alleged exposures to asbestos … regardless of whether those facts have been, or ever will be, included in a claim to a third party for the purpose of obtaining compensation for an asbestos-related injury." It should be a model for CMOs in all California counties and other notorious Judicial Hellholes known for attracting asbestos claims.
But for every judicial ruling in California that reasonably limits liability, there seem to be three or four more that go the other way. Such was the case with a December 2016 decision by the California Supreme Court that, in resolving an appellate court split, found "the duty of employers and premises owners to exercise ordinary care in their use of asbestos includes preventing exposure to asbestos carried by the bodies and clothing of on-site workers" where it is "reasonably foreseeable" that workers "will act as vectors carrying asbestos from the premises to household members."
These "secondary" or "take home" asbestos exposure cases considered by the high court originated in Alameda and Los Angeles counties, respectively. Both trial courts adhered to a 2012 appellate court precedent and the defendants won both cases. But ensuing decisions by different appellate courts disagreed about that precedent's implications, and a high court hearing became necessary.
Despite well-reasoned amicus briefs submitted for each case by ATRA, arguing against take home asbestos liability (see here and here), the high court embraced such liability. Its decision prompted the Los Angeles-based law firm Poole Shaffery to warn that "a litany of actions by family members claiming take-home exposure may flood the courts, increasing the likelihood of liability for various employers." And though the court also held that am employer's duty of care "extends only to members of a worker's household," New Jersey's high court did more or less the same thing 10 years ago only to reverse itself this year by effectively inviting virtually any Tom, Dick or Harriet with whom an asbestos worker may ever have come in contact to pursue litigation. So California asbestos defendants probably haven't seen the last of liability expansion.
INNOVATOR LIABILITY
Crafted primarily by personal injury lawyers desperate to get around longstanding federal law that shields generic drugmakers from lawsuits over the substance of their medications' warning labels, the novel theory of "innovator liability" effectively seeks to turn products liability law on its head. Fortunately, the argument that original brand-name drugmakers should be held liable for injuries allegedly arising from generic drugs manufactured, marketed and sold by third-party drugmakers has been widely rejected by courts across the country.
But when faced with rejection of their novel liability theories elsewhere, plaintiffs' lawyers often turn to California as a last resort (see lead paint as a public nuisance). In T.H. v. Novartis Pharmaceuticals Corporation, twins seek to hold Novartis liable for injuries they suffered in utero after their mother took a generic version of an asthma medication — even though Novartis manufactured only the name-brand version of the drug, and even though it had sold its interest in that drug six years before it was prescribed to the mother.
Reasonably then, San Diego County Superior Court Judge Joan M. Lewis sustained Novartis's demurrer of the complaint (effectively dismissing it), but the twins appealed her decision. And in March 2016 a three judge panel of the Fourth Appellate District unanimously reversed Judge Lewis, ordering the case remanded and inviting plaintiffs to amend their complaint. In doing so, the panel relied on a since discredited California appellate decision, Conte v. Wyeth (2008), which was the first to recognize "innovator liability." Nonetheless, the doctrine has been rejected in more than 100 cases nationwide by courts with enough sense to understand that holding one manufacturer liable for alleged injuries from a product made by another manufacturer is both ludicrous and bad public policy.
Thus many observers are watching and hoping that the California Supreme Court, which in June granted Novartis's petition for review, will put an end to innovator liability nonsense in the state once and for all.
'ADA' LAWSUITS STILL ROLLIN' ALONG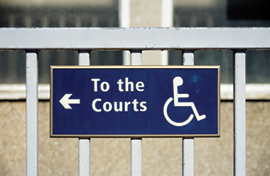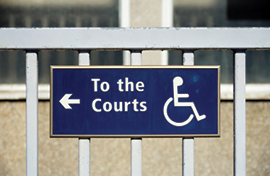 This report has routinely documented California's ongoing run as the nation's ground zero for disability access lawsuits. Brought under both the federal Americans with Disabilities Act (ADA) and state civil rights law, which allows for damages and attorney's fees, these claims can make real money for a certain class of plaintiffs' attorney with lots of time, limited integrity and a specialized willingness to browbeat small business owners – particularly minorities and recent immigrants who are unable or unwilling to fight back.
To be clear, plaintiffs rarely seek renovations and actual access to an allegedly ADA-noncompliant restaurant, convenience store, nail salon or auto garage. They just want to get paid and are happy to settle out of court, whether or not the ramp's angle is adjusted by a few degrees or the ladies' room sink is ever lowered by an inch-and-a-half.
This still wheelchair-centric racket has recently sought to expand its turf, targeting retailers websites, for example, with allegations that they're not accessible to the visually impaired.
Thankfully, in May 2016 state lawmakers took a dutiful if tentative step toward curing California's ADA litigation epidemic when Governor Jerry Brown signed into law Senate Bill 269, providing some protection to California small businesses from predatory plaintiff's lawyers. The bill allows small businesses time to cure certain technical violations without penalty. If a small business hires a Certified Access Specialist to inspect the premises for potential ADA violations, then the business may fix any alleged violation before a suit can be filed. And U.S. Rep. Jerry McNerney, representing California's 9th congressional district, has introduced legislation in Washington intended to stop the nationwide abuse of the ADA.
'PAGA' IS A FOUR-LETTER WORD
California's Private Attorneys General Act (PAGA) authorizes aggrieved employees to file lawsuits seeking civil penalties on behalf of themselves, other employees and the State of California for labor code violations. Not surprisingly, it generates many lawsuits.
Based on the pretense that employees are bringing these claims on behalf of the state, 75% of the penalties wrung from non-compliant employers goes to the state's Labor and Workforce Development Agency (LWDA) while only 25% goes to the "aggrieved employees." So this very blue state's policymakers have found a way to expand government spending without per se raising taxes. Never mind that many PAGA lawsuits revolve around technical nitpicks, such as an employer's failure to list on an employee's pay stub the inclusive dates of the pay period, or an employer's failure to print its address on the employee's pay stub, even though that address is printed on the paycheck itself.
To say that California workers must be some of the most easily aggrieved in the world would be an understatement. But to be fair, it's the lawyers who gin up PAGA complaints who are most to blame. According to Jeffrey D. Polsky of Fox Rothschild, such lawyers and their employee clients are eager to settle cases with employers because "the parties can decide what part of the settlement to designate as PAGA penalties and what part goes directly to the employees. Invariably, plaintiffs want more to go to them directly because they and their attorneys get all of that." Employers will go along if they're to be let of the hook a little more easily.
But expansive PAGA amendments were signed into law by Governor Brown in June 2016, empowering the state to jealously guard its interest in settlements and keep more cash for itself. Polsky says: "More money going to PAGA penalties, means less going to plaintiffs directly. Since employees see just a fraction of those penalties, it will be more expensive for employers to settle lawsuits that include PAGA claims. You can add that to our ever growing list of reasons why, for employers and their counsel, 'PAGA' is a four-letter word."
GOOD NEWS
Since most of the civil justice news from California is so grim and depressing, this report goes out of its way each year to note at least a couple of bright spots. Here were two in 2016:
Appeals Court Reverses itself on Arbitration Clauses and Reasonable Word Usage
In light of a subsequent state high court decision in January 2016, a California appeals court reversed itself and upheld the enforceability of an arbitration provision within an automobile sales contract. A class action brought by a car buyer alleged that such a clause included in the sales contracts of El Cajon Mitsubishi was "unconscionable." Incredibly enough, the trial court had agreed, deemed the clause unenforceable, and was initially upheld on appeal.
But then, in Sanchez v. Valencia Holding Co., LLC, the California Supreme Court reached a more reasonable conclusion – one that respects the real meaning of words.  The high court found that a bad bargain was not necessarily an unconscionable bargain in finding a similar arbitration provision enforceable. So here's hoping the high court's guidance slows the hysterical misuse of previously well-defined words in so many lower California courts.  ISIS beheadings are unconscionable.  Used car sales contracts are not.
Federal Judge Thwarts State AG's Efforts to Intimidate, Muzzle Political Opponents
In the latest defeat for government officials using the awesome power of the state to suppress political speech with which they disagree, a federal judge in April 2016 permanently blocked outgoing California Attorney General Kamala Harris's efforts to "out" the supporters of a free-market-minded nonprofit.
Central District of California Judge Manuel Real, a 92-something liberal appointed to the federal bench by Lyndon Johnson in 1966, said that he's old enough to remember the violence perpetrated against supporters of the NAACP in the Deep South during his formative years.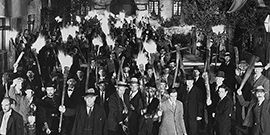 "[A]lthough the Attorney General correctly points out that" the abuses and threats against donors thus far in this case "are not as violent or pervasive as those encountered in NAACP v. Alabama or other cases from that era, this Court is not prepared to wait until an . . . opponent [of the nonprofit] carries out one of the numerous death threats made against its members."